SANCTUARY The Year The Sun Died


By Metal Mark Mihalo, Tulsa Contributor
Sunday, October 19, 2014 @ 4:50 PM


| | | |
| --- | --- | --- |
| | | |
SANCTUARY
The Year The Sun Died
Century Media





Back in 1987, I remember hearing about this band named SANCTUARY whose first release was being produced by none other than Dave Mustaine, frontman for MEGADETH. Well, shit! This had to be good if Dave is producing it. So I bought the cassette when it came out. That's right. I said cassette. Well, let me tell you that from the first galloping beats of "Battle Angels", I was hooked. Then came those outrageously high pitched vocals of the Warrel Dane. I mean holy shit! I have found one of my new favorite bands of all time. My heart would soon be broken when they broke up in 1992 after only two releases. Something about the record label or some members of the band wanting more of a "grunge" sound since that was the rising trend back in the early '90s, with bands like ALICE IN CHAINS and SOUNDGARDEN heading up the scene in Seattle. Soon after the break up, NEVERMORE became reality. Kick ass! Warrel Dane is back and as heavy and powerful as ever. NEVERMORE was immediately added to my list of top ten bands that I could not do without. Fast forward nine years and fans would be devastated again when they found out that Jeff Loomis would be leaving the band, and soon after the disbandment/hiatus of NEVERMORE. But the fans would soon rejoice after hearing that Warrel would be focusing his efforts on the resurrection of SANCTUARY.

That was 2011, and three long years later we come to their latest and third release, The Year The Sun Died. With a mostly original lineup, the only change we see is the replacement of Jeff Loomis with guitarist Brad Hull, formally of FORCED ENTRY. While Jeff's original riffs and solos will be missed, Brad brings his own unique style but still keeps that original SANCTUARY and NEVERMORE sound. This album does sound more like a release from NEVERMORE by taking on more of a power metal sound versus the original thrash sound that SANCTUARY was known for. Who's to say this is not the direction SANCTUARY would have taken over the years anyways. Early in the production Warrel indicated in an interview that we would definitely hear some of those high notes from back in the early days on this latest release, and also talked about the training that he was going through to be able to do just that. However, the only songs that seem to have these high notes are the two opening tracks, "Arise And Purify" and "Let The Serpent Follow Me"; but mostly in a backing vocal capacity. "Arise" does have a great high note scream at the end and "Serpent" brings a few lines of highs in the middle, but that's about all for the whole album. Trust me; the lack of the classic high notes from Warrel does NOT detract from the overall ferocity of this album. There are a couple other songs on this album that do resemble the faster tempo that SANCTUARY was known for on their first two releases;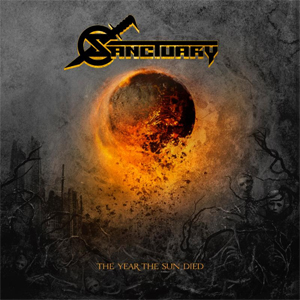 "Frozen" and "The World Is Wired". "Frozen" starts off with that galloping rhythm where Brad and Lenny show off their real talent on guitar with killer riffs and shredding solos throughout the entire song. Combine the stellar guitar work with the pounding beats of Dave Budbill on drums and Jim Sheppard's relentless bass, and you have the heaviest song on the album. "The World Is Wired" is about exactly that; the world being so connected on a scale that no one thought was possible when global connectivity and the internet first took off, and being consumed by it leading to our demise as human beings. The charging beats and changing tempos make this rank up there with "Frozen" as one of the best songs. The last song to touch on here is the title track, "The Year The Sun Died". Originally this song was to incorporate a lot of high notes from Warrel (at least as indicated in an interview), but over the course of three years, it seems the song was rewritten a little to take on a slower, more melancholy feel. This song might be slow, but it is one of the most powerful songs on the album.
Let's face it. No matter what package you want to wrap Warrel Dane in, whether it's SANCTUARY, NEVERMORE or his solo work, we metalheads and true fans of all these branches of his career could never be more excited to see the return of SANCTUARY and the enormous energy and passion he brings to any song. Tie that together with the musicianship of Lenny, Brad, Dave and Jim, this finely crafted release is a fine example of what classic heavy metal should sound like.
SANCTUARY is currently on tour as of this writing, but the tour seems to be limited and scattered across the US and Canada with only a handful of shows. Hopefully we'll see them make a full tour across the US soon as this would be a show to catch for sure.
4.0 Out Of 5.0
Grab a copy of The Year The Sun Died in the KNAC.COM More Store right HERE.




Please log in to view RANTS

If you don't have a username, click here to create an account!






BRITISH LION, CONEY HATCH In Ottawa, Canada

SUNFLOWER DEAD C O M A

SURF CITY BLITZ In California Photo Gallery

TRIVIUM, AVATAR, LIGHT THE TORCH In Portland, OR Photo Gallery

DEVILDRIVER, JINJER In Cleveland, OH With Photos!

CORROSION OF CONFORMITY In Dublin, Ireland

CAULDRON New Gods

STEVE GRIMMETT'S GRIM REAPER In Ottawa, Canada

JUDAS PRIEST, KREATOR In Quito, Ecuador

CAL JAM '18 Photo Gallery

BLOODBATH The Arrow of Satan Is Drawn

STRIKER Play To Win

NIGHT RANGER "Dawn Of Madness" Show In Waukegan, IL

BUTCHER BABIES, KOBRA AND THE LOTUS, SKARLETT RIOT, IGNEA, MAERTYRIUM, In Siegburg, Germany

HOUSE OF LORDS In New Bedford, MA

GRETA VAN FLEET Anthem Of The Peaceful Army

IMPELLITTERI The Nature Of The Beast

ALICE COOPER In Houston Photo Gallery

ICARUS WITCH Goodbye Cruel World

TARJA, STRATOVARIUS, SERPENTYNE In Cologne, Germany

CLUTCH, SEVENDUST, TYLER BRYANT & THE SHAKEDOWN In Portland, OR With Photos!

ACCEPT In Houston, TX With Photos!

U.D.O. Steelfactory

SKULL FIST Way Of The Road

SOULFLY Ritual

ANTHRAX State of Euphoria 30th Anniversary Deluxe Edition

FIFTH ANGEL The Third Secret

STEVE GRIMMETT'S GRIM REAPER In New Bedford, MA

ANAAL NATHRAKH A New Kind of Horror

PRIMAL FEAR Apocalypse

BEHEMOTH I Loved You At Your Darkest

DORO Forever Warriors, Forever United

SLASH FEATURING MYLES KENNEDY AND THE CONSPIRATORS In Houston, TX Photo Gallery

BILLY MORRIS AND THE SUNSET STRIP Holdin' All The Aces

VINCE NEIL In Houston, TX Photo Gallery

DEE SNIDER For The Love Of Metal

UNLEASH THE ARCHERS, STRIKER, HELION PRIME In Houston, TX W/Photos!

DREAM CHILD Until Death Do We Meet Again

SCORPIONS, QUEENSRYCHE In Tampa, FL With Photos!

HUMBLE PIE Live At The Ottawa CityFolk Festival

BEHEMOTH Album Listening Party In Los Angeles For I Loved You At Your Darkest

THE DEAD DAISIES, HOOKERS 'N BLOW In Ottawa, Canada With Photos!

DRAGONLORD Dominion

STONE BROKEN Ain't Always Easy

BRANT BJORK Mankind Woman

KORPIKLAANI Kulkija