SANTA CRUZ have debuted their new video for "Wasted 'N' Wounded" from the 7" of the same name out via Spinefarm Records now. The single is available now at this location: smarturl.it/santacruzww

Fans can pre-order the full 7" here It is pressed on red vinyl and the B-side is "We Are The Ones To Fall". It will be available in November: http://spinefarm.merchnow.com/catalogs/Santa-cruz

Now about that video? It was directed by Ville Juurikkala and it is wild and vibrant, and features the band running amok and partying hard, much to the dismay of their long-suffering manager. So in other words, SANTA CRUZ do it just like any hard rock band worth its salt should!

Watch the video for "Wasted 'N' Wounded" right HERE.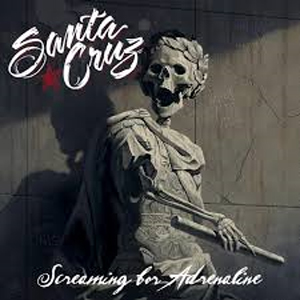 Since this video, shit got real and the band has put down the whiskey, swallowed a couple of headache pills and marched into the studio to record its second album, to be released via Spinefarm Records. It's the follow up to 2013's Screaming For Adrenaline, also released through Spinefarm.
Expect skillfully-crafted, party-minded, rocket-powered rock from this quartet of young turks from Finland, who pledge allegiance to an era of devil-may-care rock that's long gone. SANTA CRUZ aren't so much bringing a classic sound and style back as they are bringing their own, modernized version of a beloved style to the masses. SANTA CRUZ will "cruise" on over to the States on December 12, playing a gig at Webster Hall in NYC.
For More Info Visit:
http://www.santacruz.fi/
https://www.facebook.com/santacruzband
https://twitter.com/SantaCruzBand