SICK OF IT ALL have shot and released the first video from their album, The Last Act Of Defiance, released last month, for the song "Road Less Traveled". The band is also geared up to start their full US Tour this weekend. See tour dates below. The band had this to say about the video...

"We are very excited to premiere the first video from our new album, The Last Act Of Defiance.

In "Road Less Traveled", we talk about our journey in music & life. There's no better way to celebrate this journey than with a bunch of our friends and to shoot a fun video that documents yet another day for us 4 guys being blessed to be part of a great scene. Drew Stone came out of retirement, stepped it up and directed the video, which captured the true essence behind us as a band. We hope you all enjoy it as much as we do! Hardcore is our life!!!"

Check out the video right HERE.

The video was directed by documentary filmmaker Drew Stone for Stone Films NYC.

"It's a real throwback to the golden age of music videos" said Stone. "The video is shot in one take with no camera movement; everything happens right into the camera lens. SICK OF IT ALL is one of the rare hardcore bands who are confident with their place in history and actually have a sense of humor. It was a real honor and pleasure to work with them."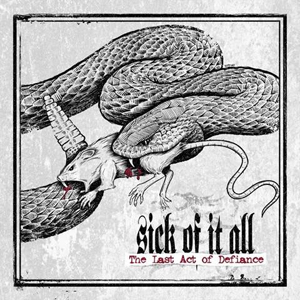 SICK OF IT ALL US Tour Dates:
11/1/2014 - Magic Stick - Detroit MI
11/2/2014 - Reggies Rock Club - Chicago IL
11/3/2014 - Fubar - St. Louis MO
11/5/2014 - The Conservatory - Oklahoma City OK
11/6/2014 - Three Links - Dallas TX
11/7/2014 - Red Seven/FFF Nites - Austin TX
11/8/2014 - FUN FUN FUN Fest - Austin TX
11/9/2014 - Scout Bar - Houston TX
11/11/2014 - High Dive - Gainsville FL
11/12/2014 - The Local 662 - St. Petersburg FL
11/13/2014 - Churchill's Pub - Miami FL
11/14/2014 - Backbooth - Orlando FL
11/15/2014 - Jack Rabbits - JacksonvilleFL
11/16/2014 - The Masquerade - Atlanta GA
11/18/2014 - Shaka's - Virginia Beach VA
11/19/2014 - The Ottobar - Baltimore MD
11/20/2014 - Asbury Lanes - Asbury Lanes NJ
11/21/2014 - Simons 677 - Providence RI
11/22/2014 - Les Foufounes Electriques - Montreal QU
11/23/2014 - Hard Luck - Toronto ON
SICK OF IT ALL online:

www.sickofitall.com
www.facebook.com/sickofitallny
instagram.com/sickofitallnyc