As they wrapped up their North American tour with DEICIDE, ABYSMAL DAWN released their new album this past Monday via Relapse Records. Met with critical acclaim and some of the band's best reviews yet, Obsolescence is a veritable beast of a record and the perfect example of what 21st century death metal should sound like.

Obsolescence is available to order from Relapse Records and digitally via Bandcamp. The album can be purchased on iTunes. The album is available in CD/LP/Digital/Deluxe Digital formats.

Recently the band completed work on a video for the song "Inanimate". The video has been released today and can be watched HERE.

Frontman Charles Elliot on the meaning of "Ianimate":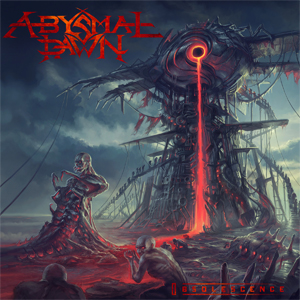 "Lyrically this one is about losing your idealism and becoming a cold, unfeeling shell of a human being, in order to survive our modern society. An inanimate object if you will; one without hope that has cut themselves off from emotion. Our experiences in this life can carve us into stone, but they can also desensitize us in the process. In short, this might be the most depressing song you ever wanted to circle pit too."
ABYSMAL DAWN strikes the perfect balance between extreme songwriting and exceptional skill with an infectious blend of technical yet memorable riffs, throat shredding vocals, and crushing rhythms delivered with machine gun precision.
For More Info Visit:
https://www.facebook.com/AbysmalDawn
https://twitter.com/AbysmalDawn
http://instagram.com/abysmaldawn
http://www.relapse.com