Backstage Auctions presents a one of kind, rock to the core, online auction event featuring decades of MEGADETH tour memorabilia.

"It simply doesn't get any more real and authentic than this – especially with the collection coming directly from MEGADETH", explains Backstage Auctions founder Jacques van Gool.

The event, aptly titled Megadeth – The Countdown To Extinction Auction, is a not to miss opportunity for fans and collectors around the world to own an authentic piece of memorabilia from one of most highly successful and significant heavy metal bands in music history.

The auction will feature flight and wardrobe cases, amps, cabinets, gear, guitars, picks and strings, apparel, set lists, lyrics, tour programs, ephemera, signed items and a whole lot more. There is definitely a wide range of collectibles featured in the auction that will appeal to not only collectors but also to fans around the world who want to own a piece of MEGADETH history. There is even a pair of tour used Vic Rattlehead combat boots, for hardcore fans it doesn't get any more unique than owning those boots.

Definitely a highlight of the auction are the guitars, they are simply amazing – each one having its own history and story to tell.

"The selection of guitars in this auction is what Dave Mustaine and MEGADETH fans could have only hoped for and dreamed of", comments van Gool. "Dave has been very generous with the instruments that he has decided to make available to the fans and collectors. He wants to make sure that his personal items end up with his fans, who will treasure them as he has."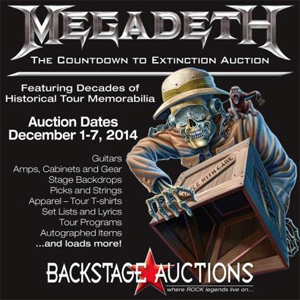 In addition to two breathtaking double-neck 12 and 6-string V guitars, there is a host of highly recognizable signature model guitars, including the 'Angel of Deth,' 'Fear' and 'Gears of War,' as well as the equally infamous black and silver V guitars. And to add even more prestige to these weapons of mass destruction, some of the guitars are truly the first ever built models.
Equally impressive are the original stage back drops from MEGADETH tours dating back to the 90s, tons of guitar strings – packed with not only the guitar pick but also the date and location of the show is noted on each package, Big 4 t-shirts from various countries and custom made MEGADETH road cases – complete with the MEGADETH stamp, custom plaque and most have been personally signed by Mustaine.
The online auction starts December 1st and will run through December 7th. A special VIP All Access preview of the entire auction catalog will be available online beginning Saturday, November 22nd and is open to fans and collectors worldwide.
"This auction has no boundaries – everyone is welcome to participate, regardless of where they live. Our only recommendation is to register early, bid hard, bid to win and have fun", says van Gool.
For more information and to register for a VIP All Access Pass for the MEGADETH auction event visit this location: http://www.backstageauctions.com/