The jam-packed two-day schedule of Bass Player LIVE! clinics and panels at S.I.R. Studios in Los Angeles pauses on Saturday evening, November 8, as BPL honors session legend Abraham Laboriel with a Lifetime Achievement Award--as well as recognizing DIRTY LOOPS bassist Henrik Linder as this year's Young Gun.

Abraham Laboriel has spent a recording career now in its fifth decade in service to one thing: the song.

"Honesty in music has to do with recognizing that the best you have to offer has already been offered. If there's somebody else who can do something better than you, don't get in the way," Abraham told Bass Player Magazine in 1995. "Don't try to further your own career by hiding somebody who can make people feel good."

Nearly 20 years later, not much has changed: Abraham is not so much a household name for casual music fans as a go-to name for dozens of iconic artists. His thousands of recording credits range from work with jazz giants including Miles Davis and Ella Fitzgerald, to torch singers like Barbra Streisand and Bette Midler, pop superstars Madonna and Michael Jackson, country legends Dolly Parton and Clint Black, and even all-star athletes Dwight Howard and Bernie Williams. Add to that Ray Charles, Paul Simon, Herbie Hancock, Al Jarreau, Henry Mancini…the list simply goes on.

"Abraham Laboriel is a bright light in the bass stratosphere," says Bass Player Magazine Editor Chris Jisi. "He ushered in the modern era of session bass playing with his world music-informed grooves and innovative techniques, while anchoring some of the most well-known and important recordings of our time. More importantly, his beautiful spirit of support and encouragement has helped countless artists and aspiring musicians. Bass Player is honored to present our Lifetime Achievement Award to Abraham in recognition of his many contributions to the art of bass playing and to the planet as a whole."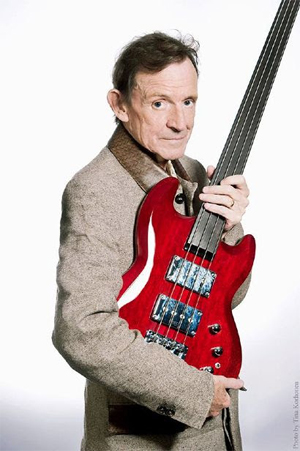 The Saturday evening session featuring the presentation of the Lifetime Achievement Award to Abraham Laborielwill run from 6:30 PM - 9:00 PM and will also include a performance from Abraham's group Open Hands, with keyboardist Greg Mathieson, saxophonist Justo Almario and drummer Bill Maxwell. In addition, Young Gun Award recipient Henrik Linder will perform with TRIBAL TECH's bassist Gary Willis, keyboardist Scott Kinsey and drummer Kirk Covington.
As another special bonus for Bass Player LIVE! attendees, Warwick is offering a commemorative Jack Bruce poster at the November 8 & 9 event in honor of the legendary CREAM bassist/vocalist who recently passed away.
In addition, on Saturday night from 6:00 - 7:00 PM, Warwick will host a tribute to Jack Bruce, featuring renowned bassists Lee Sklar and Steve Bailey, with Marc Bonilla on vocals and guitar.
Tickets for Bass Player LIVE! are on sale now at:
http://bassplayerlive2014.eventbrite.com/?aff=PR2.
Both single day and weekend packages for the Bass Player LIVE! clinics and exhibits are available.
The Bass Player LIVE! clinics and exhibitors will be located at S.I.R. Studios on Sunset Blvd. in Hollywood, CA on Saturday, November 8 from 10:00 AM-9:00 PM and Sunday, November 9 from 10:00 AM-5:00 PM. Bass players of all ages, levels and styles are invited to attend.
Among the participating manufacturers at Bass Player LIVE! 2014 are Warwick, Aguilar, Sadowsky Guitars, Tech 21, Kala, Ashdown, D'Addario, Ampeg, Paul Reed Smith, Dunlop, Eden, GHS, Ibanez, Lakin Basses, N.S Design, Spector, TC Electronic, EBS, Carvin, and Mayones Basses.
Visit www.bassplayerlive.com for the latest information on tickets and participating artists and manufacturers.
http://bassplayerlive.com
facebook.com/bassplayermag
twitter.com/bassplayernow
youtube.com/bassplayermag