Iron Maiden Releases Casket Box Set


By Sefany Jones, Contributing Editor
Thursday, September 12, 2002 @ 1:24 PM


| | | |
| --- | --- | --- |
| | | Maiden Releases Casket Box Set |
For Immediate Release: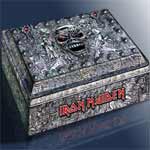 Iron Maiden Releases Casket Box Set Eddie's Archive and Edward The Great Greatest Hits Collection On November 5th Through Portrait/Columbia/Legacy Records. For 20 years, Iron Maiden have been at the forefront of heavy metal worldwide and are viewed by many as one of Britain's greatest musical exports, as highlighted by last year's prestigious Ivor Novello songwriting award. During this time they have achieved incredible global chart success, some 200 gold and platinum records, sell out tours and huge respect from their peers both old and new. As a celebration, Iron Maiden are to release some highly treasured recordings presented in a very special collector's case for their long standing and loyal fans. Eddie's Archive is to be released by Portrait/Columbia/Legacy Records on November 5th. The set comprises of three double CD's containing the band's earliest live recordings from 1979 through to their headlining performance at Donington in 1988. In addition to this, there will be a compilation of The Best Of The B-Sides available here for the first time as one collection. Rod Smallwood, manager of the band since mid 1979, comments, "We've been talking for a while about issuing a special release for our fans and I think the live recordings are very important to the history of the band. In fact, other than the Maiden Japan EP and a couple of live B-Sides, there were no live recordings released until Live After Death in 1986. These recordings encompass the early days with Paul Di'Anno through to Bruce Dickinson's arrival. Maiden's career went on from one high to another -- it really was a rollercoaster ride! I think they capture the essence of what the band was and still is all about: pure, raw energy, great musicianship and an in-your-face attitude. I've seen the casket and it looks fantastic. This is a great way to celebrate our history with the people who helped us make it." The set will be presented in a unique 270x190x60 mm. (approx. 10.5x7.5x2.5 in.) limited edition silver Eddie embossed casket. Alongside the music, fans will find a crystal Eddie Head shot glass and an individually numbered Pete Frame family tree on parchment scroll, detailing the complete Iron Maiden history and rolled in a specially designed Eddie ring! Each of the three double CD's have full colour 24 page booklets, two with new Eddie artwork with previously unseen photos of the various line ups; and one based on the original classic '82 tour programme.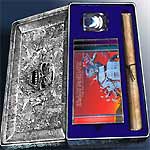 The first of the double CD's is entitled BBC Archives and includes music recorded between 1979 and 1988 for the BBC's Friday Rock Show. Accompanied by notes from the show's long time producer, Tony Wilson, it features Maiden fronted by Paul Di'Anno and their performances at a special Rock Show studio session in October 1979 as the band were breaking onto the scene, and at 1980's Reading Festival where they appeared as Special Guests to UFO. Also documented is Bruce Dickinson's arrival in 1982 and the band's return performance as headliners at the Reading Festival. The double album concludes with songs taken from the band's record breaking capacity show at The Monsters Of Rock Donington festival as part of their 1988 Seventh Son tour. The BBC Archives double CD is a testament to the live power that is Iron Maiden -- no prisoners taken, no quarter given. Iron Maiden's 1982 Beast On The Road tour has taken on a mythical quality among Metal fans as the tour and the album which really put Maiden at the forefront of Rock and Metal worldwide. The historical show from the Hammersmith Odeon has been specially mixed and co-produced for the casket by Steve Harris and the band's long-serving sound engineer Doug Hall. This double CD, Beast Over Hammersmith, clearly illustrates how remarkable and ground-breaking the tour was in support of the all time classic album, The Number Of The Beast. The accompanying inlay booklet is a complete recreation of the Beast On The Road tour program and lists all the world tour dates and includes notes from the band written at that time. The third double CD in the set, Best Of The B-Sides, is accompanied with liner notes written by Iron Maiden's manager Rod Smallwood to guide you through every track. In many ways it is a collection that not only reveals much about the band as individuals and the inherent character of the band, but also provides a real insight into who and where their influences came from. For the fans among you who buy both singles and albums, you will all be aware that Maiden don't simply stick on another mix of the same single or another album track for their B-sides, but they will always try and come up with something of real quality, and that is both new and different. With this in mind, the band have compiled what they consider to be the Best Of The B-Sides over the years, which include all the studio recordings, some of the live recordings (including cover version of songs from their heroes) as well as the occasional humorous, sideways look at themselves and those that have worked with the band. In full, the track listing of Eddie's Archive is as follows: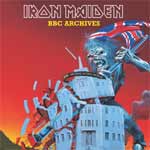 CD 1 -- BBC Archive DISC 1

Friday Rock Show Session 1979

Iron Maiden
Running Free
Transylvania
Sanctuary

Reading Festival 1982

Wrathchild
Run To The Hills
Children Of The Damned
The Number of The Beast
22 Acacia Avenue
Transylvania
The Prisoner
Hallowed Be Thy Name
Phantom Of The Opera
Iron Maiden

DISC 2

Reading Festival 1980

Prowler
Remember Tomorrow
Killers
Running Free
Transylvania
Iron Maiden

Monsters of Rock Festival Donington 1988

Moonchild
Wrathchild
Infinite Dreams
The Trooper
Seventh Son of a Seventh Son
The Number of the Beast
Hallowed Be Thy Name
Iron Maiden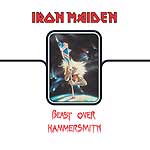 CD2 -- Beast Over Hammersmith DISC 1 Murders In The Rue Morgue
Wrathchild
Run To The Hills
Children Of The Damned
The Number of The Beast
Another Life
Killers
22 Acacia Avenue
Total Eclipse DISC 2 Transylvania
The Prisoner
Hallowed Be Thy Name
Phantom of the Opera
Iron Maiden
Sanctuary
Drifter
Running Free
Prowler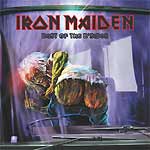 CD3 -- Best Of The B-Sides DISC 1 Burning Ambition
Drifter (Live)
Invasion
Remember Tomorrow (Live)
I've Got The Fire
Cross-Eyed Mary
Rainbow's Gold
King Of Twilight
Reach Out
That Girl
Juanita
The Sheriff Of Huddersfield
Black Bart Blues
Prowler '88
Charlotte The Harlot '88 DISC 2 All In Your Mind
Kill Me Ce Soir
I'm A Mover
Communication Breakdown
Nodding Donkey Blues
Space Station No. 5
I Can't See My Feelings
Roll Over Vic Vella
Justice of the Peace
Judgment Day
My Generation
Doctor Doctor
Blood On The World's Hands (Live)
The Aftermath (Live)
Futureal (Live)
Wasted Years '99 (Live) Iron Maiden will shortly reconvene to start writing and preparing for their next studio album for Columbia Records. Simultaneously, in recognition of the band's huge and everlasting popularity, Portrait/Columbia/Legacy is to release a TV advertised Greatest Hits album entitled Edward The Great which will feature 16 of their biggest hits. "We appreciate that the majority of our loyal fans will already have all these tracks, but hope like us, they will get a great kick from seeing Iron Maiden TV ads blasting across the nations homes!" says Rod Smallwood. "This Greatest Hits album is aimed at those who need to be initiated into the world of Iron Maiden and Metal, and to make sure everyone clearly understands that Eddie's Archive is for the fans, we have requested that both releases are made on the same day -- 4th November! For the avoidance of any doubt, we will also make the amazing new themed Edward The Great artwork available as a free download from our website (www.ironmaiden.com) for our fans as we would not want them to feel obliged to buy a series of tracks they already have in their collection just to get the packaging." Edward The Great hits run as follows: Run To The Hills
The Number Of The Beast
Flight Of Icarus
The Trooper
2 Minutes to Midnight
Wasted Years
Can I Play with Madness
The Evil That Men Do
The Clairvoyant
Infinite Dreams
Holy Smoke
Bring Your Daughter… To The Slaughter
Man on the Edge
Futureal
The Wicker Man
Fear of the Dark (Live in Rio)

The Casket will be released in North America by Portrait/Columbia/Legacy Records.

www.ironmaiden.com




Please log in to view RANTS

If you don't have a username, click here to create an account!






Represent! Get Your KNAC.COM Bumper Sticker

Happenings This Week on KNAC.COM

CATTLE DECAPITATION Reveal Details For Rarities Album, Medium Rarities

VANDENBERG'S MOONKINGS Get Rugged And Unplugged

ROXANNE Set To Release New Album Radio Silence

LORDS OF THE TRIDENT Premiere 360 Degree VR Video "Zero Hour"

SAXON Unleash New Video For Track "Predator"

MEMPHIS MAY FIRE Announce New Album Broken

BYZANTINE Launches New Video For "The Cicada Tree"

ARCHER NATION Readies New Album Beneath The Dream

WARKINGS Release First Glorious Single, Video "Gladiator"

DECIBEL METAL & BEER FEST: LA Announces PRE-FEST With ARMORED SAINT, NIGHT DEMON, PERSEKUTOR And UADA

WRATH Streams New Track "Draw Blood" From The New Album Rage

DEVILSKIN Release "ENDO" Video With Important Message

KISS Announces The "End Of The Road" Final Tour

MADBALL Release Music Video For "Freight Train"

ICARUS WITCH Return With Goodbye Cruel World Album

TRIBULATION Release "Nightbound" Video

VIRGIN STEELE Will Release With Seven Devils Moonshine Special 5 CD Boxset For Their 35th Anniversary

KNAC-FM DJ THRASHPIE Release Head Bangin' Radio Book

DREAM CHILD Drop "Midnight Song" Video

WITHIN TEMPTATION Announce New Album Resist

BMG To Reissue DIO's Classic 1996 - 2004 Studio Albums

DEE SNIDER Is "American Made" With New Video

STEEL PANTHER Announce More "SUNSET STRIP LIVE!" Tour Dates

IMPELLITTERI Unleash "Run For Your Life" Video

THE POWER OF THE RIFF Makes Its Return To Los Angeles In November

GRAVE DIGGER Stream New Track "The Power Of Metal"

VOIVOD Release "Inconspiracy" Video, 7 Inch EP

CASTLE Unveils New Song "Can't Escape The Evil"

MEGADETH Bassist DAVID ELLEFSON Announces East Coast "BASSTORY" Dates

FIVE FINGER DEATH PUNCH Premiere "When The Seasons Change" Video

UNLEASH THE ARCHERS Stream Track "Ten Thousand Against One"

LACUNA COIL Release "Blood, Tears, Dust" Clip From The 119 Show - Live In London

ARCHITECTS Return With Holy Hell Album

STEELHEART Set To Release Rock'n Milan Live Album, DVD

'A BOWIE CELEBRATION' Announces 32-Date North American Winter Tour

BLACKTOP MOJO Reveal PledgeMusic Campaign To Fund Upcoming Album

POP EVIL Announces 2018 Canadian Headline Tour Dates

SODOM To Release New EP Partisan In November

CIRITH UNGOL Releases First New Track Since 1991 With "Witch's Game"

STRATOVARIUS To Release Enigma: Intermission 2

ENUFF Z'NUFF Release Video For Title Track of New Album Diamond Boy

ALCATRAZZ Reveal Parole Denied-Tokyo 2017 Live LP

SEPTICFLESH Announce Show With Live Orchestra

HELIX To Release A Helix Christmas Album

SUPERSUCKERS Debut "History Of Rock N' Roll" Video

LOUDER THAN LIFE Daily Music Schedule Announced

STEVE VAI Reveals First Round Of Guests Performing At "The Big Mama-Jama Jamathon"

FIFTH ANGEL Unleash 'Can You Hear Me' Lyric Video

GHOST Announces 2019 European Headline Dates

WITHERFALL Release "Ode to Despair" Single/Video

AUDIOTOPSY Reveal Grooving New Track "What Am I?"

KROKUS To Call It A Day With "Adios Amigos Tour"

Former MUSHROOMHEAD Frontman, Co-Founder JEFFREY NOTHING Returns With New Single

METAL ALLEGIANCE Unleash New Beer Visualizer Video For "The Accuser"

FOZZY Announces Full Canadian Tour

SEVENTH WONDER Debut New Song "The Everones"

MADAM X Release 'Monstrocity' Music Video

GRETA VAN FLEET Announces Its Debut Full-Length Album, Anthem of The Peaceful Army

YOB Premiere "Original Face" Video

RIVER CITY ROCKFEST Announces Band Performance Times

BEHEMOTH Launches Video For "Wolves Ov Siberia"

RED FANG Announce Late 2018 West Coast Tour Dates

AFTERSHOCK, LOUDER THAN LIFE Festivals Announce VINNIE PAUL ALL-STAR TRIBUTES

OBSCURA Announce Winter 2019 Headlining Tour Dates

OZZY OSBOURNE Partners With OMAZE To Offer Fans An Epic Concert Experience

HOLTER Set To Release Vlad The Impaler Album

KAMELOT Premiere Video For "MindFall Remedy"

VICIOUS RUMORS Kick Off the "Digital Dictator 30th Anniversary Tour" With SOLD OUT Show In Santa Rosa

SEVEN KINGDOMS Announce North American Headline Tour

ANTHRAX To Celebrate The 30th Anniversary Of State Of Euphoria With Special Edition

STRYPER Guitarist OZ FOX To Resume Touring After Medical Scare

GWAR Takes Over DC's Rick And Morty-Themed Pop-Up Bar