Iron Maiden Releases Casket Box Set


By Sefany Jones, Contributing Editor
Thursday, September 12, 2002 @ 1:24 PM


| | | |
| --- | --- | --- |
| | | Maiden Releases Casket Box Set |
For Immediate Release: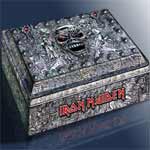 Iron Maiden Releases Casket Box Set Eddie's Archive and Edward The Great Greatest Hits Collection On November 5th Through Portrait/Columbia/Legacy Records. For 20 years, Iron Maiden have been at the forefront of heavy metal worldwide and are viewed by many as one of Britain's greatest musical exports, as highlighted by last year's prestigious Ivor Novello songwriting award. During this time they have achieved incredible global chart success, some 200 gold and platinum records, sell out tours and huge respect from their peers both old and new. As a celebration, Iron Maiden are to release some highly treasured recordings presented in a very special collector's case for their long standing and loyal fans. Eddie's Archive is to be released by Portrait/Columbia/Legacy Records on November 5th. The set comprises of three double CD's containing the band's earliest live recordings from 1979 through to their headlining performance at Donington in 1988. In addition to this, there will be a compilation of The Best Of The B-Sides available here for the first time as one collection. Rod Smallwood, manager of the band since mid 1979, comments, "We've been talking for a while about issuing a special release for our fans and I think the live recordings are very important to the history of the band. In fact, other than the Maiden Japan EP and a couple of live B-Sides, there were no live recordings released until Live After Death in 1986. These recordings encompass the early days with Paul Di'Anno through to Bruce Dickinson's arrival. Maiden's career went on from one high to another -- it really was a rollercoaster ride! I think they capture the essence of what the band was and still is all about: pure, raw energy, great musicianship and an in-your-face attitude. I've seen the casket and it looks fantastic. This is a great way to celebrate our history with the people who helped us make it." The set will be presented in a unique 270x190x60 mm. (approx. 10.5x7.5x2.5 in.) limited edition silver Eddie embossed casket. Alongside the music, fans will find a crystal Eddie Head shot glass and an individually numbered Pete Frame family tree on parchment scroll, detailing the complete Iron Maiden history and rolled in a specially designed Eddie ring! Each of the three double CD's have full colour 24 page booklets, two with new Eddie artwork with previously unseen photos of the various line ups; and one based on the original classic '82 tour programme.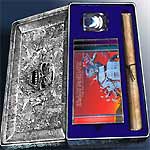 The first of the double CD's is entitled BBC Archives and includes music recorded between 1979 and 1988 for the BBC's Friday Rock Show. Accompanied by notes from the show's long time producer, Tony Wilson, it features Maiden fronted by Paul Di'Anno and their performances at a special Rock Show studio session in October 1979 as the band were breaking onto the scene, and at 1980's Reading Festival where they appeared as Special Guests to UFO. Also documented is Bruce Dickinson's arrival in 1982 and the band's return performance as headliners at the Reading Festival. The double album concludes with songs taken from the band's record breaking capacity show at The Monsters Of Rock Donington festival as part of their 1988 Seventh Son tour. The BBC Archives double CD is a testament to the live power that is Iron Maiden -- no prisoners taken, no quarter given. Iron Maiden's 1982 Beast On The Road tour has taken on a mythical quality among Metal fans as the tour and the album which really put Maiden at the forefront of Rock and Metal worldwide. The historical show from the Hammersmith Odeon has been specially mixed and co-produced for the casket by Steve Harris and the band's long-serving sound engineer Doug Hall. This double CD, Beast Over Hammersmith, clearly illustrates how remarkable and ground-breaking the tour was in support of the all time classic album, The Number Of The Beast. The accompanying inlay booklet is a complete recreation of the Beast On The Road tour program and lists all the world tour dates and includes notes from the band written at that time. The third double CD in the set, Best Of The B-Sides, is accompanied with liner notes written by Iron Maiden's manager Rod Smallwood to guide you through every track. In many ways it is a collection that not only reveals much about the band as individuals and the inherent character of the band, but also provides a real insight into who and where their influences came from. For the fans among you who buy both singles and albums, you will all be aware that Maiden don't simply stick on another mix of the same single or another album track for their B-sides, but they will always try and come up with something of real quality, and that is both new and different. With this in mind, the band have compiled what they consider to be the Best Of The B-Sides over the years, which include all the studio recordings, some of the live recordings (including cover version of songs from their heroes) as well as the occasional humorous, sideways look at themselves and those that have worked with the band. In full, the track listing of Eddie's Archive is as follows: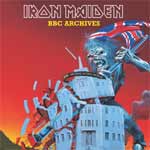 CD 1 -- BBC Archive DISC 1

Friday Rock Show Session 1979

Iron Maiden
Running Free
Transylvania
Sanctuary

Reading Festival 1982

Wrathchild
Run To The Hills
Children Of The Damned
The Number of The Beast
22 Acacia Avenue
Transylvania
The Prisoner
Hallowed Be Thy Name
Phantom Of The Opera
Iron Maiden

DISC 2

Reading Festival 1980

Prowler
Remember Tomorrow
Killers
Running Free
Transylvania
Iron Maiden

Monsters of Rock Festival Donington 1988

Moonchild
Wrathchild
Infinite Dreams
The Trooper
Seventh Son of a Seventh Son
The Number of the Beast
Hallowed Be Thy Name
Iron Maiden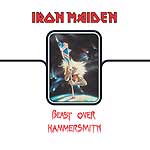 CD2 -- Beast Over Hammersmith DISC 1 Murders In The Rue Morgue
Wrathchild
Run To The Hills
Children Of The Damned
The Number of The Beast
Another Life
Killers
22 Acacia Avenue
Total Eclipse DISC 2 Transylvania
The Prisoner
Hallowed Be Thy Name
Phantom of the Opera
Iron Maiden
Sanctuary
Drifter
Running Free
Prowler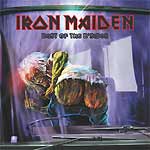 CD3 -- Best Of The B-Sides DISC 1 Burning Ambition
Drifter (Live)
Invasion
Remember Tomorrow (Live)
I've Got The Fire
Cross-Eyed Mary
Rainbow's Gold
King Of Twilight
Reach Out
That Girl
Juanita
The Sheriff Of Huddersfield
Black Bart Blues
Prowler '88
Charlotte The Harlot '88 DISC 2 All In Your Mind
Kill Me Ce Soir
I'm A Mover
Communication Breakdown
Nodding Donkey Blues
Space Station No. 5
I Can't See My Feelings
Roll Over Vic Vella
Justice of the Peace
Judgment Day
My Generation
Doctor Doctor
Blood On The World's Hands (Live)
The Aftermath (Live)
Futureal (Live)
Wasted Years '99 (Live) Iron Maiden will shortly reconvene to start writing and preparing for their next studio album for Columbia Records. Simultaneously, in recognition of the band's huge and everlasting popularity, Portrait/Columbia/Legacy is to release a TV advertised Greatest Hits album entitled Edward The Great which will feature 16 of their biggest hits. "We appreciate that the majority of our loyal fans will already have all these tracks, but hope like us, they will get a great kick from seeing Iron Maiden TV ads blasting across the nations homes!" says Rod Smallwood. "This Greatest Hits album is aimed at those who need to be initiated into the world of Iron Maiden and Metal, and to make sure everyone clearly understands that Eddie's Archive is for the fans, we have requested that both releases are made on the same day -- 4th November! For the avoidance of any doubt, we will also make the amazing new themed Edward The Great artwork available as a free download from our website (www.ironmaiden.com) for our fans as we would not want them to feel obliged to buy a series of tracks they already have in their collection just to get the packaging." Edward The Great hits run as follows: Run To The Hills
The Number Of The Beast
Flight Of Icarus
The Trooper
2 Minutes to Midnight
Wasted Years
Can I Play with Madness
The Evil That Men Do
The Clairvoyant
Infinite Dreams
Holy Smoke
Bring Your Daughter… To The Slaughter
Man on the Edge
Futureal
The Wicker Man
Fear of the Dark (Live in Rio)

The Casket will be released in North America by Portrait/Columbia/Legacy Records.

www.ironmaiden.com




Please log in to view RANTS

If you don't have a username, click here to create an account!






Represent! Get Your KNAC.COM Bumper Sticker

Happenings This Week on KNAC.COM

CLUTCH Announce New 2019 Winter Tour Dates

WARKINGS Unleash "Sparta" Music Video

SWALLOW THE SUN Unveil New Album Details For When A Shadow Is Forced Into The Light

New Supergroup SPIRITS OF FIRE, Featuring TIM "RIPPER" OWENS, CHRIS CAFFERY, STEVE DIGIORGIO & MRK ZONDER, Reveal Debut Album

STEEL PANTHER Announce First US Tour Dates Of 2019 With The "Heavy Metal Mardi Gras" Tour

EINDHOVEN METAL MEETING Reveals Band Running Order

THE GLORIOUS SONS Confirm 2019 U.S. Headline Tour

TYGERS OF PAN TANG Set To Release Hellbound Spellbound Live 1981

SLASH FEATURING MYLES KENNEDY AND THE CONSPIRATORS Launch Music Video Shot By Fans For "Mind Your Manners"

HYPOCRISY, FLESHGOD APOCALYPSE & AENIMUS Announce North American Tour

NEW YEARS DAY Stream New Song "Skeletons" From Forthcoming Album

JOE PERRY Debuts New Video For "Quake" Featuring GARY CHERONE

HARD ROCK HELL XIII Reveals Inital Bands For 2019

DEVIN TOWNSEND Announces "An Evening With" Acoustic Solo Tour

BULLETS AND OCTANE Release "When We Were Young" Single/Music Video

RED DRAGON CARTEL Announces North American Tour

AUGUST BURNS RED Releases Winter Wilderness EP

ARTILLERY Releases Video For Third Single, "Pain"

LACUNA COIL Releases 'Nothing Stands In Our Way' Book

KANE ROBERTS Set To Release The New Normal Solo Album

IRON MAIDEN Announce "Legacy Of The Beast" 2019 Dates

NORDIC NOISE Announces First Bands For 2019

A PERFECT CIRCLE Drop Gleefully Apocalyptic Video For "So Long, And Thanks For All The Fish"

TRIPTYKON, ROADBURN Collaborate In The Completion Of CELTIC FROST's Unfinished Requiem

More MEGADETH Inaugural MEGACRUISE Details Revealed

QUIET RIOT Set To Release One Night in Milan Live Album

CRIMSON REIGN Debut '"The Darker Side Of Life" Video

CORROSION OF CONFORMITY Announces 2019 North American Headlining Tour

MEMPHIS MAY FIRE Premiere "The Old Me" Video

Ex-DOKKEN Supergroup Changes Band Name From SUPERSTROKE To THE END: machine

VANDENBERG'S MOONKINGS Release Lyric Video For "Walk Away"

DEKO MUSIC Launches New Label With Specialty Vinyl Releases

SILVER TALON Rises From SPELLCASTER Ashes

TANTRIC Premieres Official "Letting Go" Music Video

RAVEN Set To Unleash New Live Album Screaming Murder Death From Above: Live in Aalborg

SLEEPKILLERS Drop Video For "Dirty Foot"

BILLYBIO (BIOHAZARD/POWERFLO) Set To Release Debut Solo Album, Feed The Fire

DREAM THEATER Unveil New Album Distance Over Time, 2019 North American Tour

LIKE A STORM Release New Video For "Pure Evil"

HOLLOW CRY Unleash New Track, "Procrastinated"

OZZY OSBOURNE Announces Tour Dates With MEGADETH

BILL HUDSON's NORTHTALE Unveil First Song "Shape Your Reality" From Upcoming Album

CELLAR DARLING Stream New Single, Video For "Insomnia"

METALWINGS Launch "For All Beyond" Video

BEDLEM, Featuring PAUL WANDTKE (ex-TRIVIUM), Releases Debut LP Back To Bedlem

MEKA NISM Premiere Music Video "Black Sky"

BLACK WATER RISING Premieres New Video For "World of Frustration"

HERMAN FRANK Set To Release Fight The Fear Album

AMON AMARTH Launches "Raise Your Horns" Live Video

"Burn In Hell" With DANKO JONES' New Track

HOLLYWOOD UNDEAD Release Surprise EP, Psalms

BUCKCHERRY Reveal First New Track in Over Three Years, "Head Like A Hole"

THE POWER OF THE RIFF's Final Lineup Announced

New Book, Long Live Queen: Rock Royalty Discuss Freddie, Brian, John & Roger, Out Now

THE NIGHT FLIGHT ORCHESTRA Debut New Music Video, Kick Off European Tour

GODSMACK Announce 2019 European Tour Dates

SEVENDUST Release Music Video For "Unforgiven"

TENGGER CAVALRY Frontman Curates Nomadic Metal Compilation, Sound of The Raging Steppe

SODOM Go "One Step Over The Line" With New Single, Video

WHITECHAPEL Set To Release New Album The Valley

AUGUST BURNS RED Confirm Winter 2019 Tour Dates

DUST BOLT Are Trapped In Chaos With New Album

More OZZFEST New Year's Eve Los Angeles Details Revealed

MAGNUM Announce New Live Album Live At The Symphony Hall

KAMELOT Announce 2019 North American Tour

ARCHITECTS Release "Modern Misery" Video

BEAST IN BLACK Unveil From Hell With Love"

THE MARYLAND DOOM FEST Confirms Its 2019 Full 5th Anniversary Lineup

FIGHT THE FURY Drop New Video "My Demons"

LAST UNION Featuring MIKE LEPOND, ULI KUSCH And JAMES LABRIE Reveal Twelve Album Details

AMBERIAN DAWN Premiere Video For "Cherish My Memory"

ALTITUDES & ATTITUDE Feat. DAVID ELLEFSON (MEGADETH), FRANK BELLO (ANTHRAX) Ready New Album Get It Out

QUEENSYRCHE Unveil New Album The Verdict, Spring Tour

BRITISH LION Stream New Track "Spit Fire" Ahead Of November Tour

HAMMERFALL To Release Legacy Of Kings - 20 Year Anniversary Edition Boxset

STELLAR CIRCUITS Drops "Skylights" Video

GRANNY 4 BARREL Kick Off Tour With CKY

SOILWORK Release "Full Moon Shoals" Single, Video

NIGHTWISH Confirm Re-Issue End Of An Era Live Album

ASHES OF ARES Unleash "Let All Despair" Video

MARTY FRIEDMAN Reveals 2019 U.S Tour Dates

ACCEPT Reveal Live Video For "Symphony No. 40"

VOLBEAT To Release Live Album, Concert Film Let's Boogie! Live From Telia Parken

KISS Announces First "End Of The Road" Tour Dates

GIN ANNIE Set To Release Debut Album 100% Proof

SURF CITY BLITZ Reveals Band Performance Times, Motorcycle Event Times, Onsite Activities & More

JETBOY Are "Beating The Odds" With New Track Streaming

LORD OF THE LOST Reveal Confession (Live at Christuskirche) CD/DVD

WARKINGS Release Second Glorious Single "Hephaistos"

OPETH Announce LA Garden Of The Titans Film Screening

METAL ALLEGIANCE Confirm Their Annual Los Angeles January Metal Assault

Music Industry Veterans Look To Reward Fans, Sites, And Musicians With Revolutionary CNOTE

Canadian Rockers ONE Go All Or Nothing With New Album

STEVE VAI Unveils "Dark Matter" Video

CENTURY MEDIA RECORDS Streams Documentary Of WARREL DANE Recording Shadow Work

TED POLEY's Modern Art Album Gets Splatter Vinyl Issue

POWERWOLF Premiere Video For Title Track "The Sacrament Of Sin"

REPENTANCE Stream New Single, "Enter The Gallows"

ICE NINE KILLS Drop "Stabbing In The Dark" Video

STATIC-X Returns with Original Band Lineup, Announces New Album, World Tour For 20th Anniversary Of Debut Album, Wisconsin Death Trip

SIRENIA Launch Official Video For "Into The Night"

Artist VINCENT CASTIGLIA Documentary Bloodlines: The Art And Life Of Vincent Castiglia Out In November

STRIKER Go "Head First" With New Video

2019 ROCKSTOK Festival Announced

JINJER Releases New Single And Video For "Ape"

OZZFEST To Celebrate New Year's Eve In Los Angeles

LIKE A STORM Announce December Headline Tour

MAC SABBATH Debuts Meaty Marionette Music Video For "Sweet Beef"

JORN To Release 50 Years On Earth - The Anniversary Box Set

MYLES KENNEDY Releases The Great Beyond Video

STARBREAKER, Featuring TONY HARNELL And MAGNUS KARLSSON, Readies New Album Dysphoria

AFTERSHOK Unleash "Forever In Metal" Video

FATE DESTROYED Caution "We Fall" In New Music Video

INGLORIOUS Announce New Album Ride To Nowhere

DIRE PERIL Unleash "Blood In The Ice" Video

ARTILLERY Releases New Single, "Crossroads To Conspiracy"

BEAST IN BLACK Reveal New Album "From Hell With Love"

FRACTAL CYPHER's New Music Video Reaches "From The Above And To The Stars"

TENGGER CAVALRY Announce North American Tour

GHOST Reaches Into The Past For "Dance Macabre" Video

REVERENCE Announce Vengeance Is...Live Live Album

KATAKLYSM Release New Animated Video For "...And Then I Saw Blood"

ALL THAT REMAINS Guitarist OLI HERBERT Passes Away At 44

WAR OF THRONES Unleash "Say What" Video

JIZZY PEARL'S LOVE/HATE Returns To The UK For Four Special Shows