OVERKILL, PRONG, A DARKER DAY Live In Ottawa


By Andrew Depedro, Ottawa Corespondent
Wednesday, November 12, 2014 @ 5:20 PM


| | | |
| --- | --- | --- |
| | | New Jersey's Own White Devils Of Thrash Keep Mavericks Rockin' To The Core On Their First Ottawa Visit Along With PRONG And A DARKER DAY, Ottawa, Canada, September 25, 2014 |
I was about to start off this review with a brief opener about my first post-marathon concert but given that it's taken me longer to write this review than to run 21 kilometres, the only media overkill I'm focusing on here is talking about New Jersey's powersurging white devil armorist thrash legends making their first Ottawa appearance. Ever.

But first, a few words from their support acts starting with local metallers A DARKER DAY, whose name should be familiar with those of you within the Joe Thrasher camp especially if you've read several of the KNAC.COM reviews I've done for the band in the past. Original bassist Gumby joined their ranks back in their earlier incarnation and brought lots of hardcore and thrash influences to their sound and Christ knows how I'd almost forgotten that for a band so easily influenced by the likes of PANTERA they've shared stages with the likes of ANNIHILATOR (I missed that show), EXCITER (their Rock Against MS fundraiser show) and even FASTER PUSSYCAT (http://www.knac.com/article.asp?ArticleID=9388). They still feature Jadon Bailey (drums/vocals) and guitarists Mark Garrod and Jeff Gobling in their lineup; Jeff has now added a new feature to their live shows in which he does an impeccable solo rendition of the Star Wars theme after each concert, making him just as well-known as Gumby within the band. Live, ADD still have that aggressive yet melodic swagger to them in songs such as "Mind Of Madness", "Stalemate", "Black Spirit" and other dark tracks within their catalogue. When they're not onstage hitting up every if not any live venue in town ADD are often in the studio busy birthing out EP's faster than Octomom. Hopefully the full-length album they've been wanting to put out for some time will eventually come to fruition. Right now, I hope that this equally overdue review will get everyone's attention.

https://www.facebook.com/adarkerday
http://www.adarkerday.com/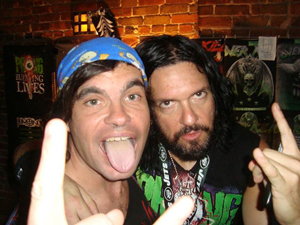 Up next from the local co-headliners would be NYC-based tech/thrash metal legends PRONG who like the headliners are gracing the stage here in O-town for the first time despite a solid touring/recording career spanning close to three decades and eight studio albums including this year's Ruining Lives disc. It was hard to tell what frontman/guitarist Tommy Victor would be expecting from an Ottawa crowd as he, bassist Jason Christoper and drummer Art Cruz> opened their set with "For Dear Life". He maybe didn't expect the crowd to know all the words to "Lost And Found" but as that song's opening riff was familiar to many fans of MuchMusic's French version of the Power Hour back in the early 90s one would guess that he wasn't surprised either of his band garnering such a massive following here. And then came the newer PRONG tracks such as "Turnover" taking their place alongside classics such as "Unconditional", "Prove You Wrong", "Whose Fist Is This Anyway?" and the closing number "Snap Your Fingers, Snap Your Neck" which capped off a short yet impressive set by the fiery trio and helped boosted their profile up north even further. Needless to say, Tommy Victor admitted that were the set times for each band a lot longer they'd have included other gems such as "Unfortunately" and "Broken Peace", but for now he was happy to have been proven wrong about Ottawa not having as lively a supportive live audience compared to its larger counterparts in the east. Many lives were changed thanks to PRONG's set - but far from ruined. Looking forward to their second visit already.
https://www.facebook.com/prongmusic
http://prongmusic.com/
Headliners OVERKILL may have been well overdue in having played Ottawa during the course of their 35-year career but for me this was my second time having seen them. The first time had been back at the first Heavy MTL festival in 2008 when their soundcheck exceeded the normal stage time limit by about a good hour and a half, the culprit being a faulty set of snare drum triggers which needed constant testing before the show could start. They eventually took the stage and put on a killer show that day but it was at the expense of the other bands that followed them once the schedule was suddenly changed. Swedish power metallers HAMMERFALL were the most affected that day, having cut short a European festival tour just to fly out to Montreal for their only North American appearance that year to play for less than 30 minutes afterwards.
Shit happens, I suppose. But luckily this never deterred the Wrecking Crew from playing up north. And sometimes it takes playing the small club circuit to push a long-standing band to rediscover itself after so many years. That's perhaps why they seized the opportunity to do this tour and hit up new markets they've never ventured into before.
Opening with the fist-pumping chants of "Armorist" from their recent (and 18th) album White Devil Armory the current OVERKILL lineup of Bobby Blitz, bassist D.D. Verni, guitarists Dave Linsk and Derek Tailer and drummer Ron Lipnicki took the rabid crowd on an 80-minute no-holds-barred thrash maelstrom which went to 1985 and back again. In union the crowd stood until the pummeling rhythm section and dual guitar attack on classics like "Wrecking Crew" and "Rotten To The Core", as well as newer tracks such as "Pig" and "Bitter Pill" prompted them to run into each other. Like Tommy Victor before him, Blitz was surprised at how loyal the Ottawa crowd were to them despite this having been their first show ever here. And like Tommy Victor before him, Blitz was glad to have been proven wrong about the crowd turnout and atmosphere. This in turn just stoked OVERKILL's fire even further and the momentum in their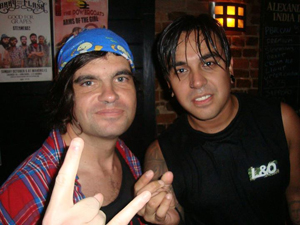 performance continued to surge. Whether they played top-speed songs like "Electric Rattlesnake" or more slowed-down groove-heavy chuggers like "Black Daze", OVERKILL and Blitz in particular ran like clockwork. That same rekindled energy was what also made Armory another success story in OVERKILL's ongoing quest for room in the lair of the Big Four of thrash. A lair whose own armory is ripe for penetrating and bringing forward new contenders to the throne. And may we all be damned if OVERKILL are not amongst the group leading the charge especially based on a performance such as this. After 35 years of a fight fight fight (like they never have fought before), OVERKILL's swift cold hand of retalitation is giving the bitchslap to its detractors. Catch them at a gutter near you.
https://www.facebook.com/OverkillWreckingCrew
http://wreckingcrew.com/Ironbound/
Setlist:
"Armorist"
"Overkill"
"Electric Rattlesnake"
"Wrecking Crew"
"Black Daze"
"Rotten To The Core"
"Bring Me The Night"
"End Of The Line"
"Long Time Dyin'"
"Under One"
"Pig"
"Hello From The Gutter"
"Ironbound"
Encore:
"Bitter Pill"
"Elimination"
"Fuck You" (SUBHUMANS cover)




Please log in to view RANTS

If you don't have a username, click here to create an account!






BRITISH LION, CONEY HATCH In Ottawa, Canada

SUNFLOWER DEAD C O M A

SURF CITY BLITZ In California Photo Gallery

TRIVIUM, AVATAR, LIGHT THE TORCH In Portland, OR Photo Gallery

DEVILDRIVER, JINJER In Cleveland, OH With Photos!

CORROSION OF CONFORMITY In Dublin, Ireland

CAULDRON New Gods

STEVE GRIMMETT'S GRIM REAPER In Ottawa, Canada

JUDAS PRIEST, KREATOR In Quito, Ecuador

CAL JAM '18 Photo Gallery

BLOODBATH The Arrow of Satan Is Drawn

STRIKER Play To Win

NIGHT RANGER "Dawn Of Madness" Show In Waukegan, IL

BUTCHER BABIES, KOBRA AND THE LOTUS, SKARLETT RIOT, IGNEA, MAERTYRIUM, In Siegburg, Germany

HOUSE OF LORDS In New Bedford, MA

GRETA VAN FLEET Anthem Of The Peaceful Army

IMPELLITTERI The Nature Of The Beast

ALICE COOPER In Houston Photo Gallery

ICARUS WITCH Goodbye Cruel World

TARJA, STRATOVARIUS, SERPENTYNE In Cologne, Germany

CLUTCH, SEVENDUST, TYLER BRYANT & THE SHAKEDOWN In Portland, OR With Photos!

ACCEPT In Houston, TX With Photos!

U.D.O. Steelfactory

SKULL FIST Way Of The Road

SOULFLY Ritual

ANTHRAX State of Euphoria 30th Anniversary Deluxe Edition

FIFTH ANGEL The Third Secret

STEVE GRIMMETT'S GRIM REAPER In New Bedford, MA

ANAAL NATHRAKH A New Kind of Horror

PRIMAL FEAR Apocalypse

BEHEMOTH I Loved You At Your Darkest

DORO Forever Warriors, Forever United

SLASH FEATURING MYLES KENNEDY AND THE CONSPIRATORS In Houston, TX Photo Gallery

BILLY MORRIS AND THE SUNSET STRIP Holdin' All The Aces

VINCE NEIL In Houston, TX Photo Gallery

DEE SNIDER For The Love Of Metal

UNLEASH THE ARCHERS, STRIKER, HELION PRIME In Houston, TX W/Photos!

DREAM CHILD Until Death Do We Meet Again

SCORPIONS, QUEENSRYCHE In Tampa, FL With Photos!

HUMBLE PIE Live At The Ottawa CityFolk Festival

BEHEMOTH Album Listening Party In Los Angeles For I Loved You At Your Darkest

THE DEAD DAISIES, HOOKERS 'N BLOW In Ottawa, Canada With Photos!

DRAGONLORD Dominion

STONE BROKEN Ain't Always Easy

BRANT BJORK Mankind Woman

KORPIKLAANI Kulkija

BRAINSTORM Midnight Ghost

SLEAZY WAY OUT, INSUFFICIENT FUNDS In Ottawa, Canada

DEEP PURPLE, JUDAS PRIEST In Jacksonville, FL W/Photos!

HELLOWEEN In Worcester, MA With Photos!