"Little known secret; METALLICA's ...And Justice For All and DEATH's Symbolic record had a baby. It was tossed into a junkyard and forgotten about. It ate metal and drank gasoline until it broke free and began to kill. SYLOSIS defines modern speed metal. " – Chris Adler (LAMB OF GOD)

UK based modern thrashers SYLOSIS have released a teaser clip in anticipation of the release of their new album, Dormant Heart. The clip includes music, lyrics, studio footage and more info about the recording of the new album. Watch the teaser below.

SYLOSIS will release their fourth studio album Dormant Heart on the January 12th (UK), 13th (N. America) and 16th (Rest of Europe) via Nuclear Blast. The album was produced by Middleton with the help of engineer Scott Atkins and was mastered by TESSERACT guitarist Acle Kahney. The artwork was created by Bristol based artist BONFIRE (OPETH, SATYRICON, KATATONIA). On the theme of the artwork Josh comments: "The cover relates to sacrifice (the sacrificial lamb is more of a symbol than something to be taken literally) but also the looming, oppressing figure in the background represents corruption and being forced into something against your will."

Despite the name, Dormant Heart is not a peaceful album; it's about a powerful force unleashing anger against everyday injustice and a sleeping society that lets these things wash over them.

In regards to the record Josh states: "It's the most pissed-off, aggressive and intense album we've done, yet it still retains the epic, progressive and melodic side we're also known for. It's a very gloomy and atmospheric album. We've been through a lot as a band and individuals and we've made our darkest album to date.

The title refers to people going through life on autopilot and being one of the herd, how a lot of people simply accept the way things are just because it's 'tradition' as opposed to taking a good look at the world around you and thinking for yourself. Sometimes there are catalysts that happen and change our perspective or consciousness."

Fans can pre-order Dormant Heart here: http://smarturl.it/SYLOSISDormantHeart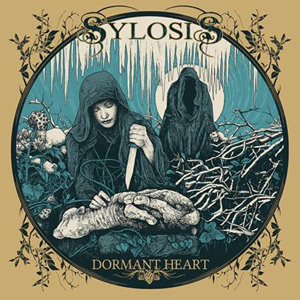 Dormant Heart track list:
"Where The Wolves Come To Die"
"Victims And Pawns"
"Dormant Heart"
"To Build A Tomb"
"Overthrown"
"Leech"
"Servitude"
"Indoctrinated"
"Harm"
"Mercy"
"Callous Souls"
"Quiescent"
Bonus tracks:
"Pillars Erode"
"Zero" (SMASHING PUMPKINS cover)
Bonus DVD
The Dormant Heart Sessions - Live in the studio
For more info visit: http://sylosis.com | www.facebook.com/sylosis | www.nuclearblast.de/sylosis