THESE ARE THEY At The Feast Of Seven Funerals


By Metal Mark Mihalo, Tulsa Contributor
Sunday, November 23, 2014 @ 10:27 AM


| | | |
| --- | --- | --- |
| | | |
THESE ARE THEY
At The Feast Of Seven Funerals
The End Records





Formed in 2008, THESE ARE THEY is a Chicago based death metal side project of NOVEMBERS DOOM frontman Paul Kuhr. Comprising of Paul, former DOOM guitarist Steve Nicholson, guitarist Justin Jurgevich (Formerly of HURTLOCKER), bassist Mike Flaherty (LOUDMOUTH) and drummer Tony Bettenhausen (HURTLOCKER), THESE ARE THEY feature a more straight forward approach to death metal by digging deep into the roots of the genre. What sets them apart from Paul's main band is that there are no clean vocals or gentle melodies, only brutal knock-your-teeth-in metal. With downtuned guitars, heavy emphasis on Mike's bass lines, and the relentless beats of Tony on drums, you have a well-tuned destruction machine that requires it to be turned up to maximum volume levels to piss off the neighbors. Imagine TESTAMENT on steroids and you have this unique band that churns out some of the heaviest metal you will hear anywhere.

Releasing their third full length album, THESE ARE THEY take us on another journey with a concept based theme taking us back to the 1800's in Western America where we follow a gunman named Lucius and his accomplice Madame Penelope as they wreak havoc in the old west. "Hell Rides At Dawn" brings in the main character as he comes into town to hook up with Penelope. Blast beat drums blended with Paul's deep, dark vocals give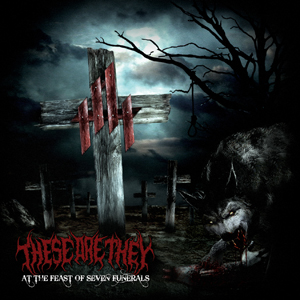 the sense of impending doom as the song rages on for the full six plus minutes of its duration. Continuing into the story the next few songs follow the mayhem brought from Penelope and Lucius leading up to Penelope's death. "Penelope Dies" returns to blast beat drums and the sense of vengeance rising as the crunching guitars delve deep into Lucius' darkness through the chorus. "Feast Of Seven Funerals" brings in a slower, darker tone while still delivering shear brutality as Lucius takes revenge for Penelope's death. The posse rides out to find Lucius in "Hangman's Knot" in one of the best songs on the album. Fast paced rhythm with excellent guitar solos tearing it up make it a mosh pitters dream. Closing out this brutal onslaught is "Buried Neath The Willows". Of course the "hero" is dead by this point and the sound of this song delivers a slower tempo eulogy for him. It's a great closure for this finely crafted concept album.
For those of you that doubt it, yes, great death metal can come from the U.S. and not only from Sweden. The more you listen to this and get into the story behind it, the better it gets. THESE ARE THEY have their own unique sound quality and style that sets them apart from others in the genre. There are not many bands that can successfully crank out a theme based metal album, let alone death metal, but THESE ARE THEY have done it. Once again teaming up with mixing and mastering legend Dan Swanö of Sweden, this latest release is sure to please the pickiest death metal fans palette.
Rating 4.0 Out Of 5.0
Pick up your copy of At The Feast Of Seven Funerals now in the KNAC.COM More Store right HERE




Please log in to view RANTS

If you don't have a username, click here to create an account!






SCORPIONS, QUEENSRYCHE In Tampa, FL With Photos!

HUMBLE PIE Live At The Ottawa CityFolk Festival

BEHEMOTH Album Listening Party In Los Angeles For I Loved You At Your Darkest

THE DEAD DAISIES, HOOKERS 'N BLOW In Ottawa, Canada With Photos!

DRAGONLORD Dominion

STONE BROKEN Ain't Always Easy

BRANT BJORK Mankind Woman

KORPIKLAANI Kulkija

BRAINSTORM Midnight Ghost

SLEAZY WAY OUT, INSUFFICIENT FUNDS In Ottawa, Canada

DEEP PURPLE, JUDAS PRIEST In Jacksonville, FL W/Photos!

HELLOWEEN In Worcester, MA With Photos!

RED TIGER Evolution

ALTER BRIDGE Live At The Royal Albert Hall Featuring The Parrallax Orchestra

CLUTCH Book Of Bad Decisions

ANGRA In Winter Park, FL With Photos!

TALES FROM THE PORN H.M.M.V.

CARRY THE STORM i/E

PIG DESTROYER Head Cage

SAXON Strong Arm Of The Law Reissue

THE DEAD DAISIES In Houston, TX Photo Gallery

ALICE IN CHAINS, BUSH, THE CULT, STONE TEMPLE PILOTS In Ridgefield, WA W/Photos!

SUICIDAL TENDENCIES STill Cyco Punk After All These Years

OPERATION:MINDCRIME, TILL DEATH DO US PART In Portland, OR With Photos!

TNT XIII

DC4 Atomic Highway

CAL JAM '18 POP UP In Los Angeles With Photos!

SLAYER, LAMB OF GOD, ANNTHRAX, TESTAMENT And NAPALM DEATH In Ridgefield, WA With Photos!

JIZZY PEARL OF LOVE/HATE All You Need Is Soul

NIGHT DEMON Live Darkness

RAVENSCROFT Rebel

NASHVILLE PUSSY Pleased To Eat You

QUIET RIOT In Houston Photo Gallery

WARRANT, STEELHEART In Houston Photo Gallery

INKCARCERATION FESTIVAL Photo Gallery 2

INKCARCERATION FESTIVAL Photo Gallery 1

THE DEAD DAISIES, Dizzy Reed's HOOKERS & BLOW In Joliet, IL

THE SKULL The Endless Road Turns Dark