NAPALM DEATH Reveal New Album Artwork


By Larry Petro, News Monkey
Tuesday, December 2, 2014 @ 5:28 PM


| | | |
| --- | --- | --- |
| | | Apex Predator - Easy Meat Due Out January 27th In North America |
In anticipation of their new album, Apex Predator - Easy Meat, grindcore legends NAPALM DEATH have now revealed the album's cover art. Their 15th studio album release is due out via Century Media Records on January 26th in Europe and January 27th in North America.

The album's artwork, which can be seen below, was created by Danish designer Frode Sylthe/ Friktion.com, who has previously worked on the band's last album Utilitarian as well as with bands such as AT THE GATES, TOTALT JAVLA MORKER, THE HAUNTED and BURST.

NAPALM DEATH's Shane Embury commented about the artwork: "There are many meanings that you could grab from the new album artwork, I think. But one is the representation of how our natural and most basic needs for happiness and communication are being stripped away by materialism and pre-packaged garbage - crap that we don't need, filtered to us through the media via the megacorporations with the goal to maintain the bloated bottom line of profit. It's all just stuff that will be obsolete in 6 months time. And behind the scenes of course, modern day slavery is alive, well and obscured by this facade. It's all an exercise in deceit to shower us with fake fulfilment, while the poor and underprivileged fall further by the wayside".

Mark 'Barney' Greenway chimed in: "Across the albums, we have had some very complex and interconnected artwork. This time we wanted to keep it more simple - strip it down perhaps to a single image that would sharpen the focus. I loved the idea of the supermarket-style packaging as soon as I saw it, as when you go into one of those places with nourishment in mind and you're greeted with some miserable, artificially-enhanced foodstuff contained in a bleak little receptacle of industrial plastics, it doesn't exactly inspire you. To then fill that plastic tray with the dregs of meat production, well, that is the 'easy meat' in the title - representing the people who suffer for burgeoning consumption degraded and dumped in the most pitiful way".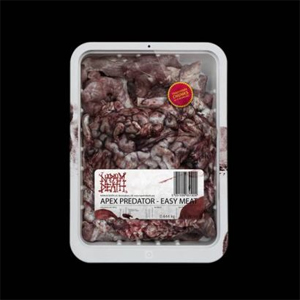 Apex Predator - Easy Meat tracklisting:
"Apex Predator - Easy Meat"
"Smash A Single Digit"
"Metaphorically Screw You"
"How The Years Condemn"
"Stubborn Stains"
"Timeless Flogging"
"Dear Slum Landlord…"
"Cesspits"
"Bloodless Coup"
"Beyond The Pale"
"Stunt Your Growth"
"Hierarchies"
"One-Eyed"
"Adversarial/Copulating Snakes"
NAPALM DEATH will appear at 2015's edition of the 70000 Tons Of Metal cruise in the Caribbean (Florida/Jamaica) from January 22nd to 26th along with ARCH ENEMY, BEHEMOTH, BLIND GUARDIAN, CANNIBAL CORPSE, MUNICIPAL WASTE and many more.

Tour dates:
1.22-26 - Florida/Jamaica - 70,000 Tons Of Metal Cruise
And as previously announced, NAPALM DEATH and VOIVOD will join forces at the end of January for a North American Tour, aptly titled the Through Space And Grind Tour, but without member Mitch Harris. The band commented on his absence:

"Due to illness within his family, we would like to announce that Mitch Harris will unfortunately not be performing with us for the near future. We stress that this is not a permanent arrangement, although we are unsure exactly when Mitch will return under the circumstances.

Naturally, we sympathise and wish Mitch all the best for now. In the meantime we will be joined by guitarists who we know can grind it out in his absence. Thanks for your understanding..."

EXHUMED, IRON REAGAN and BLACK CROWN INITIATE will be the support on all dates. Special guests on select dates include RINGWORM, DAYGLO ABORTIONS, THEORIES and PHOBIA.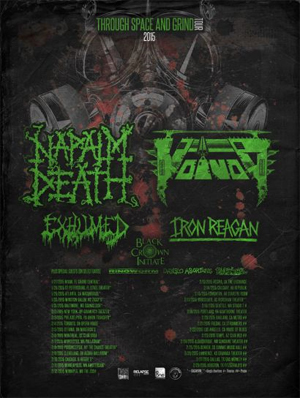 Tour dates:
1.27 - Miami, FL - Grand Central*
1.28 - St Petersburg, FL - State Theater*
1.29 - Atlanta, GA - Masquerade*
1.30 - Winston-Salem, NC - Ziggy's*
1.31 - Baltimore, MD - Soundstage*
2.2 - New York, NY - Gramercy Theater*
2.3 - Philadelphia, PA - Union Transfer*
2.4 - Toronto, ON - Opera House
2.5 - Ottawa, ON - Maverick's
2.6 - Montreal, QC - Club Soda
2.7 - Worcester, MA - Palladium*
2.8 - Poughkeepsie, NY - The Chance Theater*
2.9 - Cleveland, OH - Agora Ballroom*
2.10 - Chicago, IL - Reggie's*
2.11 - Minneapolis, MN - Amsterdam*
2.12 - Winnipeg, MB - The Zoo
2.13 - Regina, SK - The Exchange
2.14 - Calgary, AB - - Republik
2.15 - Edmonton, AB - Starlite Room
2.17 - Vancouver, BC - Rickshaw Theater**
2.18 - Seattle, WA - Studio 7 #
2.19 - Portland, OR - Hawthorne Theater
2.20 - Oakland, CA - Metro ##
2.21 - Fresno, CA - Strummers ##
2.22 - Los Angeles, CA - House Of Blues
2.23 - Tempe, AZ - Club Red ##
2.24 - Albuquerque, NM - Sunshine Theater ##
2.25 - Denver, CO - Summit Music Hall ##
2.26 - Lawrence, KS - Granada Theater ##
2.27 - Dallas, TX - Gas Monkey ##
2.28 - Houston, TX - Fitzgerald's ##
* with RINGWORM
** with DAYGLO ABORTIONS
# with THEORIES




Please log in to view RANTS

If you don't have a username, click here to create an account!