Former LILLIAN AXE Guitarist JON STER Passes Away


By Larry Petro, News Monkey
Tuesday, December 2, 2014 @ 5:36 PM


| | | |
| --- | --- | --- |
| | | November 29th |
Jon Ster Photo Credit To Bradley Schurter

New Orleans rockers LILLIAN AXE checked in over the weekend with the follwing sad news:

"Today is a sad day. Former LILLIAN AXE guitarist Jon Ster passed away this morning. Please keep his family in your thoughts and prayers.

Jon you will be missed.

Rest in peace our brother."

LILLIAN AXE guitarist/mastermind Steve Blaze also posted the following:

"It is with a very sad heart that I am posting these words. I am not, nor ever have been, very good at dealing with death. It's only been in the past 12 years since my Dad passed, that I was able to handle these times of loss without going into severe depression. I owe that all to God and his understanding of how much it hurts us as His children when we have to say goodbye to our loved ones. This weekend we all had to say goodbye to our dear friend and brother Jon Ster. If I talk about how sad I am, it will only make you all that much more upset, so I will talk about Jon in a way that you who didn't know him well might understand how he made this planet a better place.

I first met him on the road, where else?, when LILLIAN AXE would cross paths with STIFF. They would play the same circuits we were, and I always thought about what a truly funny, happy and cool individual he was. I swear I can barely picture him without a smile ten miles wide. When I was blessed with my record deal, I was dealing with Ron and Rob mainly. It was originally going to be a one guitar band. I remember Jon came to my house in Mississippi with Ron and Rob. He was there to hang out and maybe play keys here and there. Then when he got there I realized what a huge talent he was! He was solid, great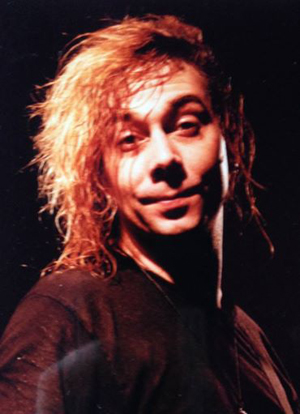 guitarist, played keys, sang well and beyond all else, he was a star! He made people laugh, smile, and want to be around him. I immediately knew LILLIAN was now going to have 2 guitarists! Over the last few years, even when I only saw him occasionally, we always picked up where we left off....laughing, smiling, and telling the many stories from our 12 years together in LILLIAN AXE. I never heard or saw him in a bad mood. He never had a bad thing to say about anyone. He love being on the road, and he loved everything having to do with playing music. He was the guy everyone wanted to hang out with after the show. Just look at the pictures of him on stage! Is there even one without that smile?
Nope.
Jon, I am going to miss you, just knowing you are in heaven waiting for us to see you again. You are probably telling corny jokes to Jesus as we speak. To all of his friends, fans and family, please don't get depressed. Be sad because loss is sad, especially when it happens to people who have made our lives better and that we care about. It's ok to grieve. But we are all blessed that he left behind pieces of himself that will always exist. Memories and music. He was a huge part of LILLIAN AXE and those albums he left behind. His imprint will live forever on that music. So, whenever you think about him, put on "See You Someday", shed a tear, and then put on "My Number" and picture him starting the riff with a smile bigger than the rest of his face.
I love you Jon, my brother.....keep the amps warmed up.
Steve"




Please log in to view RANTS

If you don't have a username, click here to create an account!