RJ Stone: Rush Live in Los Angeles


By RJ Stone,
Tuesday, October 1, 2002 @ 11:39 PM


| | | |
| --- | --- | --- |
| | | KNAC.COM's RJ Stone, With AJ M |
Greetings my fellow wannabe Canucks! A day most that most of us have been waiting for has finally arrived in L.A.! After a 5-year absence from the touring scene, Toronto natives, Rush have returned to So Cal! Now… as we all know, I am the resident Rush guru at KNAC.COM. Having spent much of my late teens and early 20's playing bass and keys in a Rush cover band, I have traversed the west coast over the years to see them in all their glory at numerous venues. I can't count how many times I have actually seen them, but since 1983, the only tour I missed was the "Presto" tour due to medical reasons beyond my control (uncontrolled flatulence.) My days starts off just like any other day, however, today I am cutting out of the day gig a bit early for a special interview with Geddy Lee later in the afternoon on KNAC.COM. I arrive at the station at 2:55pm and 5 minutes later, the phone rings and my hero (Geddy) is on the phone. Very punctual! We begin the interview with a quick recap of how the tour has been progressing and his comments echo what everyone I have spoken to has said. "The audiences have been great and we've been having a lot of fun." I then turn to a more serious line of questioning, bringing up the topic of Neil's return to his domain behind the skins and how the band had come through the personal tragedy that Neil has been through the past few years. With the utmost elegance, Geddy recites how they were there for him not only as his band-mates, but as members of his family for the past 30 years. They, too, shared in his pain, which he has suffered at the loss of his wife and daughter in such a short time span. After several other questions and quips, I then ask him one last question. "Would you ever consider working with Bob and Doug McKenzie again?" His response, "most definitely." What a guy! It is at this point which I close out our conversation with "Out of the Cradle" from the latest release, Vapor Trails (Atlantic Recordings).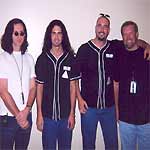 So it's off to the Staples Center for what promises to be an exciting show. I was fortunate enough to see them twice on the last tour about 5 years ago so the anticipation is overwhelming. As AJ Motts and I make it to the venue in record time, (only about 30 minutes from the studio in L.A. traffic) we are directed to the VIP entrance for the meet and greet scheduled at 6:45 PM. Well, since this is L.A., there are about 60 people who are gathered together to meet the band, which is about three times as many as they have been doing on the rest of the tour. Needless to say, we wait patiently for the band to arrive when low and behold, in walks Geddy and Alex. Neil is nowhere to be found as he is off somewhere in the bowels of the arena. We are notified that there will be no pictures taken with anyone's personal camera except with the disposable camera that the band is providing, pretty cool (See picture above)! So as it comes down to our turn to mug it up with Alex and Geddy, I am quick to re-acquaint myself and thank him for the interview and introduce AJ and myself to Alex. "1, 2, 3 smile! Ok again, 1,2,3 smile! 'K, thanks, enjoy the show." That was the extent of it. So off we go to the seats. We knew coming into the show that we didn't have the greatest seat in the venue, but hey, who are we to bitch at free tickets? Anyhow, I had always heard that the sound in the upper decks of the Staples Center was not the greatest place to hear a concert from. All of the rumors were correct. AJ and I were struggling to hear through the incredible echo that was overpowering the acoustics of the arena. Previously, I had been there for Springsteen when it opened and for a few hockey games. Bruce sounded great, but I did have good seats. And for the hockey games, you never really notice the background noise. This was the only drawback to the show. The show opened with Tom Sawyer, an unexpected treat! And from there it got better. With 30 years behind them, it's almost useless to try and guess which tune is going to be next. Rush played several cuts from the new Vapor Trails CD as well as some unexpected numbers from their past. See full set list below. After the completion of the first set and the gratuitous intermission, it was now time for "The Rhythm Method" where it is time for "Sir Kicks A Lot" to regain the title he has held on to for so many years. I truly believe there are never more drummers in attendance at any concert than there are at a Rush show, and tonight was no exception (ask Junkman, he was there). For a lot of us, Neil's drum solo is a staple in the Rush show. It has come to be expected and it has almost become routine. Key word being almost! As he started getting into his groove, Neil played several of the rhythms he has done in the past, including utilizing the preprogrammed instrumentation that is synonymous since the Grace Under Pressure days. He then decided to lay to rest any concerns that might suggest he has gotten older, lost interest in the music, or that he ain't Neil FUCKING Peart! Mr. "Drums with a Fist" proceeded to then drop the jaw of everyone in attendance as he rhythmically and systematically turned into a tornado behind the kit to the likes that I have never seen! When he finished his solo, the entire arena was on its feet giving Neil a standing ovation unlike anything I've ever been witness to in all these years. After Neil finished it was time for a much-needed break and it was at this time when Alex and Geddy came out with a surprise and played an acoustic version of "Resist." In the 20 years that I have been seeing Rush, I have never seen Geddy pick up the six-string, let alone play it live. An absolute joy! AJ and I thoroughly enjoyed the selection of tunes they played but the kid sitting behind us was upset that he didn't hear "Red Barchetta" or "Closer to the Heart." But, then again, when they played "2112: Overture," he said to his girlfriend that this song was about 15 years old. Oh, to be young and in love. If you've never taken the time to see Rush live, I encourage you to do so on this tour. With the repertoire of songs they have amassed over 30 years, you're able to get a grasp of the influence this band has had on musicians across the globe. Spend the $30 for a seat and go experience what are truly one of the greatest live acts to ever grace the stage. Who knows, you might end up buying a couple of discs you never knew existed. Either that or you'll come away with a sudden craving for a Moosehead Beer and a slab of back-bacon. Au Revoir! Set 1:
Tom Sawyer
Distant Early Warning
New World Man
Roll the Bones
Earthshine
YYZ
The Pass
Bravado
The Big Money
Between Sun and Moon
Vital Signs
Natural Science

Set 2:
One Little Victory (with pyrotechnics and all)
Driven
Ceiling Unlimited
Secret Touch
Dreamline
Red Sector A
Leave That Thing Alone
The Rhythm Method
Resist (Acoustic performace by Geddy and Alex, Neil left the stage)
2112: Overture
2112: Temples of Syrinx
Limelight
La Villa Strangiato (in it's entirety - including strange spoken word by Alex)
Spirit of Radio

Encore:
By-Tor & the Snow Dog (only the first part, not last two parts)
Cygnus X-1 (only the first 3 or minutes of instrumental beginning, no vocals)
Working Man (in it's entirety)


---

Send your live reviews to submissions@knac.com




Please log in to view RANTS

If you don't have a username, click here to create an account!