On January 20th, a memorial concert will be held for STATIC-X frontman Wayne Static at the Whisky A Go Go in Hollywood, CA. The event will be broadcast live free of charge by Big Time Broadcasting. The new mobile broadcasting company is owned by Janne Tamminen and Matt Zane who is also performing at the event.

SNOT will be playing six songs and members of COAL CHAMBER, SYSTEM OF A DOWN, DOPE and many more will be attending / performing. Also the remaining members of Wayne Static's band will be performing STATIC-X's debut 1999 album Wisconsin Death Trip in its entirety with special guest vocalists.

"We didn't plan to launch the company until next month but when I was reading comments regarding the show a lot of fans were upset because they couldn't attend due to living out of state or out of the country," said Zane. "I talked with my partners and we decided to do what we had to make it happen so everyone could be part of this even if they physically couldn't be there. So many people loved Wayne and just want to hear this tribute by so many of his friends and band."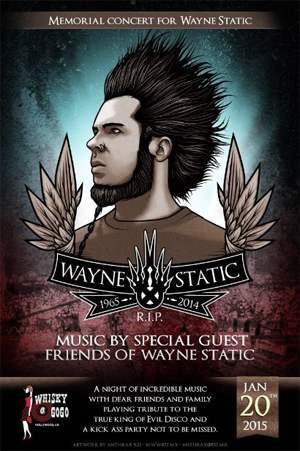 Fans will be able to watch the entire concert while also interacting through a chat room free of charge.
"I talked to their management and they immediately said they wanted to make this available to everyone for no cost. I can really respect that. I'm also honored that I could help in bringing this to the people."
Zane also directed the last three video's that Wayne performed in including the controversial "Assassins Of Youth" and "Noise Revolution" with DMC.
You can watch the show by going to BigTimeBroadCasting.com.
Wayne Static passed away at the age of 48 in his sleep on the evening of October 31st, 2014.