The 15th studio album, Apex Predator - Easy Meat, by UK Grind pioneers NAPALM DEATH is released as of today in Germany, Austria, Switzerland and Finland via Century Media Records. These are the exact other international street dates per country:

UK / BENELUX / FRANCE / GREECE / DENMARK / PORTUGAL / NORWAY / REST OF EUROPE: Monday, January 26, 2015

NORTH AMERICA / ITALY / SPAIN / POLAND: Tuesday, January 27, 2015

SWEDEN: Wednesday, January 28, 2015

AUSTRALIA / NEW ZEALAND: Friday, January 30, 2015

To celebrate the album's first release, a really special promotional video clip for the short and intense track "Smash A Single Digit" is being debuted today and you can check it out right HERE.

The video for "Smash A Single Digit" was directed and produced by Michael Panduro, who has previously worked for bands like CEPHALIC CARNAGE, SAINT VITUS or JOB FOR A COWBOY.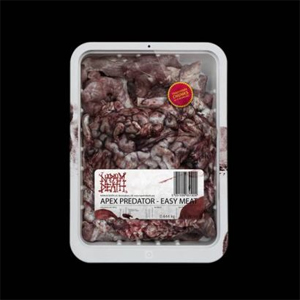 Trivia facts about this clip: The video is made up of 1093 unique drawings, each one hand-drawn in ink on paper by artist Lisbet Fredslund (www.facebook.com/ElfShotLameWitch) and actually 225 of the drawings are of the face of NAPALM DEATH vocalist Mark "Barney" Greenway, who checked in to comment the clip as follows:
"Couldn't be happier with the "Smash A Single Digit" video clip. It shows nothing of dignity or life's fundamental pleasures - only a snapshot of those unfortunate enough to only be deemed as numbers for production quotas in this world. When a 'digit' has therefore been expended, it is rubbed out (or consumed leaving no trace, as in the case of this video). In my opinion, Michael Panduro and the team produced a real work of art and I think the general style holds some really nice future artistic possibilities for NAPALM DEATH."
NAPALM DEATH are currently on the 70000 Tons Of Metal cruise on the Caribbean and are starting a North American tour together with labelmates VOIVOD (and several other great bands) next week. NAPALM DEATH online:
http://www.napalmdeath.org
http://www.facebook.com/officialnapalmdeath
https://twitter.com/officialND