Def Leppard Live In Boston


By Mitch Lafon, Contributor
Tuesday, October 8, 2002 @ 7:00 AM


| | | |
| --- | --- | --- |
| | | Def Leppard Live at the Mix98. |
It was with great anticipation that I drove from Montreal to Boston to catch one of England's finest back on North American soil. The band was the closing act on a bill that seemed better suited to 'N Sync than Def Leppard, but so what? Also, at the Fleet Center that night were Canada's newest star, Avril Lavigne, the ever energetic Pink (who actually surprised me, by putting on a reasonably rocked out show), the always lethargic David Gray, the "15 minutes of fame" John Mayer, and the "who cares about" Guster and Ruby Horse. The crowd was a mix of older and newer faces. All there to catch a glimpse of their generation's big-named act. The press was well-treated and though I had met Def Leppard before, I never thought I'd be given a chance to meet Pink or Avril Or David... That's just not the beat I cover, but with the help of the gang at Mix 98 I was given a chance to meet them all. The venue was filled to capacity and stayed filled throughout most of the show. Having seen the younger 'kids' there, I was expecting a nearly empty venue by the time Def Leppard took the stage, but to my surprise they stayed and sang and danced. Who knew? I guess someone has been rummaging through their older sister's or brother's CD collection...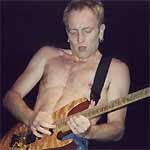 After having sat thru the good (Pink and Avril), the bad and the ugly, it was time for the main attraction... Def Leppard! The band had looked a little tired on their last tour in North America, so it was anybody's guess as to what tonight's show would bring. Luckily, the band brought back the excitement they had on earlier tours. Could it be that the critical acclaim of their new album X has put a bounce back in their walk or was it simply that the band wanted to show the others on the bill the true meaning of 'rock band'? Either way, it was hard to find anything to complain about this night. Sure, the band could have dropped the song "Promises" from the set for "Bringing On The Heartbreak" or even "Rock Brigade" (for that matter) and, yes, the sound at first needed some tweaking in the mix, but at the end of it all... it was Def Leppard in an arena in North America in 2002... How can that not be good? SET LIST (in order):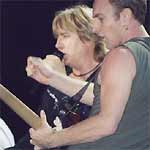 1) Let's Get Rocked
2) Promises
3) Foolin'
4) Animal
5) Love Bites
6) Now
7) Photograph
8) Rocket
9) Armageddon It
10) Pour Some Sugar On Me
11) Rock of Ages

(Photos by Mitch Lafon)
---

Send your live reviews to submissions@knac.com




Please log in to view RANTS

If you don't have a username, click here to create an account!






SLAUGHTER, LYNCH MOB In Houston Photo Gallery (20)

SLAUGHTER, LYNCH MOB In Houston Photo Gallery (19)

SLAUGHTER, LYNCH MOB In Houston Photo Gallery (18)

SLAUGHTER, LYNCH MOB In Houston Photo Gallery (17)

SLAUGHTER, LYNCH MOB In Houston Photo Gallery (16)

SLAUGHTER, LYNCH MOB In Houston Photo Gallery (15)

SLAUGHTER, LYNCH MOB In Houston Photo Gallery (14)

SLAUGHTER, LYNCH MOB In Houston Photo Gallery (13)

SLAUGHTER, LYNCH MOB In Houston Photo Gallery (12)

SLAUGHTER, LYNCH MOB In Houston Photo Gallery (11)

SLAUGHTER, LYNCH MOB In Houston Photo Gallery (10)

SLAUGHTER, LYNCH MOB In Houston Photo Gallery (9)

SLAUGHTER, LYNCH MOB In Houston Photo Gallery (8)

SLAUGHTER, LYNCH MOB In Houston Photo Gallery (7)

SLAUGHTER, LYNCH MOB In Houston Photo Gallery (6)

SLAUGHTER, LYNCH MOB In Houston Photo Gallery (5)

SLAUGHTER, LYNCH MOB In Houston Photo Gallery (4)

SLAUGHTER, LYNCH MOB In Houston Photo Gallery (3)

SLAUGHTER, LYNCH MOB In Houston Photo Gallery (2)

SLAUGHTER, LYNCH MOB In Houston Photo Gallery (1)