Oxymoron The Best Before 2000/Feed The Breed


By Vinnie Apicella, Contributor
Monday, October 7, 2002 @ 7:00 AM


| | | |
| --- | --- | --- |
| | | (GMM Records) |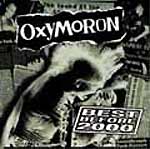 Toyz in the attic, noize in the cellar… the pack strikes back? Well hey anyway, here's Germany's answer to age old Brit-punk all summed up in one word… yup, you guessed it. And they do The Blitz to boot! Important to note, Oxymoron's influences trace as far back to many of England's cult classics of the 1980s, their arrival however took place a decade later during a period of passivity for punk idols while the likes of Pearl Jam and Nirvana were being hailed as the new "punk" generation. So, the scene does what it always has -- digs the trenches and battle its way past the opposition, kneeling, crawling, teeth clenched, fists pumped, overriding veto with voice as it were and thus many infamous singles, seven inches, and split EP's are born.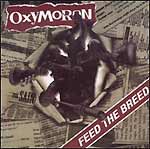 "The Singles" collection, their pre-2000 appearances sharing many a stage and nary a spotlight with some of the world's best including the Dropkicks, DuckyBoys, and Cock Sparrer. Seventeen fired up, fed up, fugitive from justice cuts, long out of print, with a ground level view, and spewed with an outspokenness to rival even the likes of The Exploited,featuring four classic kicks from their very first Fuck The Nineties… Here's Our Noize EP! Feed The Breed is the unlikely studio follow up from a year later, featuring the revised band firing on four again, weapons aimed straight away as they crash through the headlines and into the mouths of adversarial political patrons with fourteen direct hits to the heart of social unrest. Products of Erlangen, Germany, Oxymoron's very existence was threatened since the day they were born and here's a true testament to tenacity by dismissing band member trials, trends, and theft to begin life anew a decade after they began… and long may their wagon roll. The tunes here are serious-minded and delivered with maximum intensity and melodic refraction -- so combine the effects of working class dignity with UK pub speak and slang, business-like and brutish with an "Angelic" arc that's verse for verse with Boston-based premiums, and you get a bitter taste of what Oxymoron's about again, freshly scalped and stormin' the scene. * * * *




Please log in to view RANTS

If you don't have a username, click here to create an account!





ARMORED SAINT, ACT OF DEFIANCE In Allston, MA

KNAC.COM Reviews The VINNIE PAUL CELEBRATION OF LIFE Event In Dallas, Texas

DEVILDRIVER Outlaws 'Til The End Vol. 1

DEVIN TOWNSEND PROJECT Ocean Machine: Live At The Ancient Roman Theatre Plovdiv

OPERATION: MINDCRIME In Houston, TX With Photos!

MONUMENT Hellhound

THE IRON MAIDENS In New Bedford, MA With Photos!

BULLETS AND OCTANE Waking Up Dead

TAD MOROSE Chapter X

KATAKLYSM Meditations

DIO DISCIPLES In Houston, TX With Photos!

IMMORTAL Northern Chaos Gods

SEBASTIAN BACH, THE STANDSTILLS And INIRE In Ottawa, Canada

SALTY DOG Lost Treasure

STYX, JOAN JETT, TESLA In Tampa, FL With Photos!

THE NIGHT FLIGHT ORCHESTRA Sometimes The World Ain't Enough

HALCYON WAY Bloody But Unbowed

MADBALL For The Cause

GRUESOME Twisted Prayers

FRANK HANNON From One Place...To Another - Volume 2

SAXON Saxon Reissue