SCAR SYMMETRY The Singularity, Phase 1: Neohumanity


By Metal Mark Mihalo, Tulsa Contributor
Thursday, February 5, 2015 @ 12:00 AM


| | | |
| --- | --- | --- |
| | | |
SCAR SYMMETRY
The Singluarity, Phase 1: Neohumanity
Nuclear Blast Records




Another epic metal band to hail from Sweden, SCAR SYMMETRY has been on the scene since 2004 with great success with their blend of melodic death and progressive styles of metal. Gaining significant popularity in the U.S. with their last album The Unseen Empire, released in 2011, they are back with the first of a trilogy of albums entitled The Singularity. This multi-release will be based on the concept of transhumanism, which is incorporating technology to greatly enhance human intelligence and ultimately the transformation into posthumanity. The first of this trilogy, Phase I: Neohumanity, takes us on a journey into the not so distant future where "artilects" are run by super computer artificial brains to control humanity and the fight for those who oppose it. This release is unique in that Per Nilsson does the majority of the work. From songwriter to vocals to lead guitar and keyboards, Per is an amazing musician.

The mix of clean and growl vocals seem to be the norm for a lot of bands lately, but SCAR SYMMETRY seem to have it down to a fine art. Mixing up the sound with three different vocalists (Lars, Roberth and Per), and combining that with the well-orchestrated music, Neohumanity delivers a tremendous punch to the face. The opening track "The Shape Of Things To Come" is short and tranquil in its blend of clean harmonies which slams you right into "Neohuman". Don't be fooled by the synthesizer techno intro, this song will grab your nuts and twist them 'til they pop with the relentless pounding rhythm and driving guitars.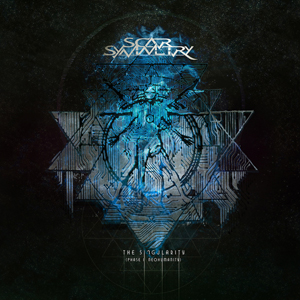 Per does an outstanding job delivering clean, soaring solos while the keyboards add that nuance of enchantment throughout. Next and probably my favorite track on this album is "Limits To Infinity". The crunching guitars and earthquake beats from Henrik on drums have more of a power metal sound than the other songs but takes on the familiar death sound in the middle leading again into the chorus at the end. "Children Of The Integrated Circuit" is a two and a half minute guitar instrumental and is a harmonious interlude toward the end of the album. All the songs are great, but I'll just touch on one more here; "Technocalyptic Cybergeddon". Like any movie trilogy, there has to be a cliff hanger leading to the next release. Coming in at over ten minutes, this brutally heavy song is a great ending for this album and leaves you wondering what's to come for mankind's future. The ending of the song comes a full 360 from the opening track with references of being "as tears in rain, lost to the void" as the "artilects" take over and we become digital. Is mankind doomed?
The beautiful melodic choruses throughout this release are a hallmark of SCAR SYMMETRY, and the blend with the death metal elements makes this their best release to date. The guitar work on this album is just fucking amazing. Hopefully that trend will continue with Phase 2 and 3. If there was a new genre of metal called Progressive Sci-Fi Melodic Death, SCAR SYMMETRY would fit the bill for sure.
4.8 Out Of 5.0
Grab your copy of The Singluarity, Phase 1: Neohumanity in the KNAC.COM More Store right HERE




Please log in to view RANTS

If you don't have a username, click here to create an account!






ALICE COOPER In Houston Photo Gallery

ICARUS WITCH Goodbye Cruel World

TARJA, STRATOVARIUS, SERPENTYNE In Cologne, Germany

CLUTCH, SEVENDUST, TYLER BRYANT & THE SHAKEDOWN In Portland, OR With Photos!

ACCEPT In Houston, TX With Photos!

U.D.O. Steelfactory

SKULL FIST Way Of The Road

SOULFLY Ritual

ANTHRAX State of Euphoria 30th Anniversary Deluxe Edition

FIFTH ANGEL The Third Secret

STEVE GRIMMETT'S GRIM REAPER In New Bedford, MA

ANAAL NATHRAKH A New Kind of Horror

PRIMAL FEAR Apocalypse

BEHEMOTH I Loved You At Your Darkest

DORO Forever Warriors, Forever United

SLASH FEATURING MYLES KENNEDY AND THE CONSPIRATORS In Houston, TX Photo Gallery

BILLY MORRIS AND THE SUNSET STRIP Holdin' All The Aces

VINCE NEIL In Houston, TX Photo Gallery

DEE SNIDER For The Love Of Metal

UNLEASH THE ARCHERS, STRIKER, HELION PRIME In Houston, TX W/Photos!

CLUTCH, SEVENDUST In Houston, TX

KING KOBRA Sweden Rock Live

DREAM CHILD Until Death Do We Meet Again

SCORPIONS, QUEENSRYCHE In Tampa, FL With Photos!

HUMBLE PIE Live At The Ottawa CityFolk Festival

BEHEMOTH Album Listening Party In Los Angeles For I Loved You At Your Darkest

THE DEAD DAISIES, HOOKERS 'N BLOW In Ottawa, Canada With Photos!

DRAGONLORD Dominion

STONE BROKEN Ain't Always Easy

BRANT BJORK Mankind Woman

KORPIKLAANI Kulkija

BRAINSTORM Midnight Ghost

SLEAZY WAY OUT, INSUFFICIENT FUNDS In Ottawa, Canada

DEEP PURPLE, JUDAS PRIEST In Jacksonville, FL W/Photos!

HELLOWEEN In Worcester, MA With Photos!

RED TIGER Evolution

ALTER BRIDGE Live At The Royal Albert Hall Featuring The Parrallax Orchestra

CLUTCH Book Of Bad Decisions

ANGRA In Winter Park, FL With Photos!

TALES FROM THE PORN H.M.M.V.

CARRY THE STORM i/E

PIG DESTROYER Head Cage

SAXON Strong Arm Of The Law Reissue

THE DEAD DAISIES In Houston, TX Photo Gallery

ALICE IN CHAINS, BUSH, THE CULT, STONE TEMPLE PILOTS In Ridgefield, WA W/Photos!

SUICIDAL TENDENCIES STill Cyco Punk After All These Years

OPERATION:MINDCRIME, TILL DEATH DO US PART In Portland, OR With Photos!

TNT XIII

DC4 Atomic Highway

CAL JAM '18 POP UP In Los Angeles With Photos!

SLAYER, LAMB OF GOD, ANNTHRAX, TESTAMENT And NAPALM DEATH In Ridgefield, WA With Photos!

JIZZY PEARL OF LOVE/HATE All You Need Is Soul

NIGHT DEMON Live Darkness

RAVENSCROFT Rebel

NASHVILLE PUSSY Pleased To Eat You

QUIET RIOT In Houston Photo Gallery

WARRANT, STEELHEART In Houston Photo Gallery