JUDAS PRIEST Defenders Of The Faith 30th Anniversary Edition Remastered


By Larry Petro, News Monkey
Friday, February 27, 2015 @ 1:26 PM


| | | |
| --- | --- | --- |
| | | |
The year was 1984 and the Masters of British Metal, JUDAS PRIEST, were at the pinnacle of their careers. Having just released what is arguably their best album ever in Screaming For Vengeance barely a year and a half prior, the mighty PRIEST followed it up with an album nearly as grandoise, that being the epic Defenders Of The Faith. This album was chock full of great tracks like "Some Heads Are Gonna Roll", "Love Bites", "Rock Hard Ride Free" and one of my all-time favorite JUDAS PRIEST songs, "The Sentinel". And who could forget the images of the young kid playing the arcade game Pole Position in the furious video for the track "Freewheel Burning"? It was PRIEST at its absolute best to be sure!

Now, in celebration of the album's 30th anniversary, Defenders Of The Faith has been re-released as an expanded 3CD edition. The first CD is the classic Defenders album completely remastered and the difference in quality from the 1984 version is striking. The sound quality is top-notch and crystal clear and the listener has no trouble making out some of the individual instrument nuances that might have escaped notice on the original release. Of course, all of those great tracks are still there and rock just as hard as they did in '84.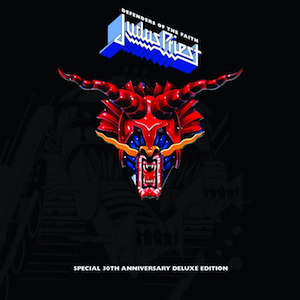 The biggest and best surprise of all though is the other 2 CDs that are included in this edition. They are a complete concert from the band's Defenders tour that was recorded, aptly enough you KNAC old-schoolers, on May 5, 1984 at Long Beach Arena, the site of other famous live recordings (IRON MAIDEN Live After Death anyone?). These bonus CDs alone are worth the price of this edition. The Defenders tour was the only time in my life (I can remember anyway) that I caught 2 dates on a same major tour (Houston, TX and about a month or two later in Oklahoma City, OK) and all the visuals and stage production of that show still resonate with me to this very day. The 21 song concert showcases JUDAS PRIEST at their finest. Hearing the absolute roars of the crowd as each song starts brings the listener right into Long Beach Arena and you are there as the magic unfolds. Classic PRIEST songs "Grinder", "Metal Gods", "Sinner", "Victim Of Changes" and "The Green Manalishi (With The Two-Pronged Crown)" are all on raw display and of course there's a heavy does of Defenders material here as well, encompassing nearly half of this recording with "Jawbreaker", "Night Comes Down", "Heavy Duty" and the album's title track among those performed. Then, a little past the halfway mark of the set, the crowd erupts as "The Hellion" begins and the deafening roar will make your hair stand on end and send chills up your spine.
As re-releases go this is one of the best I have heard yet and whether you're an old school metalhead like me or a youngster just getting into the classic heavy metal of days gone by, this 3CD set is a must-have addition to your collection!
5.0 Out Of 5.0
Grab a copy of Defenders Of The Faith 30th Anniversary Edition Remastered right now in the KNAC.COM More Store right HERE and let the headbanging commence!




Please log in to view RANTS

If you don't have a username, click here to create an account!





BURNING RAIN In Houston Photo Gallery

JUDAS PRIEST, URIAH HEEP In Los Angeles With Photos!

THY ART IS MURDER Human Target

HELL'S ADDICTION V1.0

CHEAP TRICK In Houston, TX With Photos!

LORDI Recordead Live - Sextourcism In Z7

GEOFF TATE'S OPERATION: MINDCRIME In New Bedford, MA

FLOTSAM AND JETSAM In Montreal, Canada

JUDAS PRIEST, URIAH HEEP In Portland, OR With Photos!

2019 SONIC TEMPLE Photo Gallery 2

2019 SONIC TEMPLE Photo Gallery 1

(HED)PE Stampede

STEVEN ADLER In Houston, TX Photo Gallery

SWEET OBLIVION Featuring GEOFF TATE Sweet Oblivion

SLAUGHTER, LYNCH MOB In Houston Photo Gallery

METALLICA At Slane Castle, Ireland

THE RODS Brotherhood Of Metal

JANET GARDNER Your Place In The Sun

BARONESS Gold & Grey

THE HOLLYWOOD VAMPIRES Rise

HATE Auric Gates Of Veles

SLAYER, LAMB OF GOD, AMON AMARTH, CANNIBAL CORPSE In Ottawa, Canada

MAJESTIC DOWNFALL, HELEVORN, NORILSK In Ottawa, Canada