CANNIBAL CORPSE, BEHEMOTH, AEON And TRIBULATION Live In Cleveland, Ohio With Photos!


By Geoff Ketler, Cleveland Contributor
Saturday, February 28, 2015 @ 9:21 AM





After the Sunday Gospel Brunch cleared out of the Cleveland House of Blues (seriously), it was time for the highly anticipated death metal tour of the year, thus far. The gold standard of the genre, CANNIBAL CORPSE, was in town and they brought with them a host of European heavy hitters.

Incense filled the air as TRIBULATION took the stage. Besides the occasional blast-beat, TRIBULATION was rather tame in comparison to the rest of the bill. The Swedish quartet had an almost enchanting, folksy demeanor to their music. In a way, they reminded me of their fellow countrymen, OPETH, but with less solos and much shorter songs. It was like dipping your toe into the pool to feel the water temperature – a good way to ease into the rest of the night, but not really much to write home about.

Setlist:
"Holy Libations"
"Beyond The Horror"
"The Vampyre"
"Randa"
"Ultra Silvam"
"When The Sky Is Black With Devils"
The crowd stirred up a bit more as AEON made their way to the stage. I am having a tough time getting past how great of a drummer Emil Wiksten is. Seriously, the guy can freaking rail on the skins! He was very impressive as was the rest of the group that served up a very progressive-feeling, but thrashy set. From my experiences, the best comparison I can come up with is DAATH. The band was tight as can be and extremely animated. This was more of what I was expecting from the bill.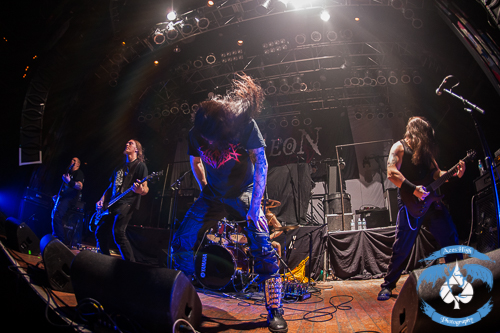 Setlist:
"Satanic Victory"
"Living Sin"
"Forgiveness Denied"
"Kill Them All"
"Blessed By A Priest"
"God Gives Head In Heaven"
"Forever Nailed"
Although this was a co-headlining tour and CANNIBAL CORPSE was to play last, BEHEMOTH stole the show. I had heard about the kind of performance BEHEMOTH puts on and I was pumped to get to photograph it. By this time the photo pit is usually pretty full, but for some reason, I was the only photographer in attendance. I am not sure why, but what the hell, I had the entire pit to myself! BEHEMOTH would live up to their name – seriously, the guys are enormous, especially bassist Orion (Tomasz Wróblewski). His full-sized bass guitar looks like a violin in his hands.

With his microphone stand flanked by cobras, vocalist/guitarist Nergal stood high, inciting the crowd. Once again, several incense sticks were burning; filling the venue with an aroma that reminded me of a craft store my wife once dragged me into. Seriously guys, it is a metal show. I don't want to go home smelling like potpourri and old-lady perfume. Nevertheless, the set went on to be stellar.

Nergal was quite the frontman as he moved from stage left to stage right, stirring up a frenzy everywhere he went. The tattered clothing, makeup, and boots looked legit. There are bands that you can tell are just trying too hard to have a certain look or appeal to them and then there a bands like BEHEMOTH who know who they are and just seem to get it done. Overall I was impressed with their performance. The band was tight. The stage antics were over-the-top, yet increasingly entertaining. It was quite the show.

Setlist:
"Ora Pro Nobis Lucifer"
"Conquer All"
"Ben Sahar"
"Decade Of Therion"
"Messe Noire"
"Ov Fire And The Void"
"At The Left Hand Ov God"
"Slaves Shall Serve"
"Chant For Eschaton 2000"
"O Father O Satan O Sun!"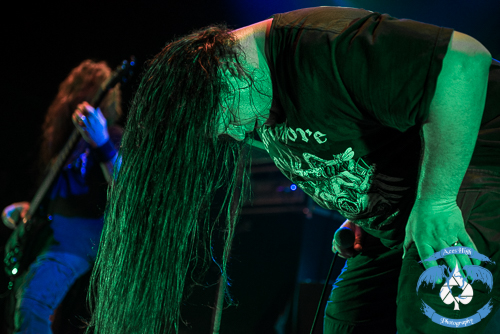 The curtain raised as CANNIBAL CORPSE was about to begin their set. I will note that the roadies were having a very tough time getting any kind of volume out of the monitors. This delayed the start of the set which dismayed some of the crowd, but to my surprise, a significant portion of the audience had already cleared out after BEHEMOTH's set. The stage that was once filled with all of the additional stage production of BEHEMOTH was stripped down to nothing but Mesa Boogie stacks, a drum riser, and a back drop with that ominous CANNIBAL CORPSE logo emblazoned on it.

The band walked out on stage sort of nonchalantly. Vocalist George "Corpsegrinder" Fisher shrugged his shoulders, put his hands on his knees and started whipping that hair around as the rest of the band took off into "Scourge of Iron". The fans that were left were ready for war. The pit whipped up in a hurry and crowd surfers came piling in towards the barricade. It has truly been a while since I had seen that many denim vests in one place. Corpsegrinder held the microphone up to the mop of hair that covered his face and began belting out his growling, guttural lyrics. I may not have understood one single word he was saying, but it didn't matter, somehow you just seem to get the gist of it. CANNIBAL CORPSE didn't have all of the bells and whistles like BEHEMOTH did. They didn't even use incense, thank goodness. It was just a good old-fashioned death metal show comprised of blast-beats, machine gun guitars, and pure brutality. What more could you ask for?

Traditionally, this isn't exactly my cup of tea, but I am glad that I decided to take the dive and open my mind. It is definitely not for the faint of heart, but it was extremely entertaining, and I can now say that I have been there and done that.

Setlist:
"Scourge Of Iron"
"Demented Aggression"
"Evisceration Plague"
"Stripped, Raped And Strangled"
"Kill Or Become"
"Sadistic Embodiment"
"Icepick Lobotomy"
"The Wretched Spawn"
"Pounded Into Dust"
"I Cum Blood"
"Make Them Suffer"
"A Skull Full Of Maggots"
"Hammer Smashed Face"
"Devoured By Vermin"
Check out some more photos of the show!
All Photos By Geoff Ketler/Aces High Photography




Please log in to view RANTS

If you don't have a username, click here to create an account!






MASSACRE Resurgence

DREAM THEATER A View From The Top Of The World

JAY JAY FRENCH Twisted Business: Lessons from My Life in Rock 'N' Roll

BLACK LABEL SOCIETY, PRONG And OBITUARY In Portland, OR With Photos!

GEMINI SYNDROME 3rd Degree - The Raising

DORO/WARLOCK Triumph And Agony Live

BETWEEN WORLDS Between Worlds

ALCATRAZZ V

BEHEMOTH Sventevith (Storming Near the Baltic) Reissue

ALICE COOPER, ACE FREHLEY In Nashville, TN With Photos!

CARNIFEX Graveside Confessions

BLOOD RED THRONE Imperial Congregation

GUS G. Quantum Leap

BILLY IDOL The Roadside EP

AVATAR, MAGIC SWORD In Houston, TX With Photos!

APRIL WINE, MONKEYJUNK At The Ottawa Bluesfest

MINISTRY Moral Hygiene

CRYPTA Echoes Of The Soul

SKILLET In Houston, TX With Photos!

Immortal Axes: Guitars That Rock Book

IRON MAIDEN Senjutsu

GRINDER BLUES El Dos

GEORGE LYNCH Seamless Review #2

IN THIS MOMENT, BLACK VEIL BRIDES In Houston, TX With Photos!

WARLANDO Festival 2021 Photo Gallery

KISS In Ridgefield, WA With Photos!

LAURENNE/LOUHIMO The Reckoning

TREMONTI Marching In Time

ROCKLAHOMA 2021 Day 3 Photo Gallery

ROCKLAHOMA 2021 Day 2 Photo Gallery

ROCKLAHOMA 2021 Day 1 Photo Gallery

CARCASS Torn Arteries

SETH La Morsure de Christ

GEORGE LYNCH Seamless