DROWNING POOL, ADRENALINE MOB & FULL DEVIL JACKET Live in Kent, Ohio With Photos!


By Geoff Ketler, Cleveland Contributor
Monday, March 30, 2015 @ 3:23 PM


| | | |
| --- | --- | --- |
| | | The Unlucky 13 Tour Comes To The Outpost Concert Club |
It was truly an emotional night as DROWNING POOL, ADRENALINE MOB, & FULL DEVIL JACKET graced the stage at The Outpost Concert Club in Kent, OH. It had only been days since the passing of TWISTED SISTER and ADRENALINE MOB drummer AJ Pero, but with heavy hearts, the band stayed out on the road to complete the tour. Besides great hard rock and metal, it was a night of dedication, remembrance, and brotherhood. The show must go on.

The surprise of the night was the intense and extremely entertaining set that FULL DEVIL JACKET pulled off. Hailing from Jackson, Tennessee, frontman Josh Brown and Co. really stirred up the pit. Josh stood up on the barricade and hung from the rafters of the low ceiling in the club while belting out lyrics; getting in the faces of those down front. There is something about him that reminds me so much of Corey Taylor; could be his demeanor, his voice, even his stature. The crunchy twin guitar attack of Paul Varnick and Zach Broderick led the charge as the band blasted through their set. Like many bands, FULL DEVIL JACKET has rather tumultuous roots that include lineup changes, drug addiction, and cancer; however, the reformed and re-energized group is now on the cusp of releasing their first album in fifteen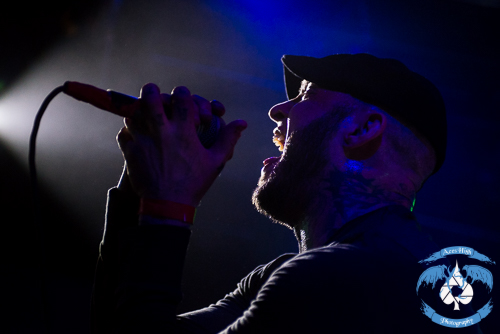 years via EOne Records and the first single, "Valley Of Bones" has been getting some love on the radio. If they keep playing shows like this, I'd expect big things from them in the not-so-distant future. Valley Of Bones drops March 31st. Get it.
https://www.facebook.com/FullDevilJacket
http://www.fulldeviljacket.net/
Setlist:
"Wanna Be Martyr"
"Fast Black"
"Stain"
"Where Did You Go?"
"Valley of Bones"
"Mr. Wiggly"
"Now You Know"
"Green Iron Fist"
"Cardboard Believer"
After a snappy set change Russell Allen, Mike Orlando, Erik Leonhardt, and Chad Szeliga huddled in front of the drum riser like a baseball team before they take the field. After the passing of AJ Pero, Chad along with former drummer Mike Portnoy filled in during the group's tribute show in New Jersey a few days ago and it was later announced that Chad (BLACK LABEL SOCIETY/BREAKING BENJAMIN) would sit in for the remainder of the tour. Vocalist Russell Allen, completely decked out in his "mob" gear, stood front and center as the band ripped into "Mob is Back". Mike Orlando is tenacious. There are the more fluid, docile guitar players and then there are the attackers; the ones that look like they are at war with their gear. Mike is an attacker. At warp speed, Mike blazes through dizzying solos. This was especially noticeable during the cover of "The Devil Went Down to Georgia". It was an absolute stunner and kudos to Chad Szeliga for being able to step in and keep up. You would have never guessed he had only been with the band for a few days.

Russell Allen's voice was as good as ever. He has to have one of the most melodic, yet very metal-sounding and recognizable voices in the genre today. Besides THE CHARLIE DANIELS BAND cover, the BLACK SABBATH medley was another highlight of their set. I was a little disappointed that they didn't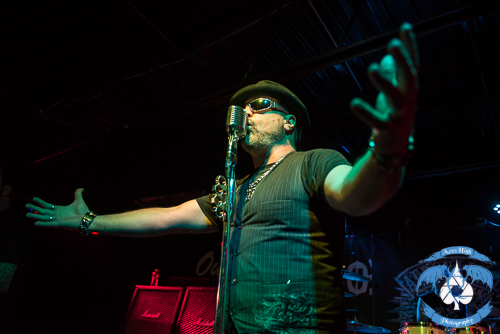 bust out their rendition of the BADLANDS song "Highwire" and due to time constraints "Undaunted" had to be axed. With that all being said, under the circumstances, it was amazing that they were even there in the first place. They had set a tour date in Akron last summer that ultimately ended up canceled because of their bus getting into a wreck. Subsequently, the rescheduled date was also canceled (assumingly due to the departure of bassist John Moyer). So it was third time's a charm for an Ohio date with ADRENALINE MOB and although they had endured an emotional avalanche within the last week, it was fantastic and definitely worth the wait.
Setlist:
"Mob Is Back"
"Let it Go"
"Dearly Departed" (Dedicated to AJ Pero)
"Get You Through"
"Devil Went Down to Georgia" (THE CHARLIE DANIELS BAND Cover)
"Hit the Wall"
"Judgement Day"
Sabbath Medley
"Mob Rules"
https://www.facebook.com/adrenalinemob
http://www.adrenalinemob.com/

It was nearing midnight as DROWNING POOL took the stage to "Step Up". Guitarist CJ Pierce, who had been hanging out, selling merch and mingling all night, took his place at stage-left. Vocalist Jasen Moreno was the last to make it to the stage. It was just pure, lights-out energy from the go. In full-disclosure, there were some house sound issues with feedback and I was hearing most of the set through the monitors since I was pinned to the barricade, so I really did get the full effect of the show. This was the "Unlucky 13 Tour" – marking roughly thirteen years since the release of their platinum selling album Sinner. The entire album was in the set, including other hits from more recent releases.

Without much hesitation between songs, DROWNING POOL kept slinging good ol' heavy metal well into the next morning. I cannot emphasize enough how much passion and energy they had on stage. Vocalist Jasen Moreno screamed his heart out. Bassist Stevie Benton never stopped moving and drummer Mike Luce kept the pace despite having his throne malfunction, tossing him off of the back of the riser and into the wall behind him. Like true road warriors of the stage, they finished the song in time for Stevie to crack up laughing afterwards. This was my first live experience with DROWNING POOL, although I had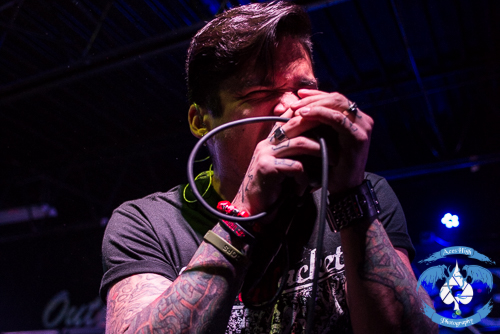 purchased "Sinner" soon after its release while I was in high school. I still can't shake how nostalgic it felt to hear that album in its entirety.
It was a great night of metal and brotherhood. Every band has challenges on the road, but few can compare to what ADRENALINE MOB has endured these last few days. It was great to see my extended metal family pick one-another up and support each other.
Setlist:
"Step Up"
"Think"
"Feel Like I Do"
"One Finger and a Fist"
"Sermon"
"Reminded"
"Mute"
"Soul"
"Pity"
"Tear Away"
"I Am"
"Sinner"
"Follow"
"Hate"
"Told You So"
"Bodies"
Check out some more photos from the show!
All Photos By Geoff Ketler/Aces High Photography




Please log in to view RANTS

If you don't have a username, click here to create an account!