MEGADETH have announced the addition of ANGRA guitarist Kiko Loureiro to the band's lineup.

Dave Mustaine had this to say:

"I first met Kiko around 8 years ago for a cover shoot for Burrn! magazine. I had no idea who he was, other than the fact he was tremendously talented and that the staff from Burrn! held him in high regard. Since then I've come to see what a guitar virtuoso he is, and I'm deeply encouraged by his depth and talent. Very few MEGADETH alumni have had the same feel and ability as Kiko. As Frank Sinatra says, "the best is yet to come!"

As the buzz continues to grow around the MEGADETH camp with the recent confirmation that LAMB OF GOD drummer Chris Adler will guest on the band's next studio album, frontman/founder Dave Mustaine posted the following message on his official Twitter page:

"Almost done with the writing of the new record. One more week before tracking starts."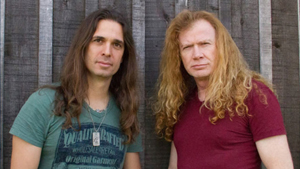 MEGADETH recently confirmed the rumours that the band have been working with LAMB OF GOD drummer Chris Adler, who will be guesting on their new studio album. MEGADETH began recording their as yet untitled new album on March 17th in Nashville, TN. The band was left without a drummer and guitarist when Shawn Drover and Chris Broderick quit last year.
Dave Mustaine, the creative driving force behind original American metal and hard rock crossover giants MEGADETH, and Chris Adler, drummer for the leaders of modern American heavy metal LAMB OF GOD, will join original bassist David Ellefson in the creation of MEGADETH's anticipated forthcoming album. Adler will be appearing as a guest on the album and contributing his thundering, hard-hitting, and technically precise style and skill, adding new blood and drive into the mix while staying true to MEGADETH's roots.
MEGADETH's follow-up to 2013's Super Collider is due out later this year via Mustaine's Tradecraft and Universal Music.