EDEN'S CURSE's double live album, Live With The Curse, is out now in North America via AFM Records.

To celebrate the release AFM Records have uploaded a third live promo video from the show recording at The Classic Grand in Glasgow, Scotland, which took place in November 2014. The track, as voted for by the EDEN'S CURSE fanbase, is the highly popular "Unbreakable" from the group's current studio album Symphony Of Sin, which has turned into something of an anthem for the multinational outfit.

Live With The Curse is out now in Europe and North American on AFM Records and will be released in Japan on April 22nd via Marquee Avalon.

Check out the video for "Unbreakable" right HERE.

Initially formed as a studio project, EDEN'S CURSE has blossomed into a fully fledged first class live act with high ambitions. A UK tour with STRATOVARIUS was the catalyst, while dates with DREAM THEATER gave them a taste of the big time. However the past two years has seen EDEN'S CURSE truly making their mark on the live scene from appearing at several festivals and even taking the brave steps of going out on their own seven date UK headlining tour.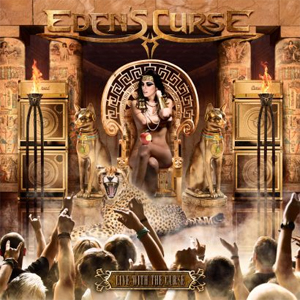 With four fantastic and widely celebrated studio albums already under their belts, the thought of releasing a live album was never far from the mind, but the main source of inspiration came from their ardent fan base. The culmination was no more evident than after the last night of the Symphony Of Sin UK Tour in London. They band came off stage on such a high and the feedback and comments coupled with fan pressure to re-record the older material with Nikola singing made them certain that the time was right.
So planning began for the recording of the first ever EDEN'S CURSE live album and anyone who knows the band will be aware of their high standards that they set for everything that they do - Live With The Curse is no exception. Recording took place on November 28th, 2014 at an EDEN'S CURSE headlining show at The Classic Grand in Glasgow. Fans from all over Europe, and as far away as Japan, traveled to Scotland to witness and be part of this truly special event.
The setlist of course contains fan favourites and classics from all four EDEN'S CURSE albums: Eden's Curse (2007), The Second Coming (2008), Trinity (2011) and 2013's Symphony Of Sin.
Mix and mastering of the live recordings were handled by the band's long-time engineer Dennis Ward (PINK CREAM 69, UNISONIC), who managed to capture the concert's energy and vibe perfectly. The cover artwork was once again created by artist Thomas Ewerhard (EDGUY, AVANTASIA), who has also worked with EDEN'S CURSE since the time of their 2007 debut album.