German symphonic metallers XANDRIA have issued the following message to their fans:

"Dear friends,

Now that the last headlining tour show of our Sacrificium Tour is over (Essen / Germany, Turock, last week), we are marching on towards the next chapter with giant steps.

EP release on July 31st: Fire & Ashes

We now will be opening this next chapter for you and are lifting some well-kept secrets! Our new EP is called Fire & Ashes and it is going to be released worldwide on July the 31st!Have a glance at the wonderful cover art, designed by eminently respectable Felipe Machado, known also for his works with RAGE, BLIND GUARDIAN, IRON SAVIOR or RHAPSODY OF FIRE, to name a few.

As promised you will find 3 brand new songs on the EP, which are "Voyage of The Fallen", "Unembraced" & "In Remembrance".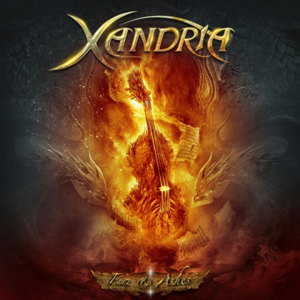 In addition, we decided to re-record two all time faves of XANDRIA fans, just the way we think they should sound like in 2015: "Ravenheart" (originally recorded for the album Ravenheart in 2004) and "Now & Forever" (India, 2005). And if you remember: We were also talking about some cover versions that might be included in this EP….The first is, like most of you already guessed, our version of SONATA ARCTICA's classic "Don`t Say A Word"….
As for the second, let us tell you a little story….
During the photoshoot for the Sacrificium record we were digging through our music libraries to find something appropriate for getting us in the right mood. At some point we got stuck with an artist every one of us had a crush on someone with and a story to tell about back then from our teenager days in the earlier 90ies.
We straight away started joking about doing a XANDRIA version of this particular song, but really forgot about it until the discussion of doing some remake for an EP came up again. With the biggest respect we started this operation of transforming one of our all time faves, a real classic, into a XANDRIA hymn. Well, we think we quite did an "okay" job and on July the 31st it`s your turn to decide whether you`ve got a favorite song or not ;-): Fire & Ashes will contain our intonation of MEAT LOAF's "I Would Do Anything For Love (But I Won't Do That)".
This one is for you! Enjoy!"