After more than 20 years and for reasons that will become apparent, along with repeated fan requests, we introduce ...

VENOM.INC – Iron & Steel

Following on from the much acclaimed Prime Evil album era and in the great tradition of VENOM, the three protagonists continue to brew the cauldron......

Mantas - The Demolition Man – Abaddon Are BACK!

Check out the teaser video below!

With a launch appearance at the respected Keep It True festival in April, followed by live dates in China, Japan and Taiwan in July, a full European tour, with Polish giants VADER in September, with a FULL and CLASSIC VENOM set, and followed by a brand NEW album!

This absolute powerhouse of metal are set to bring you all that was/is and will be

Venomously brutal and exciting. It is time to set the record straight and give back what was lost.

Welcome to the beginning of the end !!!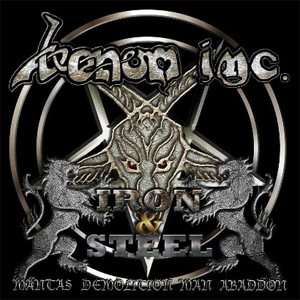 VENOM INC. + VADER + Guest European Leg
19-09 Holland Baroeg open air Rotterdam
20-09 Germany garage Saarbruucken
21-09 France Devan du monde Paris
22-09 France Forum London
24-09 Spain TBA
25-09 Portugal Hard Club Oporto
26-09 Portugal centeatre de corroios Lisboa
27-09 Spain Arena Madrid
28-09 Spain Boveda Barcelona
30-09 Italy Café Liber - Turin
01-10 Italy - Traffic - Rome
02-10 Italy - Colony - Brescia
03-10 Suisse festival Zurich
04-10 Belgium Biebob Vosselaar
05-10 Denmark Loppen Kobenhavn
07-10 Germany K 17 Berlin
08-10 Poland tba Warsaw
09-10 Poland tba Posnan
10-10 Germany Tivoly Bremen
11-10 Czech Rep Rock Cafe Praha
13-10 Poland Proxima Warsaw
14-10 Germany Scene Vienna
15-10 Hugary Club 202 Budapest
16-10 Poland Fabryka Krakow
17-10 Germany F Haus Jena
18-10 Germany Backstage Munchen
http://www.venom-inc.com
http://www.facebook.com/IronSteel-Venom-Inc

VENOM.INC's original incarnation as VENOM released three albums between 1989 and 1992 featuring Dolan in place of original frontman Cronos: Prime Evil (1989), Temples Of Ice (1991) and The Waste Lands (1992). Dolan and Mantas have been working together for the last few years under the moniker M:PIRE OF EVIL, playing VENOM classics as part of their live set.