CAVALERA CONSPIRACY, DEATH ANGEL and CORROSION OF CONFORMITY–BLIND Live in Cleveland, Ohio With Photos!


By Geoff Ketler, Cleveland Contributor
Wednesday, April 29, 2015 @ 1:30 PM


| | | |
| --- | --- | --- |
| | | Metal Heavy-Hitters Give Cleveland A Tuesday Night Beat-Down |
The streets of Cleveland were alive and busy, mostly due to LeBron and friends hosting a playoff game downtown. I desperately fought my way through traffic arriving at the Agora just in time for CORROSION OF CONFORMITY-BLIND. Unfortunately I missed the early set from LODY KONG, which really bummed me out, but hey, on with the show. The gig was originally slated for the much larger theater, but since ticket sales fell short, it was moved to the cramped ballroom. Tisk, tisk Cleveland.

CORROSION OF CONFORMITY-BLIND can now be added to the ever-growing list of multiple groups performing under the same or similar moniker. The band features C.O.C. founding member Reed Mullin on drums and previous bandmate Karl Agell on vocals. The band's facebook page refers to the group as a "Blind legacy project" and a "special event touring entity". Although most situations like this end with a legal battle of sorts (i.e. QUEENSRYCHE), Reed Mullin maintains his position in the current C.O.C. lineup which has promised the return of Pepper Keenan and a new album this year. I think it is safe to assume that all is well in both camps.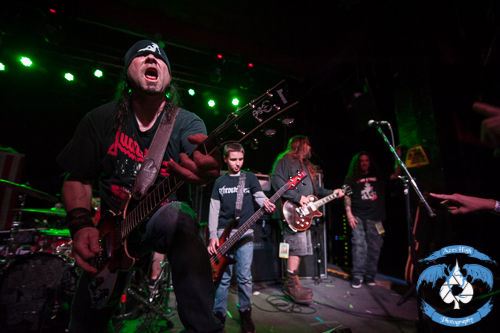 The name C.O.C. – BLIND gives an idea as to the group's purpose, since they played material exclusive to the Blind album, save the LEGIONAIRE'S DISEASE Cover, "Rather See You Dead". Karl opened the show with interesting facts about Cleveland. The man did his research, mentioning the burning of the Cuyahoga River, the first traffic light, and others. It was the first time I encountered that sort of interaction and it gave the ballroom a very "classroom" kind of feeling. Karl repeatedly visited this conversation during dead time in the set and I have to say, it was well received. The group features guitarists Scott Little and Mike Brown of Karl Agell's current band, KING HITTER. There was a core group of fans right down front, belting out the lyrics. Karl would often stick the mic in their faces and have them sing the choruses. The set sounded great. They even brought up a young kid from down front, strapped a bass on him and after a quick lesson he performed with the band on "Rather See You Dead". It was a worthy representation of the Blind era of the band.
https://www.facebook.com/coc.blind
Setlist
"Damned For All Time"
"Painted Smiling Face"
"Great Purification"
"White Noise"
"Buried"
"Mine Are The Eyes Of God"
"Break The Cycle"
"Dance Of The Dead"
"Vote With A Bullet"
"Rather See You Dead" (LEGIONAIRE'S DISEASE Cover)
There are few bands working as hard as DEATH ANGEL at keeping the thrash metal genre alive. Since reforming in 2001 after a nearly decade-long hiatus, the original Bay-area thrashers have been pumping out album after album with each one topping the previous. 2013's The Dream Calls For Blood was my pick for album of the year. The set was heavily weighted with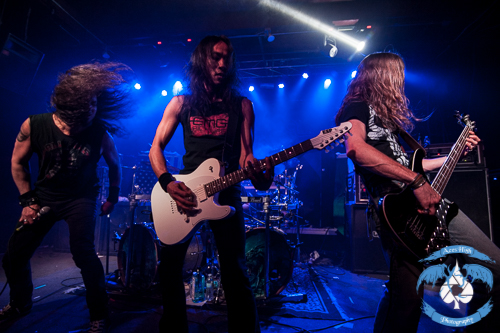 selections from that album, with a few classics peppered in. Without a photo pit, I ended up pinned up against bassist Damien Sisson's monitor which made it sound as though the bass was drowning out the guitars and vocals. What can ya do? It's a metal show.

The twin guitar attack of Rob Cavestany and Ted Aguilar blazed through song after song at blistering speed. Mark Osegueda was a man possessed; whipping the mic stand around and shaking that mop of hair everywhere. He had to basically walk a tightrope in order to make his way from stage left to stage right. Will Carroll's drum kit pretty much covered the entire available depth. Will had his share of issues; breaking the snare head, and snapping several drum sticks, but it never prevented him from finishing a song. Highlights of the set were "The Dream Calls For Blood", "Caster Of Shame" and of course, "Thrown To The Wolves". It was another epic performance from one of the forefathers of thrash.

https://www.facebook.com/deathangel

Setlist
"Left For Dead"
"Son Of The Morning"
"Claws In So Deep"
"Fallen"
"Buried Alive"
"Succubus"
"Execution/Don't Save Me"
"Evil Priest"
"The Dream Calls For Blood"
"Caster Of Shame"
"The Ultra Violence"
"Thrown To The Wolves"
There is something very iconic about being mere inches away from Max Cavalera as he commands the crowd to give him a circle pit. The formation of CAVALERA CONSPIRACY brought an end to the decade long feud between the Cavalera brothers, Igor and Max. Together they had formed the ground-breaking band SEPULTURA in the 80's, which exists today, albeit minus the Cavalera brothers; before having a falling out in 1996 over a decision concerning management. After Igor reached out to Max in a phone conversation, things have been patched up. It was good to see them together again, making music and wrecking venues. There may have been only a few hundred people in the Agora Ballroom on a chilly Tuesday evening in Cleveland, but CAVALERA CONSPIRACY unleashed hell as though it was Wacken Open Air. Touring in support of the Pandemonium album, which was released late last year, CAVALERA CONSPIRACY stirred things up in a hurry, opening with "Babylonian Pandemonium".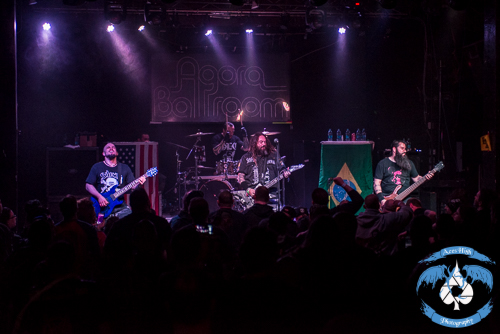 Pandemonium is a great way to describe the rest of the evening. Max's signature guttural vocals, ripping guitar, and Igor's slamming drums all rained down as the pits rolled on; much to the delight of Max and his insatiable thirst for chaos. The setlist was comprised mostly of selections from the band's three releases, but also included some SEPULTURA classics. Some of the songs began to run together and as I tried to protect my expensive camera gear, it all just became one long beating. Beers were flying, sweat was running, and frustrations were being "worked out" all to the tune of sweet, sweet metal. The set was highlighted by and ended with the anthem "Roots". I left a little bruised, scraped, and wreaking of cheap beer. All I can say is thank you.
This tour rolls on to the west coast, be sure to check to see if it is coming to your area.
https://www.facebook.com/cavaleraconspiracy
"Babylonian Pandemonium"
"Sanctuary"
"Terrorize"
"Refuse Resist"
"Territory"
"Cramunhao/Not Losing The Edge"
"Doom Of All Fires"
"Nailbomb"
"Warlord"
"Torture"
"Beneath The Remains"
"Desperate Cry"
"Troops Of Doom"
"Killing Inside"
"Attitude"
"Inflicted"
"Orgasmatron"
"Roots"
Check out some more photos from the show!
All Photos By Geoff Ketler/Aces High Photography




Please log in to view RANTS

If you don't have a username, click here to create an account!