Skid Row Live In Wantagh, NY


By Mitch Lafon, Contributor
Saturday, November 9, 2002 @ 5:54 PM


| | | |
| --- | --- | --- |
| | | Skid Row Makin' a Mess of Mulc |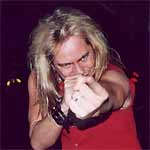 For the longest time and to most fans the words Skid Row have meant: Sebastian Bach. After all, there's no denying Sebastian's talent and his stage presence, but in the year 2000 Skid Row meant Scotti Hill, Dave 'The Snake' Sabo, Rachel Bolan, Charlie Mills (on drums) and some new guy, Johnny Solinger. The first time I saw the new Skid Row was in Montreal opening for Kiss in June of that year and quite honestly it was awful. Another great '80s band hadn't made it into the millennium! Then, in September 2000, I saw them again opening for Kiss in Quebec City. By that time, Ted Nugent had dropped off the tour (Phil Varone replaced Charlie Mills on drums) and the band was bumped up to second on the bill and had an hour to play. I was impressed, but not convinced.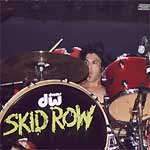 Warp forward to 2002 - Skid Row in Hampton Beach, NH on June 14th. Great show, but short set. Another great tease, but not enough to judge. A week later, the 'Thick As The Skin' advance CD single shows up at my doorstep... few spins in the car and now the excitement of Skid Row is coming back. Next stop, July 27th Le Medley in Montreal. Kick ASS show! It's official, Johnny Solinger is Skid Row 2002! He's got the voice, the stage presence and is a nice guy to boot. But it's not the singer that makes this band... it's the band! Phil Varone is a monster on drums, Scotti Hill is playing like a man possessed, Dave 'The Snake' Sabo's chops are demonic and Rachel Bolan is as solid as he's ever been. Four shows in to the 'new' Skid Row era and we have one bad, one good, one too short, and one awesome. Was the awesome show for real? Or was it just luck? Show five brought me to Long Island, NY. Fun place to be, great bar, and a great night for rock 'n roll. The band came on late that night almost near midnight as the fans, the crew and the band had to wait outside for some 16 year old's private birthday bash in the venue to wrap up. Opening the festivities that night was an up and coming band called Brand New Sin. They just came off the road with Zakk Wylde's Black Label Society. Solid rock, great riffs... could have a bright future.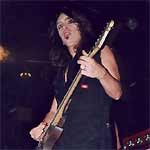 Despite the strong competition, Skid Row stole the night. There's just something that happens to a band when everybody is happy. No more backroom fights, no more having to make concessions. It's all about the music and it shows. Three songs from the band's forthcoming album were previewed, the new punked out version of 'I Remember You', the awesome 'Thick Is The Skin' and 'New Generation'. Judging by those songs, the album should be heavy! After all, we can't have every '80s band making albums with nothing but ballads. Set List (In Order): I Remember You 2002 (listed as Remember Me on the set list)
Piece Of Me (listed as Piece Of You)
Makin' A Mess
Mudkicker (listed as Mudlicker)
18 & Life
Riot Act
New Generation
Monkey Business
Get The Fuck Out
Psycho Therapy (sung by Rachel)
I Remember You (listed as I Remember Me)
Thick Is The Skin
Slave To The Grind
Youth Gone Wild

(Photos by Mitch Lafon)
---

Send your live reviews to submissions@knac.com




Please log in to view RANTS

If you don't have a username, click here to create an account!