CAIN'S OFFERING Stormcrow


By Alex Yarborough, Orlando Contributor
Wednesday, May 6, 2015 @ 3:56 PM


| | | |
| --- | --- | --- |
| | | |
CAIN'S OFFERING
Stormcrow
2015 Frontiers Records




CAIN'S OFFERING is a Finnish studio project led by guitarist Jani Liimatainen (ex-SONATA ARCTICA), which also features vocalist Timo Kotipelto (STRATOVARIUS), keyboardist Jens Johansson (STRATOVARIUS), drummer Jani Hurula (SILENT VOICES) and bassist Jonas Kuhlberg.

It has been nearly six years since the debut album Gather The Faithful was released. Stormcrow is their sophomore release, once again on the Frontiers label. Gather The Faithful seemed to divide listeners due to its heavy keyboards, minimalist guitar and lyrical content. Personally, I loved the debut album and found it to be more appealing in many ways than SONATA ARCTICA or STRATOVARIUS. Timo's voice is utilized a little differently in CAIN'S OFFERING than in STRATOVARIUS. This is the more 'emotional spectrum' of power metal, I suppose, but my favorite aspects of CAIN'S OFFERING are the streamlined sound and fast paced tempos. These songs zip along at light speed most of the time, sometimes not letting up for Timo to even take a breath, like on "The Best Of Times". "I Will Build You A Rome" is also a fast rocker and "Constellation Of Tears" reaches DRAGONFORCE-levels of speed.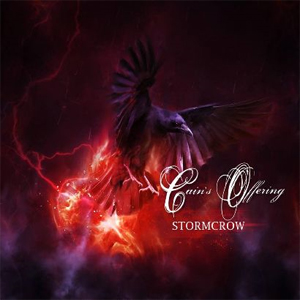 Fans decried the cloying lyrics on the first album; for the most part they are not found on Stormcrow. The lyrics are admittedly not a huge deal for me on these songs; what stays with you in the long run are the melodies. Some of these songs stick in your head for days, like "A Night To Forget" and "Too Tired To Run", the ballad of the album. The final track is "On The Shore", a mid-tempo track that would probably fare well as a single.
To my ears, the sound of the band has not changed too drastically since the debut. One of the differences is the appearance of Jens Johansson, who brings in different arrangements and some symphonic moments like on "Antemortem", one of the strongest songs on Stormcrow. His playing can be heard on the excellent instrumental "I Am Legion" as well.
Overall, this album seems a little stronger than the debut. Clocking in at nearly an hour with 11 songs, Stormcrow is larger in scope and grandiosity.
4.0 Out Of 5.0
Pre-Order a copy of Stormcrow in the KNAC.COM More Store right HERE.




Please log in to view RANTS

If you don't have a username, click here to create an account!