Graham says: "It's really great to have Russ contribute a song on our first release as a new band, I have a great history with him, having recorded several of his songs for bands and projects i have been involved in over the years."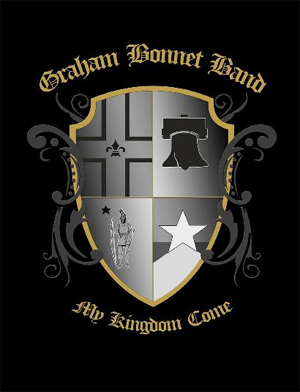 Additionally, the track features renowned progressive rock/metal drummer Mark Zonder (WARLORD/ex-FATES WARNING) performing all drum duties.
The other track on offer, a full original band composition titled "The Mirror Lies", is a powerful song that will certainly please fans of Graham's celebrated career in hard rock.
The EP (mixed and mastered by Alessandro Del Vecchio) will be released in time for the Japanese tour the band are undertaking this coming June with MICHAEL SCHENKER'S TEMPLE OF ROCK. And as a special treat for fans of Graham and Michael's 1982 MSG release Assault Attack, Graham will be joining Michael's band for a song or two from that album on each date of the tour.
Graham adds: "We know that this record holds a very special place for many fans, especially in Japan , so this will make the debut shows of the new band even more special."
Bookings are coming in for Graham's new band which will see the group touring extensively over the next year in the UK, Australia, New Zealand and the US. Meanwhile, in May Graham will be partaking in the Living Legends Of Rock tour of the Czech Republic , Russia and the Ukraine, alongside John Lawton (URIAH HEEP) and Dan McCafferty (NAZARETH).
Japan dates with MICHAEL SCHENKER'S TEMPLE OF ROCK:
6.14 - Osaka, Japan - Zepp Namba
6.15 - Nagoya, Japan - Diamond Hall
6.17 - Tokyo, Japan - Nakano Sun Plaza - Sold Out
6.18 - Tokyo, Japan - Nakano Sun Plaza - Sold Out
6.19 - Tokyo, Japan - Nakano Sun Plaza