In what is sure to be the busiest year of their career, POP EVIL have debuted an all new single titled "Footsteps".

"We challenged ourselves creatively to make a different sounding record," says front-man Leigh Kakaty. "Since "Footsteps" was written we couldn't wait for this day to get here!"

The new is the first new music we've heard from the band off their forthcoming LP called Up due out August 21st via eOne Music. Digital pre-orders are available today and physical pre-orders will be available Friday June 5th via the band's official website.

Purposefully assembled at Studio Litho, Robert Lang Studios and London Bridge Studios with producer Adam Kasper, Up is the sound of a rock band cementing a powerful identity that's steadily materialized over the course of three prior full-length slabs. With the inspirational, soon to be live (June 1st) staple "Footsteps", POP EVIL prove their burgeoning success is no accident.

"Now it's time to step up our game and let people know we can back it all up," adds Kakaty. "We want to prove we aren't a one hit wonder. We didn't just get lucky."

Up is a bold reintroduction and step forward, with guitarists NICK FUELLING and DAVEY GRAHS, bassist MATT DIRITO, drummer CHACHI RIOT and Kakaty at the top of their game. It's always a bit cliché, not to mention questionable, when a band says their new album is the best one yet. But in the case of POP EVIL, it's an absolute fact.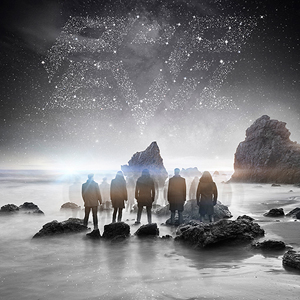 The band is gearing up for a truck load of European and Canadian tour dates including illustrious festivals such as DOWNLOAD and GRASPOP. Go HERE for all tour dates.
Up Tracklist:
"Footsteps"
"Core"
"In Disarray"
"Take It All"
"Ghost Of Muskegon"
"If Only For Now"
"..."
"Ways to Get High"
"Lux"
"Vendetta"
"Dead In The Water"
"Seattle Rain"
"Til Kingdom Come"