Gibson Custom and Alex Lifeson are celebrating 40 years of RUSH by collaborating on the Alex Lifeson R40 Les Paul Axcess.

A run of 50 guitars are hand-signed and played by Alex himself, and an additional 250 guitars are available in unsigned versions—all with 5A quilt maple tops in a lush Ruby Red R40 finish. Both signed and unsigned versions feature a Limited Edition "Starman" R40 die cast medallion covering the Rhythm/Treble Switch access cavity.

Available exclusively at Guitar Center and Musician's Friend in the USA and at Long and McQuade locations throughout Canada.

In other RUSH news, the band announced that both hometown Toronto performances on June 17th and 19th at the Air Canada Centre will be filmed. It is the first time the band will have filmed in their hometown in almost 20 years with the recording in 1997 at the Molson Canadian Amphitheatre on the Test For Echo tour. Prior to that they recorded the legendary Exit…Stage Left at Massey Hall in 1980.

Fans who have their coveted tickets to the sold out shows in Toronto are encouraged to represent and wear RUSH shirts, bring signs and come ready with their 'outside' voices.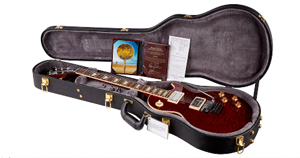 Rush's R40 Live 40th Anniversary Tour kicked off in Tulsa, OK on May 8th at the BOK Center. Here's a taste of some of the surprises fans witnessed. Will you be one of them?
RUSH's Opening Night Setlist:
Set 1:
"Clockwork Angels"
"The Anarchist"
"Headlong Flight"
"Far Cry"
"Main Monkey Business"
"One Little Victory"
"Animate"
"Roll The Bones"
"Distant Early Warning"
"Subdivisions"
Set 2:
"Tom Sawyer"
"Red Barchetta"
"The Spirit Of Radio"
"Jacob's Ladder"
"Cygnus X-1 Book Two: Hemispheres - Prelude"
"Cygnus X-1 Book One - The Voyage: Part 1"
- drum solo -
"Cygnus X-1 Book One - The Voyage: Part 3"
"Closer To The Heart"
"Xanadu"
"2112 Overture/Temples of Syrinx/Presentation/Grand Finale"
Encore:
"Lakeside Park"
"Anthem"
"What You're Doing"
"Working Man"
R40 Live runs until August 1st in Los Angeles, CA. These not to be missed concerts will highlight four decades of the band's music. Complete tour details can be found HERE.