GOTTHARD have announced that this week (June 12th) they will release a limited edition live album called Live & Bangin'.

GOTTHARD's Nic Maeder states: "We've recorded this album on our Bang! tour in Baar, Switzerland in 2014 and decided that we wanted to release it as a limited special edition just for you. This album is exclusively dedicated to you guys!"

Live & Bangin' is a massive thank you for the last four years, in which you have kept the faith with GOTTHARD - because without you, there probably wouldn't have been a future after the tragic death of Steve Lee end of 2010. Live & Bangin' will not be available in stores, but instead sold solely in the GOTTHARD fan shop and at merchandise stalls on the upcoming festival tour, strictly limited. Exclusively for Fanclub members there's a pile of CDs autographed by the band waiting to be unleashed. Live & Bangin' will be officially released on June 12th.

How to order if you are a Fanclub member: Every Fanclub member can order 1 signed copy each. Ordering more copies is possible but the other copies will be unsigned then. You can easily order in the fan shop HERE. We will recognize you as a Fanclub member by your name on the invoice.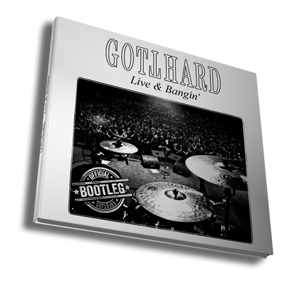 There's not a second wasted on Live & Bangin': Almost like on an official bootleg, there are close to 75 minutes of the Tessin platinum rockers' sound - unaltered, live and pure. With the premium digipack and a 16-page booklet packed with first hand live images Live & Bangin' really feels like a Bang! tour flashback. You could actually call its tracklisting a set list, because the songs on Live & Bangin' are a perfect cross section of the tour-show including a lifelike instant mosh pit in your living room.
Live & Bangin' tracklisting:
"Let Me In Katie"
"Bang!"
"Get Up 'N' Move On"
"Sister Moon"
"Right On"
"Master Of Illusion"
"Feel What I Feel"
"The Call"
"Remember It's Me"
"What You Get"
"The Train"
"C'est La Vie"
"That's It (Car Crash)"
"Mountain Mama"
"Lift U Up"
"Thank You"
"Anytime Anywhere"