Your Heaven Is Real, the new solo album from guitarist Chris Caffery (SAVATAGE, TRANS-SIBERIAN ORCHESTRA), is now complete and set for release later this year. The cover art and final tracklisting have now been revealed.

Caffery checked in with this studio update:

"Two years of writing. Six months of demos. Four months of recording after I received drums. Done! Time to master!!!

Really thankful for Mr. Tichy to be able to come in and play the drums on this record. Such an amazing musician! He really made me push everything I did to another level. Also thankful to Mr. Lonnie Park for his additional keys and vocal work. Lonnie and I will master this at the end of the week!

Also very thankful for the support and inspiration from my best friend. We are currently deciding just where we are gonna go first! Time off finally this weekend 'till June!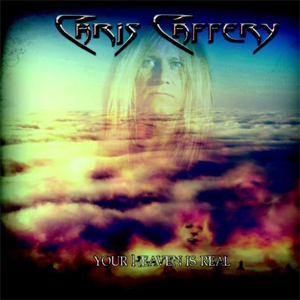 Thanks to all of you for your continued friendship and support! As soon as I get details on the release dates I'll let you know. I still have to get the artwork and photos together. But I'm looking at a release sometime around my birthday!"
Your Heaven Is Real Tracklist:
"Your Heaven Is Real"
"Arm And A Leg"
"Just Fine"
"Why"
"Damned If You Do, Dead If You Don't"
"Hot Wheelz" (instrumental)
"I Never Knew"
"Sick And Tired"
"Death By Design"
"2-26-15" (instrumental)
"Too Soon To Be Too Late"
"Over And Over"
"Come Home"