FULL DEVIL JACKET Live In Houston, Texas With Photos!


By Larry Petro, News Monkey
Friday, June 19, 2015 @ 4:49 PM


| | | |
| --- | --- | --- |
| | | At Scout Bar |
As a general rule I don't do club concerts during the middle of the work week, mainly because I work a normal Monday through Friday 8-5 job (I do the KNAC thing in my spare time) and most club shows don't end until around 1 am usually and by the time you factor in the drive time home and/or if you stay afterwards to hang with the band.....well, you get the idea. I don't function too well at work when I only get a couple hours of sleep. Yeah, I'm a wuss, so what, but then again, I'm not in my 20's or 30's anymore. That issue aside, I most certainly won't drive to this particular club for a show during the week even if I would make an exception. Scout Bar is a nice place to see a show, don't get me wrong, it's the location that kills me. The club is located halfway (or more) between Houston and Galveston and seeing as how I live 30-45 minutes north of the Bayou City, it takes me an hour and a half to get to this place, assuming there's no traffic of course. In fact, during the 30+ years I've called Texas home I've only been to this place 3 times, the last one being a few years ago to see ADRENALINE MOB.

But there's an exception to every rule it seems and when I found out that my old friend, guitarist Jeff Caughron, who spent the better part of his years in EVERY MOTHER'S NIGHTMARE, was out on the road with FULL DEVIL JACKET as their touring second axeman, well there was my exception, especially given the fact that I hadn't seen Jeff in over a dozen years and had never seen FDJ live before. The band is currently out on the road opening for HINDER so I decided to suck it up and make the journey southward.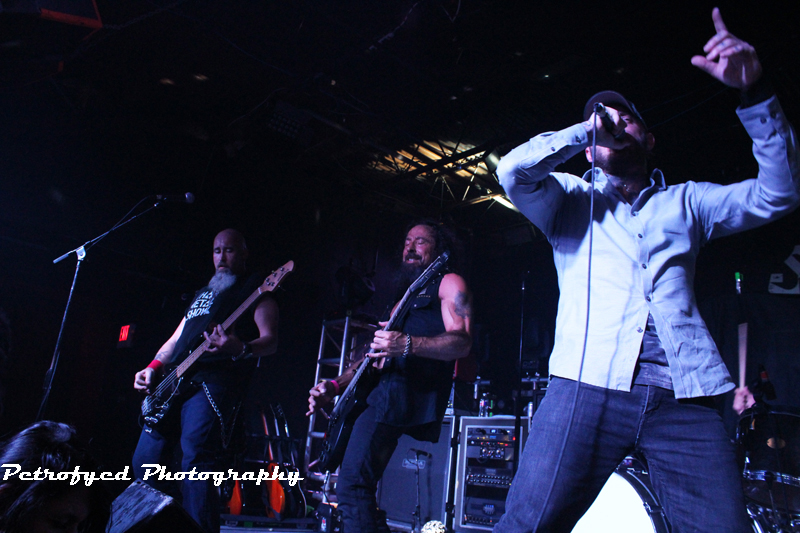 I arrived at Scout Bar just in time to catch the end of the first of two local opening acts, a band by the name of HENNESSY. They appeared to at least be partial female-fronted and the short song or song and a half I heard sounded pretty good, kinda making me wish I had gotten there just a bit earlier. It didn't take long to change over the stage for the next band and before I knew it BROKEN VALOR had taken the stage. Once again, I was only able to catch the a short bit of their set because by this time I had run into Jeff and we were doing some catching up. BROKEN VALOR also played a nice set of melodic, post-grunge type hard rock, at least what little bit was heard.
The set changed over quickly yet again and it was time for FULL DEVIL JACKET. As was mentioned above, I never got to see these guys back in the day (early 2000's) nor could I recall the last time FDJ was even in Houston. Of course, those of you that followed the band back then would be familiar with the circumstances under which the band somewhat imploded. Vocalist Josh Brown nearly died from an overdose while the band was out with CREED, an event which precipitated Brown's departure. After several lineup changes, the band dissolved for a number of years before reuniting in 2010 for a benefit concert for guitarist Michael Reaves, who was battling cancer. Reaves sadly died about a year later but the band carried an and in the early part of this year they signed a new deal with eOne Music and finally released their second full length effort, Valley Of Bones, a review for which you can check out right HERE.
Now that the short history lesson is out of the way, the only thing remaining to be seen is how the band performed together again live. That was answered in short order as the band launched into their 9 song set with "Wanna Be Martyr", from the band's 2000 self-titled first full length album and a song that was also featured on the soundtrack to the movie Scream 3. And with that, Brown and the rest of his cohorts, guitarists Paul Varnick and Jeff Caughron, bassist Keith "Moose" Douglass and drummer Keith Foster, were off and running. With their fire and energy it was as if the band had never left. The full house crowd didn't take long to get into the set as the band continued on with a couple more tracks from the first album, "Fastblack", "Stain" and "Now You Know" as Brown worked the crowd, at one point stepping from the stage across to the barricade to interact more closely with them. It was quite apparent that a good portion of the crowd was there for FDJ, both by their reaction to the band and by way of conversations I had with concertgoers throughout the evening.
The band then shifted gears and played a quartet of songs from Valley Of Bones which included the title track, the lead-off song "Killers", "The Moment" (which probably gave the guys a 'moment' to catch their breath) and "7X Down", a very DISTURBED-like track that absolutely kicks your ass live. The band then finished up their night with the track "Cardboard Believer".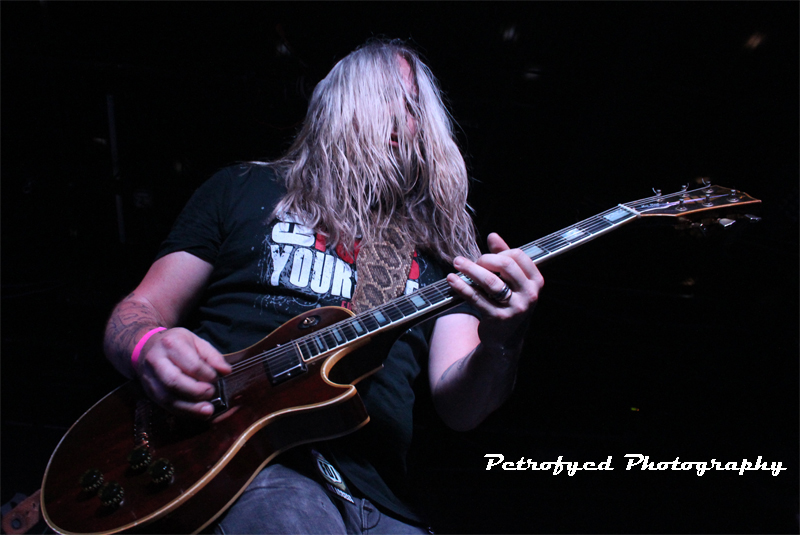 Immediately afterwards they headed to the merch area which, to my surprise and the band's pleasure I'm sure, bustling with fans purchasing shirts, CDs and even copies of Josh Brown's artwork that was available, signing anything and everything, taking pictures with the fans and truly enjoying the opportunity to have a second chance on the road again.
Even though HINDER was the headliner for this tour, I was a guest of FDJ and after the first couple of songs by HINDER I headed out the to the FDJ RV to hang out with them for the rest of the evening and so I would be faking it completely if I were to try and give a proper review to HINDER. I know that they have a new vocalist and a new album out, but I only got to catch the beginning of their set. The packed house seemed to be impressed and I guess that's a good thing for them.
FULL DEVIL JACKET will be out on the road with HINDER for a couple more weeks and then, word has it, they'll either be out on their own headlining run or will hook up with another 'package' tour so if they haven't hit your area yet, hold tight and check them out once they do!
Setlist
"Wanna Be Martyr"
"Fastblack"
"Stain"
"Now You Know"
"Killers"
"The Moment"
"Valley Of Bones"
"7X Down"
"Cardboard Believer"
Check out some photos from the show!
All Photos By Larry Petro




Please log in to view RANTS

If you don't have a username, click here to create an account!