MASTODON Live In Dublin, Ireland


By Larry Petro, News Monkey
Tuesday, June 30, 2015 @ 9:26 AM


| | | |
| --- | --- | --- |
| | | At The Olympia Theater June 26th |
Review And Photos By Justin Ryan
One of metals hardest working (six studio albums in the last twelve years) and hardest touring bands (averaging 80 shows a year, each year from 2009 to 2014 inclusive), MASTODON returned to Dublin this evening (Friday, 26th of June, 2015) for a second time in seven months. Still on their Once More 'Round The Sun World Tour, which began on the 15th of October 2014, the historical Olympia Theater (opened year 1879) on Dublin's Dame Street played host to the Atlanta, Georgia quartet for the first time this evening.
The present and most recent studio album, Once More 'Round The Sun, has seen the band alter their sound to one of polished hard rock, albeit littered with their distinctive, idiosyncratic sonic traits. Although this new sound may alienate some fans who prefer their older, heavier, more complex arrangements, the new material on their last visit here in November, 2014 was greeted warmly by those in attendance. As only one Dublin show was played the last time around, tonight represented a second chance for fans to compare how MASTODON's newest material measures up alongside old favorites in the live environment.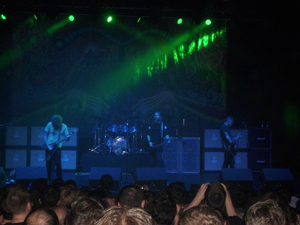 A small crowd were in the venue at 8pm when support act, BAD BREEDING took to the stage. As the fourtieth birthday and inevitable music industry backed, "revival" of punk approaches, this London four piece have recently been spoken about by some in the U.K. music press as the best new punk band in Britain. Tonight, they delivered a short set of unintelligible, muddled, tuneless noise, which immediately raises many questions, not concerning the social injustices that this band are apparently concerned about in their interviews, but as to the current state of British punk. A good point of reference for the members and management of BAD BREEDINGPepper Keenan era CORROSION OF CONFORMITY. They'll hopefully learn from COC's 1991 classic Blind album that there's more to being in a socially and politically conscious punk/rock/metal band than having your singer drop to his knees on stage and bellow indecipherable cookie monster vocals into a microphone that he has shoved half way down his own throat, accompanied by a backing band who did their absolute utmost ,willingly or otherwise, to prevent any music being generated from their instruments. The crowd's complete silence at the end of each "song" of their twenty minute "performance" will hopefully register with BAD BREEDING that knowledgeable music fans in Dublin don't mistake random noise for musical talent.
Thankfully, the band who the crowd did come to see entered from the stage wings at 9pm. First onto stage from the left hand side was guitarist Brent Hinds. Drummer Brann Dailor soon appeared at his kit, axeman Bill Kelliher and bassist Troy Sanders then quickly took their spots onstage with appreciative nods towards their welcoming audience. As on their last visit, the opening two songs of the night were "Tread Lightly" and "Once More 'Round The Sun". The latter was fittingly played to continuous orange colored stage lighting, which turned out to be one of only a handful of moments on the night where the stage was lit up brightly. Although the most recent material was again both warmly received and heartily sung by the crowd, tellingly, the older material was greeted with bellowing roars. From the diabolical opening notes of the stunning "Oblivion" to the spine tingling melodic passages of "Ol'e Nessie" and "The Czar", it was quite clear from the crowd's reaction that the older material grips the audience in a completely different way to the newer material. That is not to say that the newer material is not of a high standard, it is. The difference is that the new material entertains the crowd in a "look, MASTODON can also do quality hard rock too and its good", way; however, the older material doesn't just entertain the audience, it captivates and enchants them. This was exemplified on many occasions during the show, none more so than by the nights penultimate song "The Czar". A track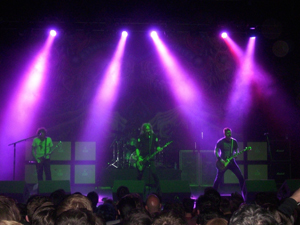 of almost eleven minutes in length and worth the price of admission alone, the audience was brought on a musical journey of eerie sonic unpredictability and it was that aspect of MASTODON's sound that helped them gain their fan base which was built up strongly over their first four studio records. "Diamond In The Witch House", from Once More 'Round The Sun is the only song on the current album that is in that vein; its inclusion on the recent album is either a final nod by the band to their past before leaving that sound behind altogether or is an indication that the band will keep in touch with their roots no matter what their "current" sound is. Their future direction should become clearer when the next studio record is released.
As pulsating as the ninety minute gig was, it was a bit on the short side. A two hour performance would do this band's back catalog so much more justice. As was seen the last time they were in Dublin, the band again tonight spent no time at all talking to the crowd in the first hour of the show. On the hour mark, bassist Troy Sanders gave a spoken acknowledgement of thanks to the audience for their welcome and support, then it was straight back to the music for the rest of the show. The set list delivered tonight was almost identical to the one played last November. This time around "Aunt Lisa" and "Divinations" were omitted, with THIN LIZZY's "Emerald" being added. This fan favorite was accompanied by such fine singing from the audience that the venue staff may have thought that it had been collectively prior rehearsed by the crowd! As the thirtieth anniversary of Phil Lynott's death fast approaches (4th January, 1986), it wasn't hard to imagine the LIZZY front man smiling down from one of the stage side boxes at the thousand strong crowd on the floor standing section singing every word and guitar part of his classic tune. The band closed the show by thanking the audience for their on going support, their appreciation of what Brann Dailor rightly described as "a beautiful venue" and commented on how the Dublin crowds participation at their concerts always make them memorable for the band.
Setlist:
"Tread Lightly"
"Once More 'Round The Sun"
"Blasteroid"
"Oblivion"
"The Motherload"
"Chimes At Midnight"
"High Road"
"Aqua Dementia"
"Ol'e Nessie"
"Halloween"
"Bladecatcher"
"Black Tongue"
"Ember City"
"Megalodon"
"Crystal Skull"
"The Czar"
"Emerald"(THIN LIZZY cover)




Please log in to view RANTS

If you don't have a username, click here to create an account!






BRITISH LION, CONEY HATCH In Ottawa, Canada

SUNFLOWER DEAD C O M A

SURF CITY BLITZ In California Photo Gallery

TRIVIUM, AVATAR, LIGHT THE TORCH In Portland, OR Photo Gallery

DEVILDRIVER, JINJER In Cleveland, OH With Photos!

CORROSION OF CONFORMITY In Dublin, Ireland

CAULDRON New Gods

STEVE GRIMMETT'S GRIM REAPER In Ottawa, Canada

JUDAS PRIEST, KREATOR In Quito, Ecuador

CAL JAM '18 Photo Gallery

BLOODBATH The Arrow of Satan Is Drawn

STRIKER Play To Win

NIGHT RANGER "Dawn Of Madness" Show In Waukegan, IL

BUTCHER BABIES, KOBRA AND THE LOTUS, SKARLETT RIOT, IGNEA, MAERTYRIUM, In Siegburg, Germany

HOUSE OF LORDS In New Bedford, MA

GRETA VAN FLEET Anthem Of The Peaceful Army

IMPELLITTERI The Nature Of The Beast

ALICE COOPER In Houston Photo Gallery

ICARUS WITCH Goodbye Cruel World

TARJA, STRATOVARIUS, SERPENTYNE In Cologne, Germany

CLUTCH, SEVENDUST, TYLER BRYANT & THE SHAKEDOWN In Portland, OR With Photos!

ACCEPT In Houston, TX With Photos!

U.D.O. Steelfactory

SKULL FIST Way Of The Road

SOULFLY Ritual

ANTHRAX State of Euphoria 30th Anniversary Deluxe Edition

FIFTH ANGEL The Third Secret

STEVE GRIMMETT'S GRIM REAPER In New Bedford, MA

ANAAL NATHRAKH A New Kind of Horror

PRIMAL FEAR Apocalypse

BEHEMOTH I Loved You At Your Darkest

DORO Forever Warriors, Forever United

SLASH FEATURING MYLES KENNEDY AND THE CONSPIRATORS In Houston, TX Photo Gallery

BILLY MORRIS AND THE SUNSET STRIP Holdin' All The Aces

VINCE NEIL In Houston, TX Photo Gallery

DEE SNIDER For The Love Of Metal

UNLEASH THE ARCHERS, STRIKER, HELION PRIME In Houston, TX W/Photos!

DREAM CHILD Until Death Do We Meet Again

SCORPIONS, QUEENSRYCHE In Tampa, FL With Photos!

HUMBLE PIE Live At The Ottawa CityFolk Festival

BEHEMOTH Album Listening Party In Los Angeles For I Loved You At Your Darkest

THE DEAD DAISIES, HOOKERS 'N BLOW In Ottawa, Canada With Photos!

DRAGONLORD Dominion

STONE BROKEN Ain't Always Easy

BRANT BJORK Mankind Woman

KORPIKLAANI Kulkija

BRAINSTORM Midnight Ghost

SLEAZY WAY OUT, INSUFFICIENT FUNDS In Ottawa, Canada

DEEP PURPLE, JUDAS PRIEST In Jacksonville, FL W/Photos!

HELLOWEEN In Worcester, MA With Photos!