WHITESNAKE Live In Houston, TX With Photos!


By Larry Petro, News Monkey
Thursday, July 2, 2015 @ 8:23 AM


| | | |
| --- | --- | --- |
| | | David Coverdale & Co Rock A Sold Out House Of Blues |
You know you're in for a great night of rock n' roll when you arrive at the venue, only to see the following sign such as this one plastered all over the will call windows at the House Of Blues in Houston, Texas on June 20th:

Ain't No Love/Tickets In The Heart Of The City
Tonight's WHITESNAKE Show
At
HOB Houston Is
SOLD OUT!!

Indeed, as has been the case throughout most of the band's U.S. Purple Tour, David Coverdale and his fellow 'SNAKES, Joel Hoekstra, Reb Beach, Michael Devin and Tommy Aldridge, collectively known as WHITESNAKE, have been selling out venues well in advance and if you were/are a procrastinating type of fan, then you probably have or will wait too long to snatch a ticket to this event. WHITESNAKE is out on the road in support of their latest release, The Purple Album, a celebration of tracks recorded during Coverdale's stint as the lead vocalist for rock icons DEEP PURPLE, and the tour routing made a stop in the Bayou City on June 20th, 2015.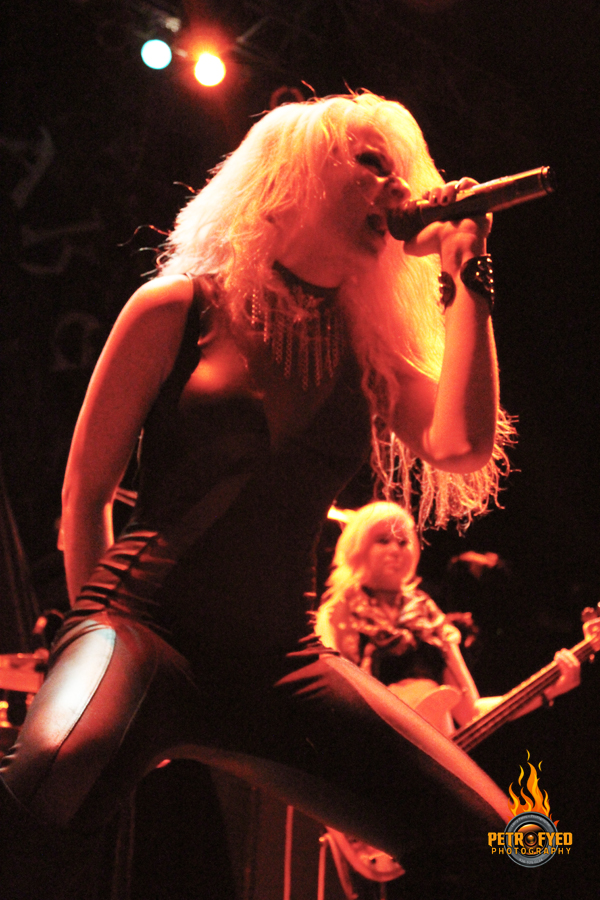 Now, if you've been to this particular House Of Blues, or really any HOB location for that matter, then you know that when this place sells out, the people are really crammed into the building, and tonight was not going to be an exception to that rule. Opening for the mighty 'SNAKE on the first part of this tour was the all-female band DIAMANTE, a name that not only refers to the band collectively but the band's lead vocalist as well, Diamante, who was not only pleasing to the eyes, but was also voted as one of the "Hottest Chicks In Hard Rock" according to Revolver Magazine, coming in at #17. That's pretty impressive considering that she's just barely of age (18) and she and the rest of her backing band certainly all looked to be pre-20's during their set. The band played a raucous set of tracks that totally exploited Diamante's sex appeal and with titles like "No Sexin' On The Beach", "Dirty Blonde", "There's A Party In My Pants (And You're All Invited)" and "Hard Rock Boys", how could she go wrong? The band even threw in a nice cover of the SKID ROW anthem, "Youth Gone Wild", for good measure. If you're into great female-fronted hard rock then you must check these gals out!
http://diamanteofficialmusic.com
https://www.facebook.com/diamanteofficialmusic
Even though curfew for the venue was midnight, the show was still going to be an early one as DIAMANTE went on at 8 and WHITESNAKE was scheduled for 9, meaning the show would be over somewhere between 10:30 and 10:45, depending on the setlist. By now the place was filled to the gills which meant that even a trip to the merchandise table on the other side of the club was a major undertaking. And right on time the fans were bitten by the 'SNAKE as the band launched into their 13-song performance with a blistering version of "Burn", from the aforementioned Purple Album, and just like that WHITESNAKE put the boots to the throat and didn't let up. The band continued on in fine form with "Slide It In", "Love Ain't No Stranger", "Gypsy" and "Give Me All Your Love" before the packed house had a chance to catch its collective breath. The band revisited The Purple Album four more times through the night, including a perfectly executed, soulful version of "Mistreated", a performance that would have surely given Ritchie Blackmore a reason to smile had he been in attendence on this night.
The ageless wonder, Coverdale, sounded as good as I've heard him in recent years and new guitarist Joel Hoekstra played as if he's a veteran as he and Reb Beach (WINGER) traded off solos during the night. Smiles were in plenty of supply as well as WHITESNAKE appeared to be thoroughly enjoying themselves and feeding off the good vibes from the crowd. Even the still-big-haired Tommy Aldridge got into the fun by pounding out an admirable drum solo towards the end of the show. The band put the wraps on the pre-encore portion of the show with a pair of their mega hits, "Is This Love" and "Here I Go Again", sandwiched around one of my favorite WHITESNAKE tunes, the balls-blasting "Bad Boys", from the 8X platinum (in the U.S. alone) 1987 self-titled release. The band returned for one more song, also from that smash album, "Still Of The Night" before taking their final bows.
Having seen WHITESNAKE multiple times I can safely say that this was one of their most energetic, electrifying performances that I have had the pleasure of witnessing. WHITESNAKE is on the road in he U.S. through mid-August so if they swing by your town, this is a show you don't want to miss! Don't procrastinate too long though or you'll be left staring at that sign...
Remaining U.S. Purple Tour Dates:
7.2 - Rama, ON - Casino Rama
7.3 - Sterling Heights, MI - Freedom Hill AMP
7.5 - Northfield, OH - Hard Rock
7.7 - Huber Heights, OH - Music Center @ The Heights
7.8 - Wabash, IN - Honeywell Center
7.10 - Mahnomen, MN - Shoot Star Casino
7.11 - St. Paul, MN - Myth
7.14 - Clear Lake, IA - Surf Ballroom
7.16 - Oshkosh, WI - Rock USA
7.17 - Geneva, IL - Geneva Music Park
7.18 - Merrillville, IN - Star Plaza
7.20 - Greensburg, PA - Palace Theater
7.22 - Hampton Beach, NH - Hampton Beach Casino
7.24 - Lincoln, RI - Twin River Casino
7.25 - Atlantic City, NJ - Trump Taj Mahal
7.27 - Westbury, NY - Theater At Westbury
7.28 - New Haven, CT - College Street Music Hall
7.31 - Jacksonville, FL - Florida Theater
8.1 - Melbourne, FL - King Center
8.3 - Orlando, FL - Hard Rock
8.5 - Hollywood, FL - Seminole Hard Rock Live
8.6 - Clearwater, FL - Ruth Eckerd Hall
8.8 - Markesville, LA - Paragon Casino Mari Center
8.9 - Austin, TX - ACL Live @ The Moody Theater
8.11 - Midland, TX - Wagner Noel PAC
8.13 - Tulsa, OK - Hard Rock Casino Tulsa
8.15 - Rogers, AR - The AR Music Pavillion
8.16 - St. Charles, MO - Family Arena
Setlist:
"Burn"
"Slide It In"
"Love Ain't No Stranger"
"The Gypsy"
"Give Me All Your Love"
"You Keep On Moving"
"Forevermore"
Guitar Solos
"Mistreated"
"You Fool No One"
Drum Solo
"Is This Love?"
"Bad Boys"
"Here I Go Again"
Encore: Check out some more photos from the show!
All Photos By Larry Petro/Petrofyed Photography
| | | | | |
| --- | --- | --- | --- | --- |
| | | | | |
| | | | | |
| | | | | |
| | | | | |