FIVE FINGER DEATH PUNCH have premiered their new video for the current hit single, "Jekyll And Hyde". The video clip can be viewed right HERE.

Record label Prospect Park got five finger death punked when they asked the band for a new music video. Says guitarist Zoltan Bathory: "Punking the label and trolling the trolls is actually very satisfying … so either we make a video that makes a difference like "Wrong Side Of Heaven" did or we just fuck it all up and have fun with it... just clown the whole thing as we did with "Under And Over It"… and now with this one. We didn't even hire a director … we didn't want this to accidentally make sense…"

Responds Jeremy Summers, President of Prospect Park Records: "First we were scratching our collective heads but we never once interfered with their vision… so ultimately – if that's what the band wants to put out we are not going to stop them. We were shocked, then cried, then laughed because it's actually funny".

"Jekyll And Hyde" is the first single from 5FDP's forthcoming album, Got Your Six. The song already claimed the #1 spot on the iTunes Rock Chart upon release, debuted on the Spotify viral chart and Shazam future hits chart. It is also quickly approaching the top ten Rock Radio charts after just two weeks.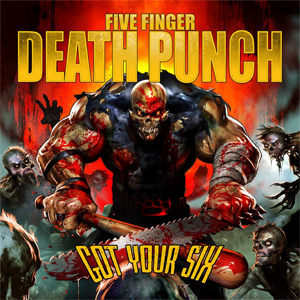 Got Your Six will be released through Prospect Park in North America on August 28th and Eleven Seven Music outside North America.
The album can be pre-ordered at http://smarturl.it/FFDP6_DLX and also, several exclusive album pre-order merchandise packages are live and ready for order now via www.fivefingerdeathpunch.com. Upon purchasing any Got Your Six pre-order offer, buyers will be able to instantly download the new single, "Jekyll And Hyde".
FIVE FINGER DEATH PUNCH will be touring North American arenas this fall with PAPA ROACH and support from IN THIS MOMENT and FROM ASHES TO NEW. An overwhelming 1.5 million fans made their voices heard to bring the tour to their town via a "demand campaign'. Fans will get to see four of Rock's most exciting, relevant bands under one roof in one night for $40 – a nice price for a package sure to excite. For dates, VIP packages and more info, go to: www.fivefingerdeathpunch.com