Texas-based rockers MURDER FM have announced the release of their brand new album, Happily Never After, which will be out on August 7th on Famous Records Global/ Pavement/ MRI/ Sony Red.

The album features a remix of their track "We The Evil" by Tommy Lee, plus a guest appearance by Will Hunt of EVANESCENCE. The album was produced by platinum Legend Beau Hill.

"Diggin' these MURDER FM boys! BIG things going on with them and this remix screams EVIL!!" - Tommy Lee

"We The Evil" is sure to be another classic anthemic song that any metal fan can get behind." - CJ Pierce/ DROWNING POOL

"I have been watching & listening to the development of MFM for the last couple of years and this final collection of songs really represents the best of the best, and is fresh and innovative...Play it LOUD and get your ass kicked..!!!!" - Platinum Producer Beau Hill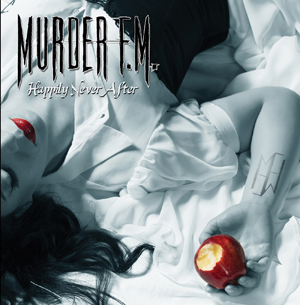 Born and bred in Dallas, TX, MURDER FM was formed as an outlet for the frustrated youth spent writing music in the dark dusty corners of TX. Following independent success with singles supported with domestic and international touring, MURDER FM perfected their sound and stage presence.
Their rising success was based largely in part by their shocking and elaborate videos which received much attention and impressive view numbers on Youtube. The band also gained lots of positive international press which carried over to The States and led to supporting slots with ROB ZOMBIE, DEFTONES, FIVE FINGER DEATH PUNCH, POP EVIL and many more. With a full length LP in tow, MURDER FM are set to release their passion and unique brand of Rock/Industrial style Metal to the world.