Iron Maiden Eddie's Archive (Box Set)


By Jeff Kerby, Contributor
Monday, December 16, 2002 @ 12:13 AM


| | | |
| --- | --- | --- |
| | | (Columbia) |
Eddie used to scare the hell out of me.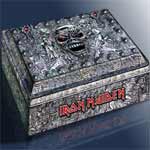 You know when you're growing up, you're taught by your parents and churches to think that Iron Maiden's mascot is the devil incarnate and that by even coming in contact with him you are subjecting yourself to a nice long stay in eternal Hell. Consequently, you spend all of your formative years trying to procure any item that you can with his picture on it in order to exemplify your rebellious nature, but part of you—the kid part—kinda really hoped something about Eddie actually was evil and that someday he would come down in a fiery blast and seek vengeance on anyone who wasn't wearing a Number of the Beast t-shirt. Nowadays, you may still listen to the same metal that you used to--only now, instead of cruising to school, you may cruise to work---but the overall euphoric feeling you used to get from hearing "Run To the Hills" is probably still the same as it ever was. Dammit, I gotta say that when I saw Eddie's likeness on the casket that encases the six discs which comprise this holiday offering, I almost started to cry. That was before I opened it up though and realized that despite the outward appearance of this set, our corpselike buddy may have never had more life than he does at this moment. This box set includes three separate two-disc sets of material the first of which comes to you straight from the archives of the BBC. These selections represent recording done during the 1979/80 Paul Di'Anno years on up to material created with Bruce Dickinson. When you pop the first disc into your stereo and hear "Iron Maiden" as it was played on "The Friday Rock Show" in all its stripped down power, it becomes evident that this band had an emotional edge to their music even from the beginning. The highlight of this first disc though is the band's rendition of "Running Free" which is and always has been a superior lyrical encapsulation of what heavy metal is about. Although Di'Anno tends to get overlooked when metalheads discuss Maiden's legacy, after listening to this, it would be hard to deny this man his place as an important front man in the history of hard rock. The second half of this disc is a recording of the band's performance at the Reading Festival in 1982. Dickinson's presence is both distinctive and palpable right from the introduction of "Wrathchild" and on through the band's performance of such Maiden staples such as "The Number of the Beast", "Children of the Damned" and "Phantom of the Opera". The second part of the BBC archive portion of this box set includes six songs taken from The Reading Festival in 1980 where Di'Anno again shows that he was no slouch as Maiden's lead singer. The instrumental entitled, "Transylvania" was also played with a live vibe that only enhanced the composition which isn't always the case with instrumental numbers. When this short set ends with "Iron Maiden", part of you has to wonder how it would have affected the band's later music if Di'Anno and the group had never parted. The listener doesn't get much time to ponder this question though as the BBC archive concludes with eight songs taken from their 1988 Donnington performance with Dickenson at the helm. "Moonchild", "Seventh Son of a Seventh Son" and "Hallowed Be Thy Name" are just three of the offerings here. The best selection though has to be the "The Trooper" which is torn through at just a slightly faster pace than the studio recording. If you asked many Maiden fans what their fave album is, the majority would undoubtedly reply that it would have to be "The Number of the Beast", so it's only fitting that the two disc live selection included in this box set comes from the tour supporting this metal landmark. "Beast Over Hammersmith", as this is titled, includes "Children of the Damned", "22 Acacia Avenue", "Run to the Hills" and "Hallowed Be Thy Name". Each song is present here and played with the type of enthusiasm a band usually displays when cranking out brand new material with a tremoring, thunderous quality which they can perform to a large, expectant audience. Old tunes are on display again as "Running Free" and "Iron Maiden" are staples that just about have to be played on any date this band steps onto a stage. "Another Life", "Drifter" and "Sanctuary" round out a vintage Maiden performance that basically defines what this band is about. Although the Iron Maiden produced important material after this record, the fact remains that this show occurred at a time and place for this band that was never to be duplicated. The final two discs comprise an definitive collection of the group's B sides which are basically 31 tracks which sound fresh yet familiar at the same time, and for some of these, you almost wonder why Maiden couldn't find a place on one of their albums for at least a few of these selections. In any case, it's here now, and studio tracks like "Burning Ambition", "I've Got the Fire" and "Juanita" are all songs that some bands would be happy include on their A list of material. Interspersed here also are some live tracks such as "Remember Tomorrow" and "Futureal" but the inclusion of "Wasted Years" on this is classic and it represents the best of this portion of the set. Now, any discriminating Maiden fan has to realize that one vocalist has been omitted thus far—and that singer would have to be the ubiquitous Blaze Bayley. His contribution to this English metal band may be debatable, but what isn't up for discussion is that if the band was intending this to be an honest, definitive overview of their career, some material featuring Blaze on vocals would have to be included--and it has been whether you like it or not. Six tunes on the second disc of the B sides collection serve as the only representation here of the Bayley years. Some are bound to say that he should have been omitted entirely and others may argue that there should have been a few more, but the fact is that when placed next to the work of Di'Anno and Dickinson, this sequence of material does seem a bit substandard—that isn't to say that it's bad—it just doesn't measure up well against this backdrop. Even with that said though, Blaze's take on "My Generation" is a credible and enjoyable romp through an old classic. It could be argued that a person might be able to judge a band almost as much by what they throw away as what they release, and if that's the case, it would just be further substantiation that this is and has been one hell of a metal group. This whole package is contained in an embossed casket which also includes a shot glass and a scroll detailing the Maiden family history, but honestly these are just flashy accoutrements used to help sell a collection that really doesn't need any fancy packaging—simply put, this is an Iron Maiden fanatic's dream. After all, most of the tunes here haven't been released previously in any form, so it isn't like fans have to purchase four discs that they already own just to obtain a disc or two of rare vintage material. The only real criticism of this offering that could exist might center around certain Maiden classics such as "Iron Maiden" and "Running Free" showing up on numerous occasions throughout these six discs, but when you're talking about a collection of nearly eighty songs, a listener has to realize that there is plenty of variety to go around here despite some repetition. In fact, it's difficult to believe that the band could have put out any more exhaustive box set than this without also including previously released discs, which probably aren't necessary for the avid fan anyway. All of this of course means that the holiday season could potentially be a little brighter for those who have come to know Eddie throughout the years as a source of pure headbanging comfort which is sure to arise from this casket yet again and solidly deliver a nice chunk of metal to either yourself or a rocker near you. * * * * * (To view more photos, click on the links below.) B-Sides
BBC
Hammersmith
Open casket
Top view casket






Please log in to view RANTS

If you don't have a username, click here to create an account!






CRADLE OF FILTH Existence Is Futile

BEAST IN BLACK Dark Connection

MASSACRE Resurgence

DREAM THEATER A View From The Top Of The World

JAY JAY FRENCH Twisted Business: Lessons from My Life in Rock 'N' Roll

BLACK LABEL SOCIETY, PRONG And OBITUARY In Portland, OR With Photos!

GEMINI SYNDROME 3rd Degree - The Raising

DORO/WARLOCK Triumph And Agony Live

BETWEEN WORLDS Between Worlds

ALCATRAZZ V

BEHEMOTH Sventevith (Storming Near the Baltic) Reissue

ALICE COOPER, ACE FREHLEY In Nashville, TN With Photos!

CARNIFEX Graveside Confessions

BLOOD RED THRONE Imperial Congregation

GUS G. Quantum Leap

BILLY IDOL The Roadside EP

AVATAR, MAGIC SWORD In Houston, TX With Photos!

APRIL WINE, MONKEYJUNK At The Ottawa Bluesfest

MINISTRY Moral Hygiene

CRYPTA Echoes Of The Soul

SKILLET In Houston, TX With Photos!

Immortal Axes: Guitars That Rock Book

IRON MAIDEN Senjutsu

GRINDER BLUES El Dos

GEORGE LYNCH Seamless Review #2

IN THIS MOMENT, BLACK VEIL BRIDES In Houston, TX With Photos!

WARLANDO Festival 2021 Photo Gallery

KISS In Ridgefield, WA With Photos!

LAURENNE/LOUHIMO The Reckoning

TREMONTI Marching In Time

ROCKLAHOMA 2021 Day 3 Photo Gallery

ROCKLAHOMA 2021 Day 2 Photo Gallery

ROCKLAHOMA 2021 Day 1 Photo Gallery

CARCASS Torn Arteries

SETH La Morsure de Christ