TUFF have released Jim Gillette-era recordings to coincide with the band's 30 year Anniversary. TUFF first formed in 1985 and has now officially turned 30.

To celebrate the 3 decade mark the band will issue a special edition vinyl titled Decadation and The Glam Years 1985-1989 on CD digipak. Both releases are courtesy of the band's official imprint label RLS Records and already available digitally at iTunes.

Originally based in Phoenix Arizona the group moved to Los Angeles in the fall of 1986.

That same year they released their official debut with Knock Yourself Out via Tuff Muff Music Inc. That E.P. was a cassette only release, and now those tunes among others are available for the first time ever on CD.

TUFF was founded by bassist Todd Chaisson and Jorge DeSaint (guitar). After a few early line up changes, Chaisson and DeSaint settled in with Michael Raimondo on drums and Jimmy L'Mour as the band's voice.

L'Mour replaced the band's first frontman Terry Fox who handled vocal duties before exiting to pursue a career as a professional ice skater with Ice Capades.

In the spring of 1987 L'Mour himself left the band, reverted to his real name Jim Gillette and released Proud To Be Loud before forming NITRO with Michael Angelo.

TUFF then added Wisconsin native Stevie Rachelle to front the band. Chaisson shortened his name to Chase and Raimondo became Lean – the classic era of TUFF was officially born.

Looking back, the Gillette era was roughly a year together. Jim along with Todd, Jorge and Michael recorded 6 demos as TUFF and now a full 29 years later those early tracks have been remastered from orignal tape and are included as part of The Glam Years 1985-1989 digipak CD.

The release comes with a 12 page booklet that includes several rare and never seen before photos (both line ups) and extensive liner notes from Gillette, Chaisson and Rachelle.

The Glam Years 1985-1989 showcases all of the band's official recordings from the 80's featuring both Gillette and Rachelle.

The group recorded and mixed these tracks at several legendary Los Angeles area studios including Sound City, Sunset Sound Factory and Baby O' Studios.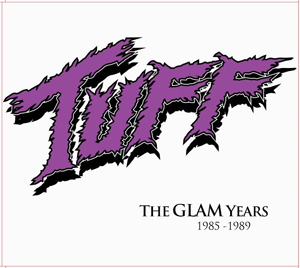 Track Listing:
"Glamour Girls"
"Forever Yours"
"Dressed For Dancin'"
"Candy Coated"
"Bang-Bang"
"Ooh Ahh"
"Round 'Em Up"
"Summertime Goodbye"
"Want Trouble – You Got It"
"Sinner Street"
"Forever Yours"
"Ain't Worth A Dime"
"Good Guys Wear Black"
The Vinyl release Decadation will hit the streets in October and highlights the 1988 and 1989 years with the classic line up of Stevie Rachelle, Jorge DeSaint, Todd Chase and Michael Lean.

The entire TUFF music catalog including their major label debut What Comes Around Goes Around (Atlantic Records 1991) is available on iTunes.

TUFF is still active in 2015 with both Rachelle and Chase on board.

Look for the band to play select festivals and events throughout the 3rd & 4th quarter of 2015 including, an appearance at the Cathouse Live concert August 15th at Irvine Meadows in Irvine California.

TUFF will also perform at Rock N' Skull in Pekin, Illinois on Saturday, October 17th, 2015 and was recently announced to appear on the Monsters Of Rock Cruise 'Monsterwood' in October 2016.

Order TUFF The Glam Years 1985-1989 right HERE.

Wholesalers contact SludgeCeo@Gmail.com for larger orders.

Trailer: