POP EVIL, RED SUN RISING Live In Cleveland, OH With Photos!


By Geoff Ketler, Cleveland Contributor
Wednesday, July 15, 2015 @ 5:33 PM


| | | |
| --- | --- | --- |
| | | Bands Play To A Packed Agora Ballroom |
Two bands who spent the earlier part of this year writing and recording their yet-to-be released new albums, kicked off their tour at the historic Cleveland Agora Ballroom. The floor swelled with people. After covering shows in the Cleveland area for a few years you start to see the familiar faces and crews that come out night after night. Tonight was almost a family reunion of sorts, where great music brings people together – something POP EVIL vocalist Leigh Kakaty would reiterate during the show.

After signing to Razor & Tie Records and finishing their debut album, Akron's own RED SUN RISING spent the first part of this summer hitting the festival circuit before having previous tourmates, POP EVIL, bring them on board for a string of summer dates. National attention for this band, although long overdue, seems to be growing. They are the complete package; young, aggressive, charismatic, animated, talented and tight. The set was kicked off by "Push" – an up-tempo and intoxicatingly groovy song off of their new album Polyester Zeal, due out August 7th. What sets RED SUN RISING apart from so many new bands is not just their song writing abilities but also the two-headed guitar monster comprised of Tyler Valendza and Ryan Williams. Vocalist Mike Protich dazzles as a front man as well. He just seems unable to carry a bad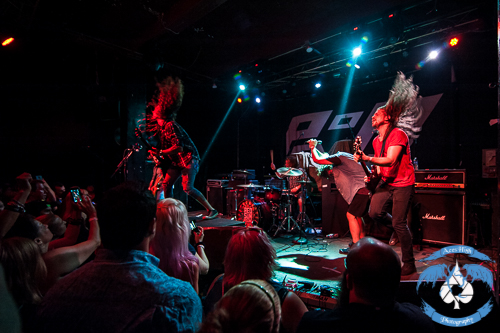 tune. In previous reviews I have compared him to Myles Kennedy and I stand by that comparison, one-hundred percent. The set included a great performance of their first single, "The Otherside", off of the new record, among others. Catch them on the road this summer and pick up a copy of Polyester Zeal, out August 7th. You won't be disappointed.
https://www.facebook.com/redsunrisingmusic
http://redsunrisingmusic.com/
Setlist:
"Push"
"My Muse"
"Awake"
"The Otherside"
"Amnesia"
"Blister"
"Emotionless"
"Imitation"
As far as I am concerned, POP EVIL has one of the most anticipated releases of the year as well as the hardest act to follow. Their previous album, Onyx, was released in early 2013 and produced three number one singles and countless tour stops. Touring in support of the pending release of the new record, Up, POP EVIL took to the stage with "Last Man Standing". Leigh Kakaty, who has had some issues with losing his voice and needing vocal rest in the past, sounded excellent. The band looked rested, rejuvenated, primed and ready for action and the Agora had grown dense with people of all sorts of ages – a rarity as of late.

Besides a monitor hiccup with guitarist Davey Grahs, the show was clean of any noticeable issues, concise and smooth. Leigh Kakaty proudly wore his Cleveland Cavaliers shirt, telling the crowd about how LeBron James is his favorite athlete. He often repeated the phrase, "Don't ever change Cleveland", referring to the passionate fan base and the city's rock n' roll roots. Leigh busted out the acoustic guitar a few times as POP EVIL played fan favorites and set staples such as "Monster You Made" and "100 In A 55". All three of the band's number one singles, "Torn To Pieces", "Deal With The Devil" and "Trenches" made their appearances deep in the set.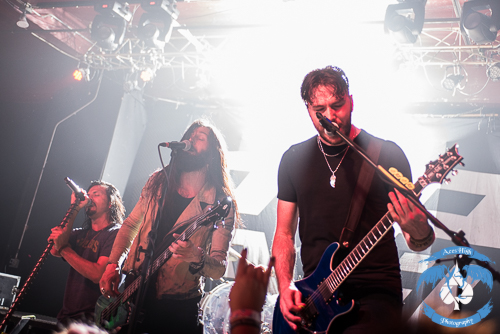 Included in the encore was the new single "Footsteps", which is more or less the radio-friendly, safe bet, kind of song. What perked my interest more was the other new song they played, "In Disarray". It is a heavier track with a nice hook to it. After the show bassist Matt DiRito confirmed to me that there is plenty of heavy stuff on the new record in addition to the lighter stuff – after all, the name POP EVIL is in reference to the group's sort of 50/50 – heavy to melodic makeup. Having been off the road, but sporadically playing dates here and there, POP EVIL never missed a step. They always bring a sort of energy and fury to their shows that so many others seem to lack. Be sure to catch them as they head across the states this summer and look for their fourth studio album, Up, due out August 21st.
Setlist:
"Last Man Standing"
"Boss's Daughter"
"Sick Sense"
"Goodbye My Friend"
"Divide"
"Monster You Made"
"Behind Closed Doors"
"Hero"
"100 In A 55"
"Flawed"
"In Disarray"
"Torn to Pieces"
Encore:
"Footsteps"
"Deal With The Devil"
"Trenches"




Please log in to view RANTS

If you don't have a username, click here to create an account!