Production on a new feature film called God Gave Rock N' Roll To You by independent Filmmaker Chip Rossetti and Rossetti Productions is scheduled to begin in October.

It's 1987. Hair Bands are ruling the Rock n' Roll World. One of the many bands vying for a spot in Rock History is TYGER. But TYGER is a little different. They are Christians, trying to live the Rock n' Roll lifestyle, until, one day, God puts it on their hearts to make music for Him.

After much debate, TYGER changes their name to IRON CROSS and focuses their music on spreading the Gospel. This does not go over well on the Sunset Strip and the band is ridiculed for their message, but praised for their Heavy Metal sound. Despite the odds, IRON CROSS finally gets a record deal and records their first album. Their record label sends them out on tour.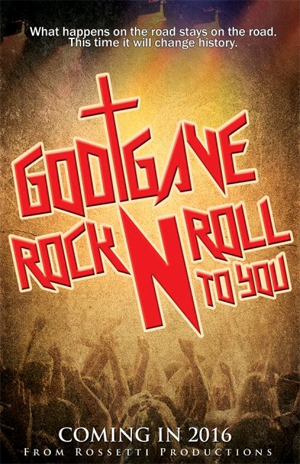 Things are never quite as they seem. The Christian people that IRON CROSS is trying to attract are rejecting their message because of their style of music, and the mainstream audience that never really cared about the message is embracing IRON CROSS like every other metal band of the day. They say what happens on the road stays on the road. But in the case of IRON CROSS, what happens on the road will cement their place in Rock n' Roll history.
God Gave Rock N' Roll To You features real life rockers CHAOTIC RESEMBLANCE, playing the role of IRON CROSS, as well as an All Star line up of musicians, including John Schlitt (PETRA), members of STRYPER and several other rockers from Hair Bands glory days.
"This is a dream project for me", Rossetti said. "There are so many people in their 30's, 40's and 50's that are longing for the things that remind them of their youth. People go out and buy toys all the time that, just because it reminds them of when they were kids. People long for music the same way and God Gave Rock N' Roll To You is a story that will bring back so many memories."
Rossetti Productions is scheduled to begin production in Nashville Tennessee in October of 2015, with a 2016 worldwide release.