BULLETBOYS, GUNZO, KILLER BEE Live In Houston, TX With Photos!


By Larry Petro, News Monkey
Sunday, July 26, 2015 @ 8:16 AM


| | | |
| --- | --- | --- |
| | | Armed Alliance Tour Heats Up The Concert Pub North |
All Photos By Larry Petro/Petrofyed Photography
Summer is in full swing deep in the heart of Texas, and along with the stifling heat and humidity comes the inevitable hot summer concerts at Houston's premiere concert club establishment, the Concert Pub North. Although the year started off with somewhat of a trickle concert-wise, things have begun to pick up recently, with several shows in just the past couple of weeks, including the LET IT RAWK show just the week before (review HERE) and Sebastian Bach, who made his return trip to the Concert Pub 2 days after this one. Upcoming shows also include Michael Sweet (STRYPER) and THE DEAD DAISIES.
But tonight was a package tour night. Dubbed the Metal Alliance Tour, it featured a trio of hard rocking acts, headlined by Marq Torien and his BULLETBOYS. Joining in the festivities was GUNZO, a Tracii GUNs led band which also featured Rudy SarZO (GUNZO, get it now?) on bass. Rounding out this bill was the Swedish/Canadian band by the name of KILLER BEE.
Now, with no offense to either GUNZO or BULLETBOYS, it was this band KILLER BEE that offered the most pleasant surprise of the evening. Having never even heard of them, much less had the opportunity to listen to or observe them live, the band, who've been around for the better part of 25 years, was making just
Their second trip to the States (the first being just a couple of months ago, according to the band). No doubt, the Texas heat was probably a shock to their systems, especially since the high temperature for that day was in the 50's in Sweden, said bassist and founding member Anders "LA" Ronnblom. The biggest news for KILLER BEE was that in the month prior to this tour, the band parted ways with guitarist Denny DeMarchi. How is this news you ask? The news came in the form of his replacement; none other than former UFO guitarist Paul "Tonka" Chapman. That one addition would give the band a shot in the arm.
Besides Ronnblom and Chapman, KILLER BEE is rounded out by vocalist Brian "Bee" Frank, drummer Morgan Evans and guitarist Andre Hagglund, who also just recently joined the band. These guys came to the States to rock, and rock they did, getting their 8 song set started with a pair of tracks from their 2013's Evolutionary Children album, "Scream It" and "Children Of The Evolution", and just like that they lit the Concert Pub up. From there the band continued into the UFO classic "Doctor Doctor" and then "Step Into My World" from the band's "comeback" album of 2012, From Hell And Back", one of four songs the band would play from that release (the others being "All Night Long", "Love It Or Leave It" and the title track). The band was having a blast playing for the American crowd and it was pure enjoyment watching the youngster (he really looked like he was just out of high school) Hagglund trade off solos with the wily old veteran Chapman throughout. Drummer Evans even got into the antics with drumsticks of fire during a portion of his brief skin-bashing clinic. The band finished up their evening with "A Little Too Old", also off of the Evolutionary Children release and something these guys were definitely not! If you've never heard of KILLER BEE before, I command that you check them out!
www.killerbee.se
https://www.facebook.com/OfficialKillerBee
Setlist:
"Scream It"
"Children Of The Evolution"
"Doctor Doctor"
"Step Into My World"
"All Night Long"
"Love It Or Leave It"
Drum Solo
"From Hell And Back"
"A Little Too Old"
Next up on the bill was GUNZO, another of the seemingly endless bands/projects that guitarist Tracii Guns is a part of these days. And as with the others, he has once again surrounded himself with some top notch musicians to help his cause. Along with the incomparable, well-traveled, journeyman bassist Sarzo, who's played with just about every hard rock band known to man at this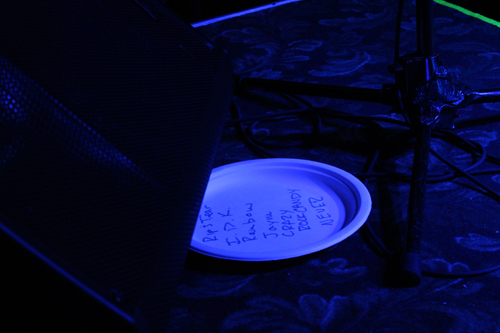 point (ok, that was a bit of a stretch, but not by much), GUNZO also included vocalist Keith St. John (BURNING RAIN, MONTROSE) and drummer Shane Fitzgibbon. With this kind of lineup you just knew that the set was going to contain at least a song or two from the different bands they were a part of and, true to form, that's exactly what the raucous crowd got, except for one thing: evidently there wasn't a single blank sheet of paper or two to be found in the entire club because the band's setlist was written on several, get this, Chinet paper plates! If I'm lying I'm dying, but that's the God's honest truth. I've seen setlists done a lot of different ways, but never have I seen that before. A very comical moment to be sure.

At any rate, GUNZO ripped (pun intended) into their set with the LA GUNS classic, "Rip And Tear", and just like that, Round 2 of non-stop hard rock fun was underway. Next up was Ozzy Osbourne's "I Don't Know" before the band took a brief moment to acknowledge that it was the late, great Ronnie James Dio's birthday, and in fitting fashion, rocked the house with "Rainbow In The Dark". Vocalist Keith St. John certainly has the chops and he proved it with every song that GUNZO played. "The Ballad Of Jayne" followed, along with the iconic Ozzy smash hit "Crazy Train". Bassist Sarzo had to be in heaven playing all these tracks from bands he played with and it showed in his performance on the night, when he could be seen playing so hot that he had to constantly lick his fingers to cool them off (okay, I know that's not why he does it, but it sounded cool, didn't it?). A nod was given to St. John in the form of the MONTROSE tune "Rock Candy" before the band called it a night with one last LA GUNS hit, "Never Enough". And yes, if you're keeping count, that was just 7 songs, one less than the opening band KILLER BEE played. Slightly odd....

https://www.facebook.com/GUNZOBAND

Setlist:
"Rip And Tear"
"I Don't Know"
"Rainbow In The Dark"
"Ballad Of Jayne"
"Crazy Train"
"Rock Candy"
"Never Enough"
Last, but certainly not least, was the night's headliner, BULLETBOYS, who are out on the road in support of their brand new studio release, Elefante. The band actually took the stage as I was chatting and getting my picture taken with GUNZO, so I had to make a quick (killer) beeline to the stage to start shooting photos midway through their first number, "Born To Breed", from their 2009 album, 10 Cent Billionaire. Frontman Marq Torien isn't just the band's vocalist anymore, having taken over a large portion of the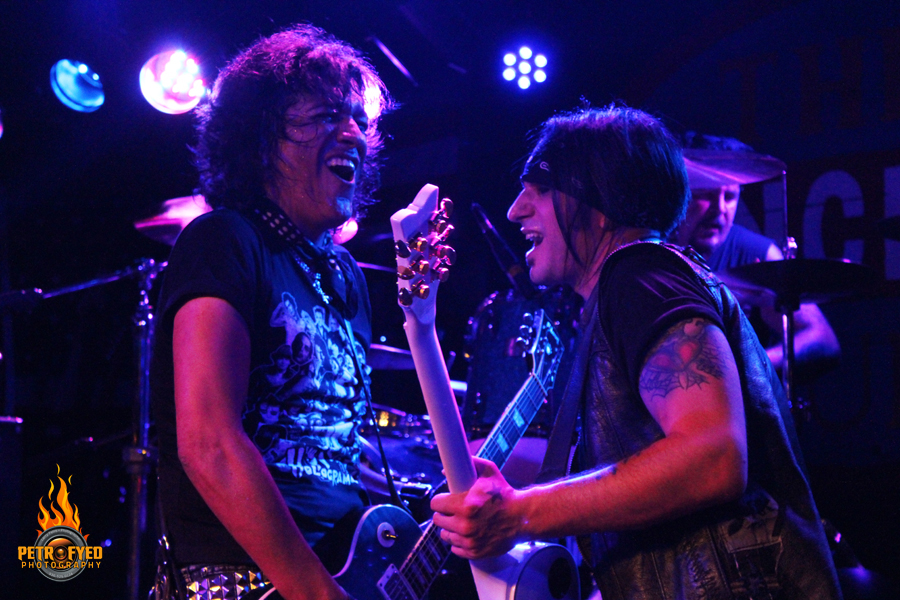 lead guitar duties as well over the years, and is still so thin in stature that he looks like he would have to jump around in the shower just to get wet! Even so, he has managed to assemble a fine cast of musicians to back him up, including drummer Shawn Duncan, the brother of ARMORED SAINT/ODIN guitarist Jeff Duncan, who joined the band just last year, guitarist Nick Rozz and bassist Chad MacDonald, whom I must give a shout out to for assisting me with the BULLETBOYS setlist, since there was none posted for me to capture a photo of and at my age, it gets more and more difficult to multitask, like taking photos and trying to remember what songs are being played simultaneously. I have seen BULLETBOYS multiple times now over the past couple of years and Torien certainly knows how to put together a tight, cohesive unit onstage, especially when they're playing songs like "Hard As A Rock", "Hell On My Heels" or THC Groove". Of course, what BULLETBOYS show would be complete without their best-known songs like the O-JAYS cover, "For The Love Of Money" or the set closer, "Smooth Up In Ya", which evokes the visual of the music video for the song and Torien being hailed as the next David Lee Roth. Once again, the band delivered a great set, even including a couple new tracks from Elefante, "Symphony" and I'll be damned if I can remember the name of the other one.

All in all, even though the crowd was less than what I expected for a Friday night, a hot Texas summer night called for some equally hot rock-n-roll, and the Armed Alliance Tour delivered just that.

www.bulletboysofficial.com/
https://www.facebook.com/pages/BULLETBOYS/121246147910242

Setlist (to the best of my knowledge and in no particular order)
"Born To Breed"
"Hard As A Rock"
"Hell On My Heels"
"Rollover" (new song?)
"THC Groove"
"For The Love Of Money"
"Symphony"
"Kissin' Kitty" (?)
"Smooth Up In Ya"
Check out some more photos from the show!
All Photos By Larry Petro/Petrofyed Photography




Please log in to view RANTS

If you don't have a username, click here to create an account!






CRADLE OF FILTH Existence Is Futile

BEAST IN BLACK Dark Connection

MASSACRE Resurgence

DREAM THEATER A View From The Top Of The World

JAY JAY FRENCH Twisted Business: Lessons from My Life in Rock 'N' Roll

BLACK LABEL SOCIETY, PRONG And OBITUARY In Portland, OR With Photos!

GEMINI SYNDROME 3rd Degree - The Raising

DORO/WARLOCK Triumph And Agony Live

BETWEEN WORLDS Between Worlds

ALCATRAZZ V

BEHEMOTH Sventevith (Storming Near the Baltic) Reissue

ALICE COOPER, ACE FREHLEY In Nashville, TN With Photos!

CARNIFEX Graveside Confessions

BLOOD RED THRONE Imperial Congregation

GUS G. Quantum Leap

BILLY IDOL The Roadside EP

AVATAR, MAGIC SWORD In Houston, TX With Photos!

APRIL WINE, MONKEYJUNK At The Ottawa Bluesfest

MINISTRY Moral Hygiene

CRYPTA Echoes Of The Soul

SKILLET In Houston, TX With Photos!

Immortal Axes: Guitars That Rock Book

IRON MAIDEN Senjutsu

GRINDER BLUES El Dos

GEORGE LYNCH Seamless Review #2

IN THIS MOMENT, BLACK VEIL BRIDES In Houston, TX With Photos!

WARLANDO Festival 2021 Photo Gallery

KISS In Ridgefield, WA With Photos!

LAURENNE/LOUHIMO The Reckoning

TREMONTI Marching In Time

ROCKLAHOMA 2021 Day 3 Photo Gallery

ROCKLAHOMA 2021 Day 2 Photo Gallery

ROCKLAHOMA 2021 Day 1 Photo Gallery

CARCASS Torn Arteries

SETH La Morsure de Christ