ROYAL HUNT
Devil's Dozen
2015 Frontiers Music




Danish progressive metal band ROYAL HUNT are set to release their 13th studio album, the cleverly- titled Devil's Dozen in August.

Journeyman American vocalist D.C. Cooper returned to ROYAL HUNT for their 2011 release Show Me How To Live and also sang on their 2013 album A Life To Die For. For a band that has featured some great vocalists, (Mark Boals and John West have also sung on ROYAL HUNT albums) I think Cooper is the still their trademark front man, lending his vocals to classic albums like Moving Target and Paradox. I am a huge fan of his work with SILENT FORCE, solo and of course ROYAL HUNT. His vocals on Devil's Dozen are soaring and crystal clear, with his signature high baritone taking much of the spotlight. The band has a new drummer in Andreas Habo Johansson (formerly of NARNIA) and he fits perfectly. His playing is rock solid and his fills are impeccable.

While the album contains only eight songs, it clocks in at a solid 50 minutes. All eight songs are well crafted in the signature style that ROYAL HUNT are known for: Upbeat tempos, symphonic elements, guitar crunch and huge emotional choruses that engage the listener and invite you to sing along.

The album opens with "So Right So Wrong", a track that features a nice symphonic intro that takes its time building to a huge sing-along chorus. The longest song on the album (7:30 in length) follows, the fantastic "May You Never (Walk Alone)". Starting from a mellow piano intro and building into a power metal anthem, this song features piano flourishes, driving drums and sweeping symphonic passages. Cooper stretches his voice out and hits some big notes on this song. The bluesy groove of "Heart On A Platter" follows and keeps the emotional theme going in a big way. The chorus on this song is huge.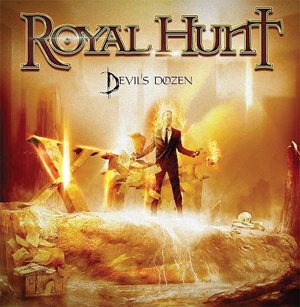 "A Tear In The Rain" is one of my favorites on the album, and one of the best D.C. Cooper performances that I've heard. The song features Cooper trading vocals with two separate backing groups, one male and one female. Combined with the driving tempo of the song, it turns to magic. ROYAL HUNT are at their emotional best on this song. The album slows down with "Until The Day", a spectacular ballad.
"Riches To Rags" is a mid-tempo track featuring another big chorus with some very cool backing vocals. "Way Too Late" builds from a symphonic opening into one of the coolest riffs on the album. The layers of vocals on this track are spectacular. The album ends with "How Do You Know", which also became one of my favorites on the album. This song has a lot of potential to be a single.
Andre Andersen's songwriting is spectacular and his keyboards are incredible throughout this album. Guitarist Jonas Larsen and bassist Andreas Passmark take the spotlight at some point in every song. Check out Larsen's solo on "Until The Day" or "A Tear In The Rain". The production is perfect on Devil's Dozen; it is crystal clear and powerful. This album is definitely a grower. Once you get into the ROYAL HUNT headspace, you'll really enjoy it. Fans should look forward to seeing ROYAL HUNT perform their classic album Paradox (and hopefully tracks from Devil's Dozen) at ProgPowerUSA in September 2015. These songs are sure to sound great live.
4.0 Out Of 5.0