ANTHRAX Live In West Hollywood, CA With Photos!


By Charlie Steffens aka Gnarly Charlie, Writer/Photographer
Tuesday, August 4, 2015 @ 4:36 PM


| | | |
| --- | --- | --- |
| | | At The House Of Blues Sunset In West Hollywood, CA, July 29, 2015 |
Photos Courtesy Of Aaron Poole Images
Seems that the building of hotels along Sunset Boulevard has become Hollywood chic, or perhaps Hollywood sheik would be a more apt depiction of the force that big money wields. The Sunset Strip, once known as a rock and roll playground, has started to look like some island in Dubai. Sadly, the storied House of Blues will soon be part of Sunset Strip legend and lore as it closes in August for demolition.
ANTHRAX, no stranger to the HOB Sunset stage, played what was to be one of the last heavy metal shows at the venue; a sold out show with no opening act.
BLACK SABBATH's "Mob Rules", an apt pre-show primer, blasted away on the sound system as the crowd's excitement rose. Opening with "A.I.R.", ANTHRAX took the stage to wild screams and applause. By the third song, "Madhouse", it was apparent that they had brought their 'A' game to Hollywood. Singer Joey Belladonna, guitarist Scott Ian, bassist Frankie Bello, drummer Charlie Benante and lead guitarist Jon Donais (ex-SHADOWS FALL), proved all night to be the consummate lineup of the band.
Donais, who has been an official ANTHRAX member for two years, played the older and newer material with confidence and technical mastery.
Their sound was ideal for HOB: well-balanced and very loud. The speed of "Caught In A Mosh" really got things moving. Paying a visual tribute to two of heavy metal's departed heroes, the ANTHRAX logos on the banners next to the drum riser were replaced temporarily with banners bearing the faces of Ronnie James Dio and Dimebag Darrell Abbott.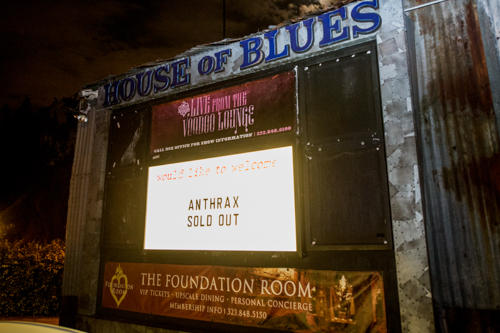 Benante's drumming excelled throughout the set. "Fight 'Em Til You Can't" and "A Skeleton In The Closet" were but two songs that displayed his speed, power, and impeccable timekeeping.
"You know, it's kind of weird for us to think that this year is the 30th fuckin' anniversary of Spreading The Disease," said Ian, adding, "It just don't make sense!" He then introduced "Medusa", a track from the album, as "the song about the lady who had snakes for hair", and it was performed with as much vigor as when it was released.
"Y'all got the time?" Belladonna asked as Bello started to roll the unmistakable bass intro to "Got The Time", their cover of the 1979 hit by Joe Jackson. Bello and Benante's rhythm pelted the audience along with Ian's speed and crunch, and the wood tables and bannisters were shaking.
Belladonna, Bello, and Ian were running and jumping on the small stage with radical abandon, with Donais relatively staid on stage right. Aside from a few whips and spins of his hair, characteristic of his SHADOWS FALL days, Donais isn't showy. Without the three elder members going nuts onstage, however, it wouldn't be an ANTHRAX show.
Belladonna was working the stage, smiling and waving at people upstairs, high-fiving the people in front of the stage, and playfully mimicking his bandmates. Frequently he would hold out his mic stand so the audience could sing choruses. "We'd like to thank everyone here tonight for being with us so long and being our friends," he expressed with gratitude. His voice was in top form, nailing every song of the set, including their BLACK SABBATH cover, "Neon Knights", that was featured on the DIO tribute album, This Is Your Life.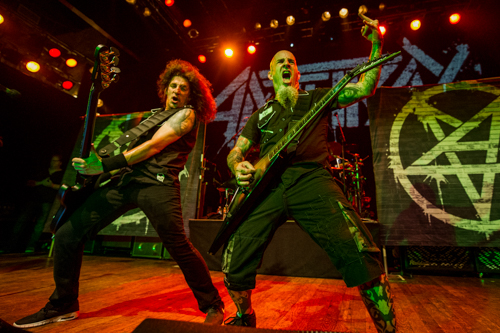 PUBLIC ENEMY's Chuck D came out to perform "Bring The Noise" and "Antisocial" closed the night, and the latest chapter of the House of Blues, in true fashion.
Set List:
"A.I.R."
Lone Justice"
Madhouse"
Caught In A Mosh"
S.O.D./In The End"
Soror Irrumator"
Fight 'Em Til You Can't"
Medusa"
Got The Time"
A Skeleton In The Closet"
Across the River/Be All End All"
Indians"
Among The Living"
Efilnikufesin (N.F.L.)"
Neon Knights"
I'm The Man"
Bring The Noise"
Antisocial"
Check out a few more photos from the show!
All Photos Courtesy Of Aaron Poole Images




Please log in to view RANTS

If you don't have a username, click here to create an account!