A new book is coming this October that solely focuses on VAN HALEN's incredible rise during the '70s, and it's called VAN HALEN Rising: How a Southern California Backyard Party Band Saved Heavy Metal.

This book is absolutely loaded with wild and interesting details on VAN HALEN's beginnings that even the most knowledgeable fans have never heard. A vivid and energetic history of VAN HALEN's legendary early years. It's a must-have!

Six years in the making, this is the first book to reveal the debauched details of the band's beginnings, from gonzo backyard parties to neon nights of rock glory on the Sunset Strip.

Drawing on more than 230 original interviews - including with former VAN HALEN bassist Michael Anthony and power players like Pete Angelus, Marshall Berle, Donn Landee, Ted Templeman and Neil Zlozower - Van Halen Rising is the first book to tell the untold story of how these rock legends made the unlikely journey from Pasadena, California, to the worldwide stage.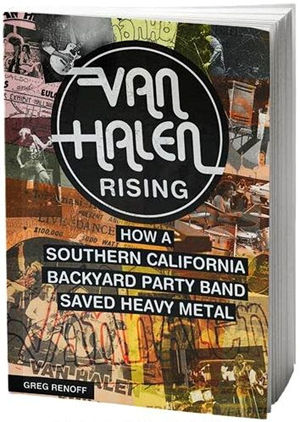 As for photos, it contains over 30 never before published photos dating back to the days of MAMMOTH and RED BALL JET. All from the mid to late '70s.
Van Halen Rising traces VH's transformation from a backyard party band to a stadium act that captivated the rock world in 1978.
After years of gigging everywhere from suburban backyards to dive bars, VAN HALEN - led by frontman extraordinaire David Lee Roth and guitar virtuoso Edward Van Halen - had the songs, the swagger, and the talent to turn the rock world on its ear. The quartet's classic 1978 debut, Van Halen, sold more than a million copies within months of release and rocketed the band to the stratosphere of rock success. On tour, VAN HALEN's high-energy show wowed audiences and prompted headlining acts like BLACK SABBATH to concede that they'd been blown off the stage. By the year's end, VAN HALEN had established themselves as superstars and reinvigorated heavy metal in the process.
If you've ever wondered what it was like to see VAN HALEN play a massive backyard party, host a rowdy wet-t-shirt contest, perform on the legendary Sunset Strip, and blow rock legends BLACK SABBATH off the stage, this is the book for you.
Author Greg Renoff is offering signed copies exclusively at Van Halen Store right HERE. Pre-order now and your choice of a signed or unsigned copy will be in your hands next month!