POP EVIL have debuted another all new track from their fourth studio album titled "Dead In The Water". "The song was written about the constant feeling I have of sinking farther and farther away from reality," says front man Leigh Kakaty. "It has led to a internal fight to get my head above water." ""Dead In The Water" comes on the heels of their first single "Footsteps", which debuted in June and is currently #3 on the Rock Radio Charts. "Footsteps" has already been a featured ESPN sync track.

"Footsteps" is not only the fastest charting single the band has to date, but is also the fastest growing Independent Record Label Single at Rock Radio this year.

Check out the new track "Dead In The Water" below.

POP EVIL will release Up on August 21st via eOne Music. Digital pre-orders are available and physical pre-orders are available via the band's official website.

Purposefully assembled at Studio Litho, Robert Lang Studios and London Bridge Studios with producer Adam Kasper, Up is the sound of a rock band cementing a powerful identity that's steadily materialized over the course of three prior full-length slabs. POP EVIL prove their burgeoning success is no accident.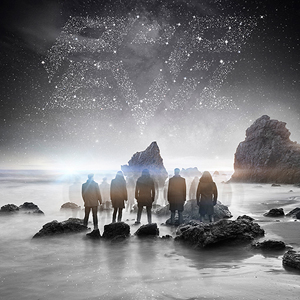 "Now it's time to step up our game and let people know we can back it all up," adds Kakaty. "We want to prove we aren't a one hit wonder. We didn't just get lucky."
Up is a bold reintroduction and step forward, with guitarists NICK FUELLING and DAVEY GRAHS, bassist MATT DIRITO, drummer CHACHI RIOT and LEIGH KAKATY at the top of their game. It's always a bit cliché, not to mention questionable, when a band says their new album is the best one yet. But in the case of POP EVIL, it's an absolute fact.
POP EVIL smashes through the odds like a battering ram, weathering the trials and tribulations of paying dues with a steadfast resilience owing much to their blue collar and middle class backgrounds, and building a worldwide audience one fan at a time. As the moniker promises when emblazoned on a CD or radio dial, POP EVIL conjures aggressive riffs and hard charging sing-a-longs with emotional heft and melodic power in equal measure. It's music by the people, for the people.
A multitude of pre order bundles are available from the band including VIP experiences, monogram jackets, vinyl options and posters.