Melancholy death-doom metal masters SWALLOW THE SUN have completed their massive recording session! The Finnish sextet's last album, Emerald Forest And The Blackbird, was released in winter 2012; come November 2015, the long wait between recordings will finally be over.

The new SWALLOW THE SUN release will be a triple album entitled Songs From The North I, II & III.

Main songwriter and guitarist Juha Raivio comments on the triple album concept: "Making a triple album in this godforsaken digital and modern day and age...Many will say it's madness. I say it is to bring worth, heart and respect back into the music and to the album format where it belongs. This should never turn into a shallow fast food industry where music is only downloaded one song at a time.

These albums hold life, death, gloom, beauty and despair in their deepest levels and forms. The three chapters are different but connected, one long journey through these songs written up here in the North.

Music is holy, albums are holy. See you on the other side friends."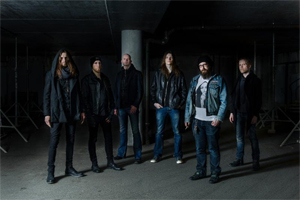 Soundi Magazine (FI) has published a story about the new SWALLOW THE SUN release. See below for an excerpt from the article that reveals more details about the three albums:
Juha Raivio: "We will release a three studio album package, called Songs From The North I, II & III. The records are very different from each other, but still form one entity: one with respect for SWALLOW THE SUN's traditions, the second beautifully acoustic, and the third a trip into funeral doom´s dark world.
I wonder if any Finnish band has previously released three new studio albums at the same time? This might be a historic release? I hope so."
Timo Isoaho (Soundi Magazine): "I mean, three new studio albums! It must have been enormous task?"
Raivio: "Well, we have been short of sleep...We have undeniably done quite a lot work for these records. My attitude towards this very personal entity has been that if this project kills me, at least I can sleep well knowing that it's the most important SWALLOW THE SUN release."
Stay tuned for more news about Songs From The North I, II & III coming soon!