COAL CHAMBER, FEAR FACTORY & DEVIL YOU KNOW Live In Cleveland, OH With Photos!


By Geoff Ketler, Cleveland Contributor
Wednesday, August 26, 2015 @ 8:40 AM


| | | |
| --- | --- | --- |
| | | At The Agora August 16th |
All Photos By Geoff Ketler/Aces High Photography
Who would have thought that these two bands, both with breakup-riddled pasts; these titans of the mid 90's nu metal and industrial metal scene, would be touring to support new material in 2015? Talk about nostalgic sensory overload. I was carrying around my state-of-the-art portable CD player in middle school when COAL CHAMBER and FEAR FACTORY were climbing the charts and planting the seeds that would grow their genres into full-fledged music markets. I was delighted to see this tour come to fruition and even more excited when I heard that ticket sales were good enough to move the concert from the much smaller ballroom into the spacious theater side of the world famous Cleveland Agora. Way to be Cleveland, I am proud of you.
Industrial rockers MADLIFE kicked things off as the sparse crowd started to file in the door and make their way to the theater floor. Although I am not familiar with their material, they had a great stage presence, tons of energy, and they did everything they could to get the crowd interested early on. That energy and intensity carried over nicely for the next act, SAINT RIDLEY. From just up the road in Detroit, SAINT RIDLEY brought on a new level to the stage. By this time the floor was starting to get more crowded and the lines at the bars were starting to dwindle down. Guitarist David "Texas" Flynn left the stage and made his way out onto the floor to stir the pit a little more. MADLIFE and SAINT RIDLEY both deserve a second look on my part. They were worthy national openers on this steep bill.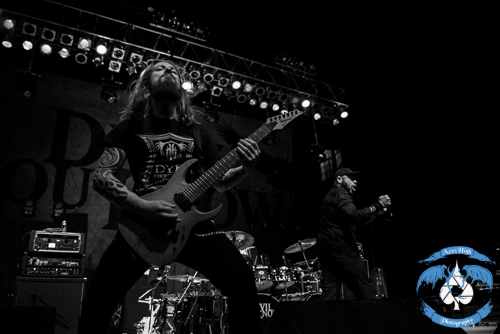 If it looks like Howard Jones and sounds like Howard Jones, it must be former KILLSWITCH ENGAGE vocalist Howard Jones, right? The second half of this tour features the super group of sorts, DEVIL YOU KNOW as direct support and little did I know that I would be hearing the sweet serenading voice of KILLSWITCH ENGAGE of old. I guess when you get so busy that you don't do the normal research beforehand, you get fantastic surprises like this. Nonetheless, the four piece DEVIL YOU KNOW, stormed the stage with their brutal brand of metal and thrash. Drummer John Sankey (DEVOLVED, FEAR FACTORY, DEVINE HERESY) put on a clinic with his break-neck speed fills and intricate double bass work. Guitarist Francesco Artusato played everything from crunching rhythms to mesmerizing leads with ease. Howard never stopped moving. He paced back and forth in front of the drum kit engaging with the audience any way he could. He commented on the "talent" in the crowd as he credited Cleveland for having some hot metal chicks at the show.
The floor of the theater was now shoulder to shoulder as the mighty FEAR FACTORY took the stage. Right off the bat, Burton C. Bell's microphone wasn't working, but the band kept rolling into "Shock". A quick cable exchange by a stagehand and that guttural voice come bellowing out. At least we know Burton wasn't trying to pull a Milli Vanilli on us, right? Security had their hands full as several concert-goers were able to reach the stage before diving off over the barricade. The set was full of strobe lighting to compliment the chunking guitars and machine-gun drums. It was everything you would expect from the industrial metal heavy weights.
FEAR FACTORY ripped through both old and new material; something for everyone. The oldies like "Edgecrusher" and "Martyr" received the best crowd reaction. Two new songs off of their latest release, Genexus, were included in the set; "Soul Hacker" and "Dielectric", the latter of which was the music video premiered on the day the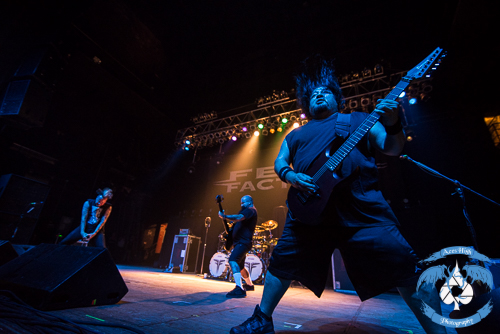 album dropped. Mike Heller had his hands full behind the drum kit, trying to replicate the blinding speed that's been a staple in FEAR FACTORY's music, but he played with precision and was essentially perfect with no issues or hiccups from what I could tell. I got tired just watching him. The set ended with "Demanufacture" and "Replica" off of the defining Demanufacture album, which turned twenty this summer. Look for FEAR FACTORY to celebrate this by doing one of those "performing the album in its entirety" type tours.
Setlist:
"Shock"
"Edgecrusher"
"Powershifter"
"What Will Become?"
"Damaged"
"Soul Hacker"
"Dielectric"
"Martyr"
"Demanufacture"
"Replica"
Touring in support of Rivals, their first new record in 13 years, COAL CHAMBER took the stage with the hit "Loco". Over the last decade or so there were several falling outs and even an on-stage altercation that led to what was considered the demise of the Los Angeles-based nu metal band. Apparently all is forgiven and the band was able to rebuild those bridges because they looked focused, refreshed and hungry. Guitarist Miguel Rascón, bassist Nadja Peulen and vocalist Dez Fafara stood tall and motionless on their risers at the front of the stage as they played that eerie intro to "Loco". Dez said "go" and all hell broke loose. The band was tight…really tight.

Video monitors flanked Mikey Cox's drum riser and would either display imagery or clips from the corresponding music videos. The giant banner in the back was emblazoned with the distinct band logo. It was like I had traveled back to 1998. Vocalist Dez Fafara would often pause and just smile. The crowd was thick and ravenous. Most of them looked to be about my age, pushing 30 or so, and reliving their early teen years much like I was. The set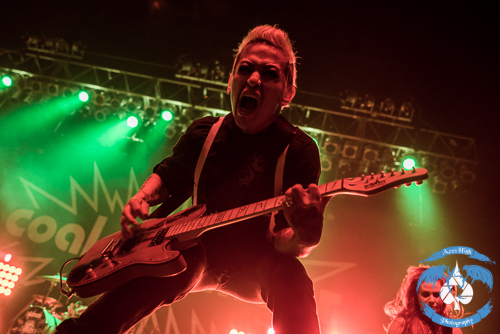 was full of the usual suspects; "Fiend", "Big Truck" and it included "I.O.U. Nothing" – the first track off of the brand new Rivals record. The night was capped by the anthem "Sway". I have to say that I was thoroughly impressed by all of the bands on this bill, especially COAL CHAMBER and FEAR FACTORY. What really makes this impressive is that these bands have good and viable new material for us as fans. It wasn't just some "ode to the good 'ole days" reunion tour. This is part of the record cycle…and let me tell you…both Rivals and Genexus are damn good records. Look for COAL CHAMBER to come to your town and check out FEAR FACTORY as they do a stint of headline dates this fall. They will not disappoint.
Setlist:
"Loco"
"Big Truck"
"I.O.U. Nothing"
"Fiend"
"Rowboat"
"Something Told Me"
"Another Nail In The Coffin"
"Clock"
"Drove"
"Oddity"
"I"
"Sway"
Check out some more photos from the show!
All Photos By Geoff Ketler/Aces High Photography




Please log in to view RANTS

If you don't have a username, click here to create an account!