MOTORHEAD Streaming ROLLING STONES Cover "Sympathy For The Devil"


By Larry Petro, News Monkey
Wednesday, August 26, 2015 @ 1:55 PM


| | | |
| --- | --- | --- |
| | | From The upcoming Bad Magic Album |
MOTORHEAD have released a stream of their cover of the ROLLING STONES classic track "Sympathy For The Devil", which is featured on the band's upcoming Bad Magic album. Bad Magic is the band's 22nd studio album and is slated to be released August 28th via UDR Music / Motörhead Music. The album was recorded at NRG Studios in Los Angeles, CA with long-time producer Cameron Webb. Bad Magic is the follow up to the band's Aftershock album, which saw MOTORHEAD enjoy their most successful year yet, including a fourth Grammy nomination.

Check out "Sympathy For The Devil" below.

After 40 years rattling teeth, bones and ears with their legendary rock'n'roll, you might excuse MOTORHEAD if they wanted to ease off. Put their feet up. Relax a little. But that's just it… this is MOTORHEAD.

And instead, MOTORHEAD gleefully say a loud and hearty 'bollocks' to that sort of feeble-minded thinking with their 22nd studio album, Bad Magic. Bristling with thunderous attitude, pioneering spirit and some of the fiercest rhythms and riffs that'll beat your ears into submission this year, Bad Magic is a massive kick in the teeth for anyone who dared believe it might be otherwise. Indeed, if those people still remain, they would do well to grab some big fat earplugs, fall to their knees and pray like buggery, because big-rig head crushers like "Thunder & Lightning" and the especially loud "Teach 'Em How To Bleed" show that MOTORHEAD are as strong, mean, loud, relentless, uncompromising and goddamn heavy as ever.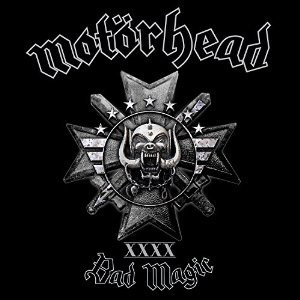 Drawing on their own vast catalogue of road-warrior freewheeling rock'n'roll spirit, Bad Magic also strides confidently into some of the earlier attitudes of Motörmusic. Written and recorded in the studio together, for the first time in the Kilmister/Campbell/Dee era, the more 'live' approach to creating Bad Magic has obviously paid dividends in this regard. There is the driving malevolence of "Choking On Your Screams", with Lemmy in magnificently omnipotent vocal mood, "Electricity" carries a hefty chunk of punk attitude married with some of Phil Campbell's best lead work in years, while "Shoot Out All Of Your Lights" is all devilish, greasy biker-borne-screw-you-and yours, Mikkey Dee's tribal drums pounding out a great path for more Kilmister proclamations. The boys even enjoyed a guest appearance from QUEEN's Brian May on "The Devil", adding a scintillating solo on this thunderous Motörstomper.
Produced at NRG Studios with long-time producer Cameron Webb, Bad Magic came together after a couple of years which saw MOTORHEAD enjoy their most successful international era in over two decades off the back of their last release, Aftershock. Lemmy also finally decided to face the fact he is flesh, blood and mortal like all of us, adjusting his lifestyle to kick the ass of health-issues and re-emerging stronger, leaner and meaner than ever. His own personal performances on Bad Magic rank as some of the most wide-ranging and unique he has delivered in years, and on the ballad "Until The End", Lemmy opens up with equal levels explanation and intent on the simple but important matters which life conjures for us all. Add to all of this a wonderfully executed, gritty delivery of the ROLLING STONES classic "Sympathy For The Devil", and it will be clear to anyone with a pair of ears that Bad Magic is MOTORHEAD's finest work in over two decades.
---

Send your live reviews to submissions@knac.com




Please log in to view RANTS

If you don't have a username, click here to create an account!